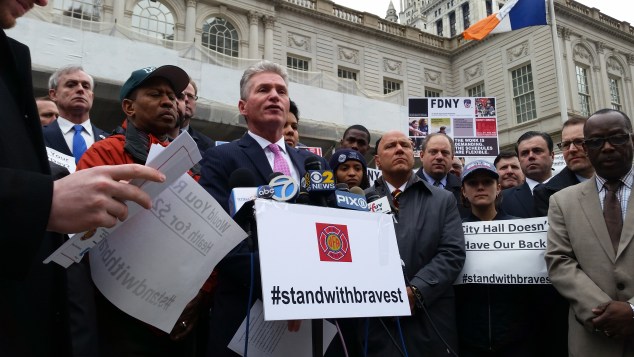 Hundreds of firefighters and pols packed the City Hall steps this morning to denounce Mayor Bill de Blasio's opposition to legislation that would boost their disability benefits. Mr. de Blasio, coincidentally, happened to arrive during the rally.
But in atypical fashion, Mr. de Blasio and his aides did not bound up the front steps of City Hall. Instead, they took a back entrance–which one, it's not entirely clear–in an apparent effort to avoid the hostile scene.
In an unrelated press conference today at One Police Plaza, Mr. Blasio conceded he had taken an unusual route to work. But Mr. de Blasio said it was simply the "large gathering" outside City Hall that made the logistics of a frontal entrance impossible.
"It was a very large gathering there," Mr. de Blasio said. "It just made more sense to go out and around and go through the back."
Stephen Cassidy, the president of the Uniformed Firefighters Association, was chiding Mr. de Blasio this morning as the Democrat found a more creative way to enter the building. Mr. Cassidy and police unions were upset that Mr. de Blasio won't back legislation in Albany to return new cops and firefighters to a more lucrative disability benefits system in place before 2009.
"Listen, the governor and those in Albany already know, and I believe are already in our corner, to fix this. I think some of the people behind us in City Hall aren't so sure," he said.
Mr. de Blasio happened to cross paths with another rally last week outside City Hall. The gathering of like-minded progressives presented less of a problem for the liberal mayor, who waved to the group as he walked up the front steps. (Some in the crowd did jeer Mr. de Blasio for allegedly rezoning neighborhoods at too quick a clip.)