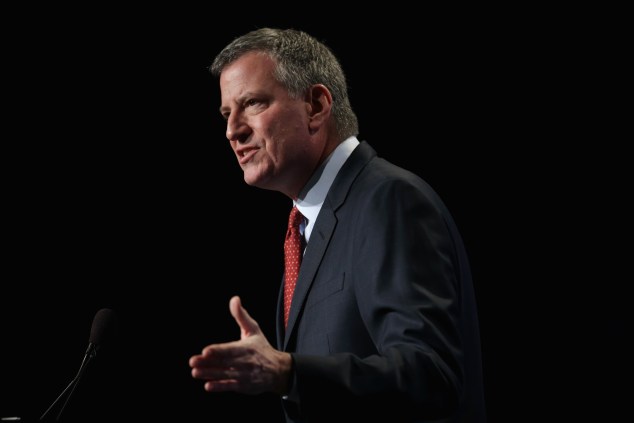 Mayor Bill de Blasio excoriated a controversial Indiana religious freedom law, telling reporters today that it is "deeply disturbing" and "doomed to failure."
Following the lead of Gov. Andrew Cuomo, Mr. de Blasio also said he would ban non-essential city travel to the Hoosier State.
"It's a deeply disturbing reality right now in Indiana and I hope before it's too late, they turn back," Mr. de Blasio, a Democrat, said at an unrelated press conference in Brooklyn. He promised that the law, which critics say will allow businesses to discriminate on the basis of sexual orientation, will backfire on the Republican-led state.
"Absolutely, I will instruct all New York City agencies to prohibit any non-essential travel to the State of Indiana," he continued. "This proposal [in] Indiana really undercuts decades and decades of progress on human rights and civil rights in this country. The notion that a government would allow a version of discrimination undercuts so much of what we fought for."
"I also know it's doomed to failure," he added. "Any effort to exclude or discriminate ultimately proves to be against the will of the people."
When pressed by the Observer on what city travel to Indiana is ever essential, Mr. de Blasio, using the example of his announcement of $3 billion in federal aid to Hurricane Sandy-damaged public housing, said there could be certain companies the city must work with that are out of state. "There [could] be a company we have to work with to achieve this resiliency effort, it's necessary to go there to achieve something … that's essential travel."
Indiana Gov. Mike Pence has faced backlash from businesses, elected officials and celebrities over his support of the law, known formally as the Religious Freedom Restoration Act, and said today he would seek to change and clarify the measure by week's end. He still defended the law, however, and claimed politicians and the press misunderstood it.