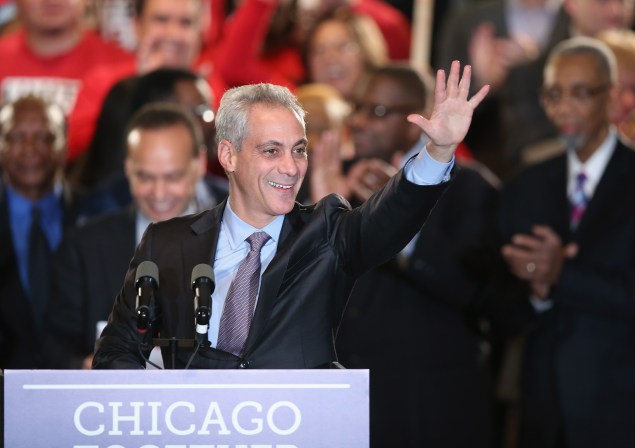 Mayor Bill de Blasio likes Rahm Emanuel, the Chicago mayor, but not quite enough to endorse him.
Mr. de Blasio, never shy about weighing in on political battles outside the five boroughs, declined today to say he supports Mr. Emanuel in his surprisingly competitive runoff against Jesús "Chuy" Garcia, a Cook County commissioner.
"I have worked closely with Mayor Emanuel. I think he's done some important work in areas like early childhood education and raising the minimum wage, so I respect him a lot," Mr. de Blasio told the Observer at an unrelated event in Brooklyn. "But the bottom line is, that is for the people of Chicago to decide."
Mr. de Blasio's non-endorsement of Mr. Emanuel, a fellow Democrat, comes as progressives and labor groups in Chicago are rejecting the former White House chief of staff in favor of Mr. Garcia, a little-known candidate who forced Mr. Emanuel into a runoff last month. Mr. Emanuel, a more centrist Democrat, has alienated the liberal movement that helped propel Mr. de Blasio in 2013.
The two do share similarities: Mr. de Blasio managed Hillary Clinton's successful campaign for the U.S. Senate and Mr. Emanuel was a top-ranking staffer to her husband, former President Bill Clinton.
But a sister organization of the labor-backed Working Families Party, a top ally of Mr. de Blasio's, is fighting the uphill battle to elect Mr. Garcia over Mr. Emanuel, who has the support of his old boss, President Barack Obama, and boasts a large campaign war chest. Garcia supporters like the American Federation of Teachers are taking heart in a recent nonpartisan poll that showed Mr. Emanuel leading Mr. Garcia by only 4 points.
The election is set for April 7.
Will Bredderman contributed reporting.