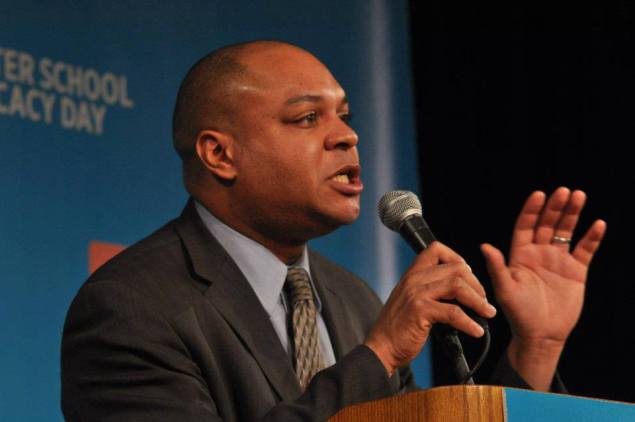 This is one special election.
A chaotic nominating process for a special election in a Brooklyn Assembly district will result in no candidate appearing on the Democratic ballot line, sources say. The bizarre twist came after a perennial candidate and political outsider, Guillermo Philpotts, secured the Democratic nomination on Sunday—only to fail to submit the proper paperwork by 12 a.m. Tuesday.
Mr. Philpotts' failure to submit the routine certificate of nomination to the Board of Elections will mean that he is not eligible to run as a Democrat. Instead, four candidates will compete on established third party ballot lines or newly-created lines, an extremely rare outcome for special elections in heavily Democratic New York City.
A gadfly who won only 5 percent of the vote in a State Senate race last year, Mr. Philpotts stunned the Democratic establishment on March 1 when the county committee in the Crown Heights-based Assembly district selected him over several better-known candidates to run as a Democrat. Mr. Philpotts and three other Democrats were vying to replace Democrat Karim Camara, who resigned the seat to take a position with the Cuomo administration.
Mr. Philpotts' win was an embarrassment for the Brooklyn Democratic Party and the local political establishment. His victory was made possible by an unusually small 10-member committee that Mr. Philpotts stocked with loyalists–Democratic District Leaders Shirley Patterson and Jesse Hamilton, now a state senator after giving up his district leader post in last September, failed to nominate their own candidates for county committee. (In neighboring districts, county committees can have more than 100 members.)
On Sunday, party insiders did their best to keep Mr. Philpotts from winning the Democratic nomination, supporting Ms. Patterson instead. Even the intervention of Clarence Norman, the former Brooklyn Democratic boss who served time in prison on corruption charges, could not stop Mr. Philpotts.
But Mr. Philpotts could stop himself. In races for local office over the last few decades, he has been booted from the ballot before, showing little mastery of the city's arcane election rules. According to a BOE document obtained by the Observer, he was the only candidate in this race who failed to turn in a certificate of nomination along with his certificate of acceptance.
Ms. Paterson filed to run on the Independence Party line and Diane Richardson, a former candidate for Democratic district leader, filed to run on the Working Families Party and Green Party lines. Geoffrey Davis, a Democratic district leader, filed to run on his own ballot line known as "Love Yourself." Menachem Raitport will run on the Republican and Conservative Party lines.
Mr. Philpotts could not be immediately reached for comment.
A special election is set for May 5.
An earlier version of this story stated Mr. Hamilton's term as district leader ended in January, not September.