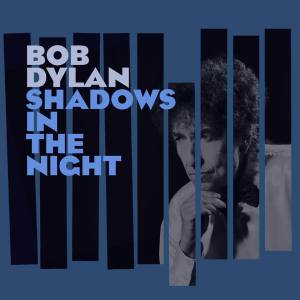 Face it: When you first heard about Bob Dylan's Shadows In The Night, you thought, "Ah, another oddball move from a legendary performer who has consistently pulled a lot of deformed rabbits out of his hat, seemingly in defiance of any career strategy or sense of quality control." I mean, Dylan recording an album of songs associated with Sinatra? Sounds like the kind of gimmick Elvis Costello, Rufus Wainwright, or perhaps a lowly Joe Jackson would resort to. Christ, it's even the kind of thing Sean Lennon would do and release only on cassette.
But that position would be way off base. Despite a well-earned reputation as one of his century's foremost songwriters, Dylan is also an exceptional interpreter of other people's material; 11 of the 13 songs on his 1962 debut were covers (!), and throughout a long career, he has consistently performed the work of other musicians. So this schema is old sneakers to Bob.
Secondly, a casual listener who chanced on an audio clip might say, "What's this weird voice he's using? He's actually singing!"
Another red herring. Although Dylan has one of the most recognizable voices in music history, he has frequently deviated from the sandy yowl synonymous with his name, and some of his very best work—notably the Nashville Skyline/New Morning/Self Portrait triad—was done in a vocal style many steps away from the biting, tune-implied snarl of Blood on the Tracks or Highway 61.
Which is all to say that this album isn't remotely as strange, in conception or execution, as it might initially appear to be.
Shadows In the Night is most definitely a Bob Dylan album, through and through, and a damn good one. It is also a deeply conceptual record: One of the most celebrated singers of the last century records an album entirely comprised of material associated with one of the only singers of his era more famous than him. That's goddamn conceptual. But even deeply conceptual records have to be measured against some standard, specifically a yardstick that has scrawled on its side "Do I want to listen to the damn thing?"
---

Dylan has achieved the near impossible, drawing attention to the extreme achievement of the smoky, lonely and late-night side of Sinatra without seeming ironic, melancholic, or overly awed by the task.

---
Yes, you do. Shadows In The Night is a pleasure, a deeply emotional voyage into the hearts of two singers. A compelling soundtrack to a blue-lit film about memory, Shadows is reflective without being overly dark (thank god he didn't record any songs from Sinatra's Berlin-grim masterpiece, Watertown). More than anything, the album sounds amazing. Bittersweet, buttery and warm, Shadows consistently achieves a shiver-inducing blend of emotional and aural resonance, continuing the luxurious, living-creature ambience of 2012's Tempest.
Remarkably similar in feel, at times, to some of Dylan's New Morning/Self Portrait work (four Self Portrait-era numbers—"Time Passes Slowly," "Copper Kettle," "Let It Be Me," and "Thirsty Boots"—would have been a near-perfect aesthetic fit here), Shadows shows that, for all his demonstrations of emotional vitriol and adherence to a rough-hewed version of garage rock, Dylan is virtually at his best in chilled-out melody-laden settings.
Dylan's band achieve the remarkable achievement of being barely there yet fully voiced, playing with such grace and restraint that the casual listener might think their work is virtually ambient; but it's actually as precise as the orchestrations that accompanied the original versions of these songs. The guitars (played by Charlie Sexton and the exquisite Donnie Herron), which provide the primary blue-light color to these arrangements, shiver, sigh, sway and tremble, like a lake brushed with leaves shimmering under a full moon; very occasionally a horn sighs and slides around the mix, creating moments of lonely near-perfection; and the rest of the band remain sentient but in the shadows, perfectly happy to dust the fog and starlight around the arrangements.
Vocally, Dylan sounds confident and weathered (but effectively so); at no other time in his long career has he so successfully created an intimate relationship with the microphone itself, and this may the most obvious homage to Sinatra. On every track Dylan engages the microphone in a cozy, almost profane way, treating it as a confidante and old friend; which is to say, he ends up recalling Tom Waits, Serge Gainsbourg and especially Leonard Cohen.
More than anything, Shadows In The Night reveals an artist in control:
In control of his voice, his place in time, and the way he wants to present his work to the public. The album is full of intention, muscular and deliberate even when it is at its most gentle. Dylan has achieved the near impossible, drawing attention to the extreme achievement of the smoky, lonely, and late-night side of Sinatra without seeming ironic, melancholic, or overly awed by the task.
Shadows in the Night may be one of Dylan's best albums since the high-achievements of Blood on the Tracks and Desire, and, for better or worse, it has the ring of a valedictory farewell and full-circle return: Containing only two fewer Dylan-penned songs than his debut 53 years ago, it reveals that Bob Dylan must be regarded not only as one of our greatest songwriters, but also as one of our greatest interpreters of song.
[youtube https://www.youtube.com/watch?v=6S7nTLeMdAk&w=560&h=315]