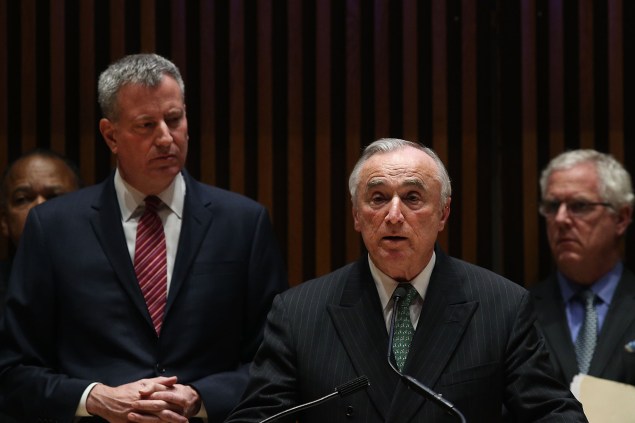 The NYPD implemented new technology today to detect and report gunshot fire, placing sensors in 17 troubled precincts across the city.
The technology, known as ShotSpotter, allows police to know almost instantaneously and with relative accuracy where bullets are fired. Police hope the technology will allow suspects to be arrested more quickly and deter residents in crime-plagued neighborhoods from firing weapons.
"It will enable us to respond to shooing incidents in a more timely manner, and provide us with the ability to help victims, solve crimes and apprehend dangerous suspects more quickly," Police Commissioner Bill Bratton said at One Police Plaza.
Standing beneath a series of large screens showing where a Brooklyn shooting had recently occurred, Mr. Bratton joined Mayor Bill de Blasio and Public Advocate Letitia James in announcing that ShotSpotter had been implemented today in seven precincts across the Bronx. Next week, ShotSpotter will come to 10 precincts in Brooklyn, officials said.
"Our officers are going to have so much more information, so much more quickly, it's going to revolutionize policing," Mr. de Blasio said. "This is going to be a whole new ballgame."
$1.5 million has been invested in the pilot program so far. Mr. Bratton said the precincts were chosen because of their histories of shootings and the city would, over time, seek to expand the program. The pilot program will roll out over the course of one year.
ShotSpotter determines the location of a gunshot within 25 meters of where the shot was fired. The system forwards the notification to an incident review center where an operator reviews the audio file to determine if the sound was a gunshot or something else, like a car backfiring or firecrackers being set off.
Officials said a number of cities, like Newark and Washington, D.C., have used gunshot detection technology. The wait to implement ShotSpotter will allow the NYPD to mitigate errors found elsewhere, like too many false positives, officials hope.