Cedar Lake Contemporary Ballet, the avant-garde New York ballet company founded and funded by Walmart heiress Nancy Walton Laurie, is closing down after a dozen years in Chelsea, the Observer has learned exclusively. The company, run by artistic director Alexandra Damiani, alerted employees this afternoon, a representative for the company confirmed.
The news is a blow to American contemporary ballet and just the latest in a series of setbacks for dance in this city; the company had few, if any, peers in the U.S. In fact, Cedar Lake's inventive repertory has almost no overlap with that of other ballet companies.
A source close to the company said financial issues contributed to the decision.
Ms. Laurie had kind words for the dancers she employed but declined to comment on why she's chosen now to shutter the company she'd shepherded along for more than a decade.
"We founded the Cedar Lake Dance company in 2003 to create a home for some of the best dancers and choreographers in the world to showcase their extraordinary talents," she told the Observer via email. "Working with the CLDC over the years has been both an immense honor and a privilege and while we are saddened by its closing, we are extremely proud of their great accomplishments over the years."
The decision leaves 16 dancers and an estimated stage and administrative staff of around 10 people out of jobs. It also raises questions about the future of the 16,000 square feet of custom-built space on far West 26th Street that Ms. Laurie splurged on just over a decade ago. The Chelsea property holds a theater, rehearsal space and offices.
Ms. Laurie, niece of Walmart founder Sam Walton, spent $11 million for the buildings at 537-547 West 26th Street in 2004. Around that time, she tapped Alvin Ailey veteran Benoit-Swan Pouffer as artistic director and did something no one else had done in recent memory in New York: start a dance company that paid its dancers a full-time salary, from scratch. Ms. Laurie spent her millions in the tradition of ballet benefactors of earlier centuries.
Dancers at Cedar Lake had things many others in the dance world could only dream of, like, dental care. And on top of the fact that Ms. Laurie created jobs in a perennially flagging field, there was her personal commitment to the company.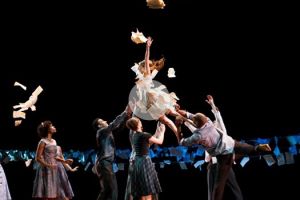 But there was dissent, even early on. There was a labor dispute, a number of departures from the troupe, and, soon thereafter, vocal former company members criticized the management. There was a perception that because it was a personal passion project, Cedar Lake wasn't a serious company.
And Cedar Lake was run not so dissimilarly to a Walmart. (This ruffled feathers in the ballet world, where procedures still echo the customs of the royal courts of 17th century France.) For instance, The New York Times reported that Cedar Lake fined dancers for mistakes on stage—a highly abnormal practice.
Cedar Lake's closure follows another period of upheaval following the resignation of Mr. Pouffer; Ms. Damiani was named in his place in April 2014 after the company spent nearly a year without an artistic director.
The closure leaves a specific and unfortunate hole in the New York dance scene. The field of contemporary ballet has seen its epicenter shift to Europe in recent years, while New York ballet companies have largely re-staged works from the 1700s to the 1980s, or those otherwise choreographed within a certain canon tradition. Cedar Lake helped tilt the balance towards the experimental.
Other New York companies have struggled over the last decade. Dance Theater of Harlem shuttered in 2004, Merce Cunningham ceased operations in 2011 and Dance New Amsterdam, an organization that provided studio and theater space for dance, closed in 2013.