It struck us odd last month when in a report about Bruce Willis' alleged purchase of a luxurious duplex at 271 Central Park West, the primary source of the yet-unrealized deal appeared to be the seller himself, Fortress Investment Group head and part-owner of the Milwaukee Bucks, Wesley Edens. And this after Jay Glazer, who shared the listing at Compass with Landis Hosterman, said of the co-op, "This is a very discrete building. It's not your 15 Central Park West. There are only two apartments per floor so it's extremely private." But then, who wouldn't be excited to have Mr. Willis–and his wife, the model Emma Willis–moving into his old digs?
And now that the sale has closed, we can see that especial excitement might have sprung from the fact that the Willises don't appear to have done much in the way of haggling, paying Mr. Edens' precise asking price of $16.995 million, according to city records.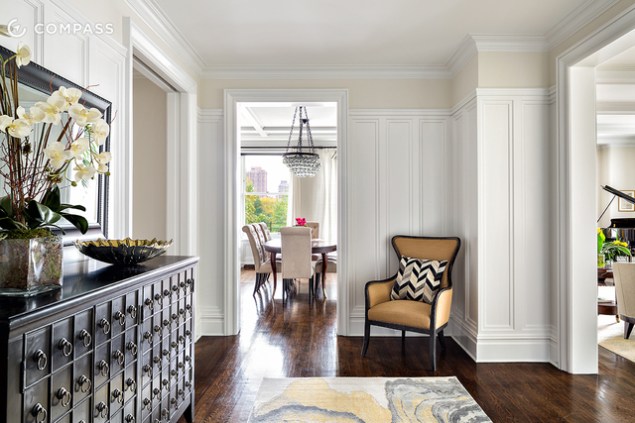 Why make things difficult, after all, if you've got the dough? And the home itself, which is the result of combining units that the seller bought separately, in 1999 and 2000, respectively, is without question worthy of enthusiasm. At 6,000 square feet, there will certainly be plenty of frolicking room for the buyers' two young daughters–whenever they get big enough to frolic, anyway. And the two-level co-op achieves the neat trick of having virtually all of its rooms look onto Central Park, for a total of 160 feet of frontage.
There are six bedrooms in all, plus a library and a capacious formal dining room. Interiors are clean and classy, with molding and light paneling aplenty, dark hardwood floors and some nice-looking built-ins in the aforementioned library. The overall effect appears pleasant and welcoming, if not particularly urban. Still, it would make a winning backdrop for a Restoration Hardware catalog. No longer needing all that space himself, Mr. Edens said, "I'm happy it's going to someone with a young family."
Well, us, too!