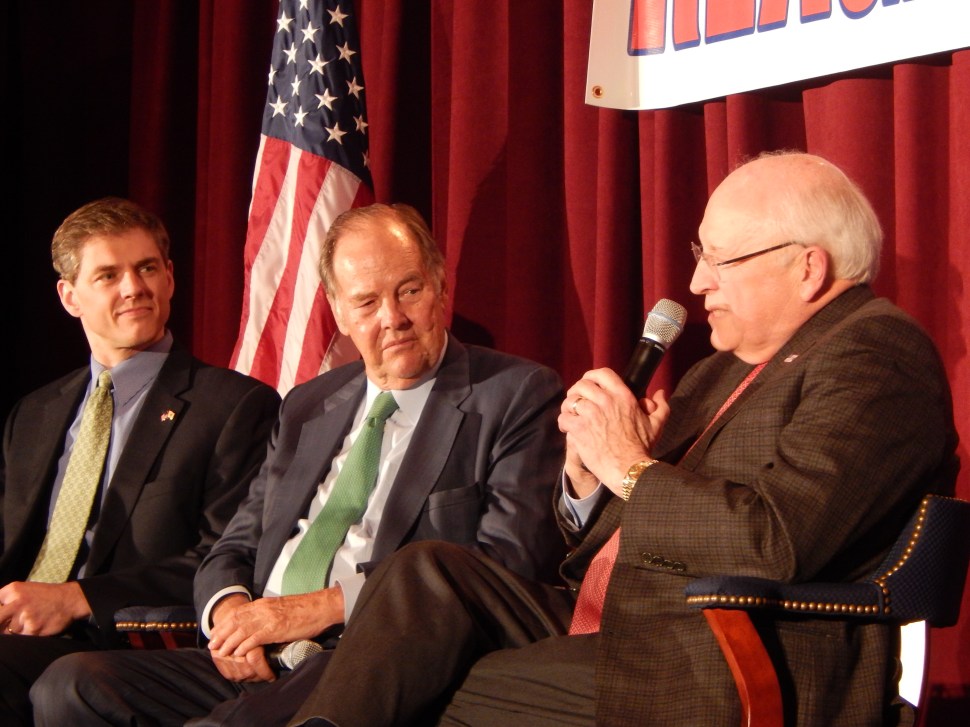 WOODLAND PARK — The star guest speaker of this year's New Jersey Reagan Day Dinner was met with raucous applause tonight when he offered a scathing critique of President Barack Obama's foreign policy, telling a crowd of some 1,000 Republicans gathered here that the Democrat's presidency has been the "most damaging" to America's reputation at home and abroad than any he's ever seen.
"The way I look at it, I think this very climate we're in right now, under the Obama administration, is perhaps the most damaging period since World War II," said former Vice President Dick Cheney, commenting on the future of the Republican Party in the U.S. "The challenge we're going to face is recognizing the nature of the threat. Recognizing that Barack Obama is taking the wrong action, find someone who's willing to stand up and say that, and don't mince words about it, and start by rebuilding our military."
Cheney packed the house in the Westmount Country Club for the annual event, which was hosted by Assemblyman Jay Webber (R-26) and which attracted throngs of Republicans from across the state to both honor the memory of the party's late conservative hero, former President Ronald Reagan, as well as hear Cheney, who remains a leader among many Republicans following his time in office, speak. Some of the state GOP's biggest figures turned out for the event, including Lt. Gov. Kim Guadagno, former Gov. Tom Kean, and former U.S. Senate candidate Jeff Bell. Kean's son, Senate Minority Leader Tom Kean (R-21), was also in attendance.
Characteristic of the kind of idol-worship that often defines Reagan Day celebrations, the event was full of references and praise for the revered icon. Webber began the ceremony by playing clips of Reagan's appearances on late night TV, and the crowd responded with riotous laughter whenever he reached a punchline or applause after a particularly pregnant remark. And they responded — loudly — with boos and snickers when, earlier, a clip of Obama and Hillary Clinton appeared on the screens at the front of the room. At the end, Webber announced the winner of a jelly bean-counting contest held prior to the event — a tip of the hat to "The Gipper's" favorite snack.
It was Cheney, however, who stole much of the spotlight. Joining Webber and Kean, Sr. on stage for a question and answer, he recalled his time spent serving as second in command under former President George W. Bush and as secretary of defense under George Bush Sr., venturing to make the case for increasing the country's military might, which he argued has waned in recent years. Asked by Kean what he would look for in the party's next presidential nominee, Cheney avoided naming names, saying only that he hopes the candidate would help America "resume its posture as the foremost nation in the world."
(Gov. Chris Christie, one of two establishment candidates mulling a bid for the 2016 nomination, was not in attendance.)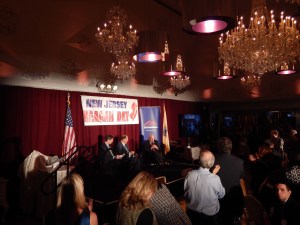 "I think that next president has got to be committed to the proposition of rebuilding those relationships, not just in the Middle East, but also in Europe," Cheney said. "You know, Putin is taking advantage of the current set of circumstances, he knows that Barack Obama is a weak leader, and that our European allies don't trust him. We have to rebuild those relationships, and reclaim that position as the U.S. being the preeminent nation in the world."
Cheney has stayed active in the Republican Party over the last several years, publishing a memoir about his time in office, attending fundraisers for House and Senate Republicans, and undergoing a life-saving heart transplant in 2011, a procedure which earned him national headlines at the time. But he has also remained a controversial figure, finding himself the target of protests and labeled in many progressive circles a war criminal for his involvement in the 2001 invasion of Iraq.
Cheney defended those actions tonight, while also turning to current affairs, such as the Obama administration's ongoing negotiations with Iran over its nuclear capabilities. Cheney said he is "deeply concerned" over the Democrat's efforts to cut a deal with the Middle Eastern country on the issue, arguing any agreement reached between the administration and Iran's leaders is "doomed to fail."
"If you look at the situation today, where President Obama is negotiating, or trying to negotiate an agreement with their nuclear weapons, it's important to us to remember history. If you go back and take a quick look at the last 40 years, 1981 there was a nuclear reaction in Iraq, Saddam Hussein's program," Cheney said. "And in 1991, when we were in Desert Storm, we obviously hit Iraq pretty hard, and that was the second time we halted the Iraq nuclear program. Then, fast forward when we went into Iraq in 2003, it was based in part on the conviction that what we had to be worried about after 9/11 that there would be another mass attack against the United States and it might involve terrorists with weapons of mass destruction.
"So there have been a number of times where we've been faced with the potential threat of a nuclear Middle East, and what's worked is military force, and the willingness to go in and use military capability to strip nuclear arms from places such as Iraq, such as Iran, such as Syria," he said. "And unfortunately, Barack Obama doesn't seem to understand that."
This year's event, partly because it's grown in popularity since Webber started the tradition in 2004 and partly because of Cheney's appearance, was one of the largest the group has ever seen. But it was also one of the largest Republican gatherings for the state party in general this year, rivaled only by Assembly Minority Leader Jon Bramnick's (R-21) GOP event in Atlantic City back in February. Webber, who in many New Jersey political circles is tagged as a future statewide candidate, did not attend that event, while Bramnick, one of a few Republicans who are rumored to be considering a run for governor in 2017, did not attend Webber's tonight.
Still, Webber said both events reflect well on the party, offering its members the opportunity to "bring like minded people together and remember what we've done in the past and motivate us to do what we need to do in the future."
Speaking to PolitickerNJ following the event, Webber also praised Cheney's message, saying "you can't confront evil with soft words and compromise."
"You have to confront evil with clarity, conviction, and occasionally force," Webber said.