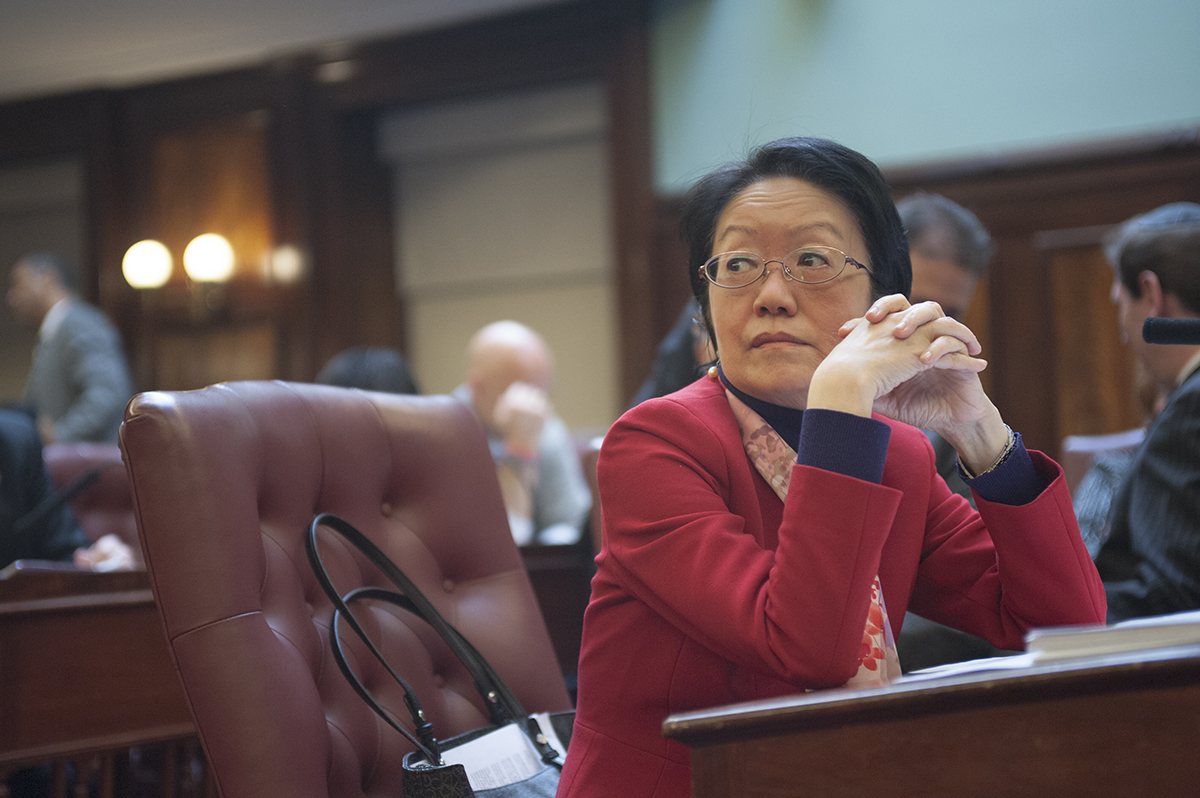 Two City Council members are disagreeing with Mayor Bill de Blasio's claim his budget is "responsible"—saying he needs to boost funding for the city's rapidly growing population of seniors.
Councilwoman Margaret Chin, who chairs the Committee on Aging, and Councilman Paul Vallone said today the city's 60-plus population is set to make up about 20 percent of the city's entire population by 2030—and as such the mayor needs to increase his proposed funding for the Department for the Aging from his current proposal of $257.3 million.
"It is often said that a city's priorities are reflected in its budget—and when he presented his Fiscal Year 2016 preliminary budget, Mayor de Blasio repeatedly stated that he believes it is fiscally responsible, progressive and honest. It is hard for us to agree that this budget is responsible, since no new funding was added for the Department for the Aging," the Council members said in a joint statement.
The mayor's preliminary budget proposal for the department in fiscal year 2016, which starts in July, is actually $23.4 million less than the current fiscal year's budget—in large part because of roughly $20 million that the City Council allocated for the department as part of its budget process last year. Ms. Chin and Mr. Vallone called for him to make that money permanent.
"In order to create a more responsible budget, Mayor de Blasio should first baseline funding for the core [Aging] programs that have previously been funded by the City Council, including Expanded In-home Services for the Elderly (EISEP), social adult day care and space and transportation operating costs for senior centers," they said. "The mayor should also provide additional funding to restore basic services for senior centers, reduce caseloads for case management and clear the homecare waitlist."
They also called for Mr. de Blasio to expand funding to help seniors age in their homes, including within New York City Housing Authority properties, where many seniors reside and where Mr. Vallone and Ms. Chin said funding is often at risk.
The preliminary budget is not a final document. The mayor will offer up another version in his executive budget, and then will negotiate behind the scenes with the City Council to reach an agreement that will eventually become the adopted budget.
Mr. de Blasio's office said they had already baselined a handful of initiatives begun last year, including $2.3 million to expand innovative senior centers and $3.3 million to increase reimbursements for home delivered meals. The preliminary budget also includes an additional $1.5 million for homecare providers, a spokeswoman said.
LiveOn NY, formerly known as the Council of Senior Centers and Services of New York City, applauded Ms. Chin and Mr. Vallone for their call for increased funding.
"In less than 15 years, New York's over-65 population will skyrocket and the need for increased support and services will grow exponentially. It is imperative that government funding keep pace with this need," Igal Jellinek, the group's executive director, said. "By investing now in programs that will keep seniors safe and healthy in their own communities, we will be saving millions of dollars in future costs to government, ultimately making New York a better place to age."
This story has been updated with information from the mayor's office and from LiveOn NYC.