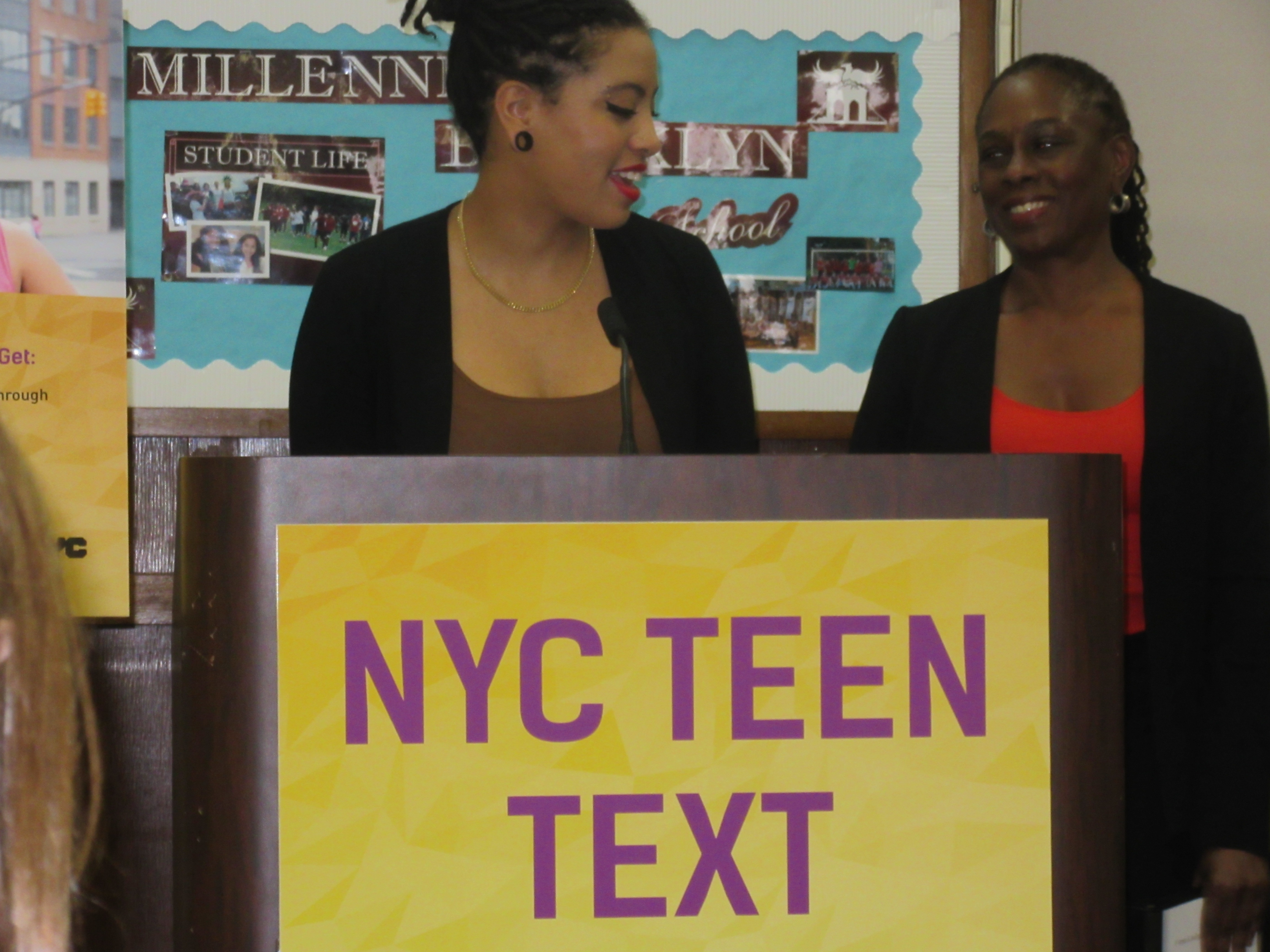 First Lady Chirlane McCray and daughter Chiara de Blasio today announced a pilot program to connect troubled students at 10 public high schools with city depression intervention services.
Ms. McCray, the wife of Mayor Bill de Blasio, and their daughter met with students at Millenium Brooklyn High School in their home neighborhood of Park Slope before discussing the new initiative, called "Teen Text," with reporters. Ms. McCray noted that 27 percent of high school students reported symptoms of depression for two weeks in 2013.
"So much is expected of teenagers today, even when they have everything going for them, they can stumble with the world, for reasons that come down to chemistry. And make no mistake, many of them are stumbling," said Ms. McCray.
The city Department of Health and Mental Hygiene has long operated the free 1-800-LIFENET counseling line, but the first lady asserted that the traditional call-in approach doesn't reach today's tech-savvy teens. To that end, the city inaugurated the new program yesterday, allowing students at Millenium and nine other schools to anonymously text with a counselor.
"Our goal is to meet teens where they are. Where they are, is on their phones," she said. "Students can text about anything that's on their mind. Maybe they're having a really bad day, and they want to talk about it to someone who won't judge them. Or maybe there's a more serious problem that is disrupting their schoolwork and their relationships."
The 18,000-plus kids in the pilot program can text their concerns to 65173 any time between 2:30 and 9:30 p.m. on school days, or 1 p.m. to 9 p.m. on the weekends, and the credentialed counselor on the other end will either provide support or connect them to the appropriate service. If successful, Teen Text will expand to the rest of the school system.
Ms. McCray stressed that it is imperative to eliminate the social stigmas attached to mental illness, and had her college-aged daughter again described her own widely publicized struggles with depression and substance abuse.
"I knew that I needed help, but I resisted taking action," Ms. de Blasio recalled. "Once I started talking about what I was going through, everything got better."
Texting is anonymous, but the system will obtain the troubled teen's phone number so that the counselor can dispatch emergency services if the teens seems likely to inflict immediate harm on themselves or others.