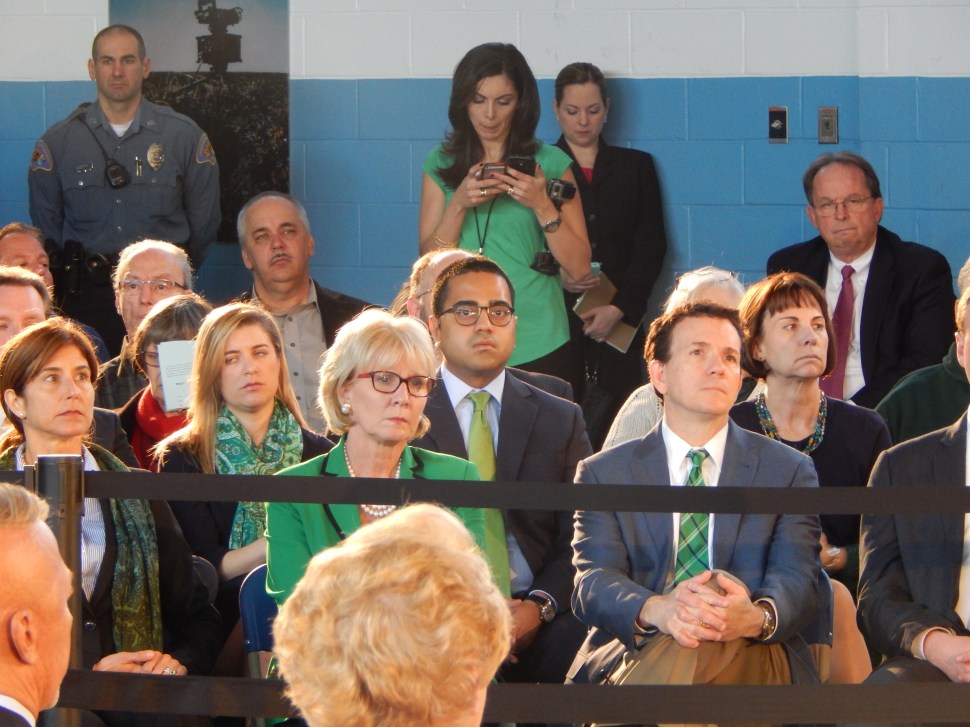 FREEHOLD — Appearing comfortable in this overwhelmingly Republican town, where former Massachusetts Gov. Mitt Romney won solidly over President Barack Obama in 2012, Gov. Chris Christie went about reassuring residents this afternoon that he is not responsible for the "sins of the past" that have left the state facing major fiscal problems — but that he won't shy away from solving them either.
"I'm like the guy who showed up for dinner at dessert, and then everybody went to the bathroom and never came back, and I got the check. And that's OK. That's the job I ran for," Christie told a crowd gathered in the National Army Auditorium in Freehold.
Christie is here today hosting his 131st town hall. It's the third one since introducing his latest budget address last month, and, like the last two, he used the event to tout his plan for tackling some of the state's more perplexing economic problems, including fixing a broken pension and benefit system, an issue that he's been forced to return to after the historic reforms he helped implement in 2011.
"What we're talking about is fairness," Christie said about making public workers contribute more to their pension and healthcare plans, adding that he is "working hard" with unions to strike a compromise on the issue.
Christie, a Republican now in his final term, emphasized that the many of the fiscal issues dogging the state today– and probably his own ambitions, as a potential presidential contender for the party's nomination next year — were not his doing. He called a costly public and pension system, too-lucrative public healthcare, and increased debt servicing the three "sins of the past" left over by his predecessors.
"Remember, a large part of the debt service we're paying is for the Whitman era pension bonds," he said, referring to former Gov. Christie Todd Whitman.
He also took a shot at some of the budget solutions Democrats have promoted as an alternative to fixing the pension issue in recent week and years, including a millionaires tax sought by Senate President Steve Sweeney (D-3).
Sweeney is among a handful of gubernatorial contenders jockeying to replace Christie in Trenton.
"Don't let anybody tell you that taxing the rich will help," Christie said, saying high taxes in the state have already driven out too many top income earners.
Unlike previous town halls, Christie received few hardball questions from the crowd, composed largely of Republican supporters. Monmouth County's GOP representatives, including State Senator Jenn Beck (R-11), Assemblywoman Mary Pat Angelini (R-11), and Assemblyman Declan O'Scanlon (R-13), were in attendance.