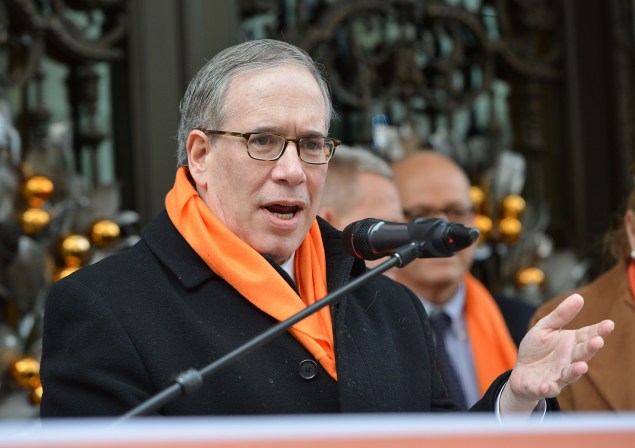 Comptroller Scott Stringer, a Democrat, won't come right out and endorse a new congestion pricing plan that would place tolls on the East River bridges–but he's plenty open to the idea.
Mr. Stringer said in a radio interview this morning that New Yorkers can't keeping saying "no" to every new and potentially unpopular proposal for funding the cash-strapped Metropolitan Transportation Authority. He gave credit to Sam Schwartz, the former city traffic commissioner, for advancing the new pricing scheme known as the "Move NY Fair Plan."
But Mr. Stringer left plenty of wiggle room: he said any debate over the new plan needed to more thoroughly involve the impacted outer boroughs.
"You know, we can't keep putting our head in the sand and saying 'no' to every new idea but here's what I think we learned during the congestion pricing discussion," Mr. Stringer said on WNYC. "We have got to have a conversation with the people who live in Brooklyn, Queens, Staten Island and the Bronx because they're the ones who bear the burdens of long transportation rides and we have to begin to bring them into the discussion."
"Last time the discussion sort of started in Manhattan and went to other boroughs and now we have to do that in the inverse," he added. He said was "open to putting all kinds of ideas on the table."
The new pricing plan would place tolls on the free East River crossings and charge drivers entering Manhattan south of 60th Street. In turn, tolls would be lowered on outer borough bridges crossings like the Robert F. Kennedy Bridge and Verrazano-Narrows Bridge. Proponents of Move NY say it will raise additional revenue for badly-needed transportation maintenance and upgrades.
State lawmakers will ultimately need to rubber stamp the tolling plan after it passes the City Council first. As the city's top fiscal officer and a former state assemblyman, Mr. Stringer could potentially influence the outcome of the vote, though he will have no direct say on whether the Move NY plan lives or dies. When he served as Manhattan borough president, he endorsed then-Mayor Michael Bloomberg's congestion pricing plan, which did not include toll relief on outer borough bridges and failed in Albany after Assembly Democrats refused to vote on the measure.
Gov. Andrew Cuomo, Mayor Bill de Blasio and Council Speaker Melissa Mark-Viverito have not committed to Mr. Schwartz's proposal, though they've expressed varying degrees of openness to the idea. But the Republican-controlled State Senate and Democrat-dominated State Assembly may not have an appetite to engage in the congestion pricing battle again.
At least one state senator who opposes the 2008 plan, Democrat Jose Peralta, came out in favor of the "Move NY" proposal. Another Queens state senator, Tony Avella, is loudly opposed.
Mr. Stringer said the public may be hungering for new ideas.
"We also have to listen to the people who are struggling because our mass transit system has not had a new–there has not been a new idea, a new approach to mass transit in about 100 years and that has to change," he said.