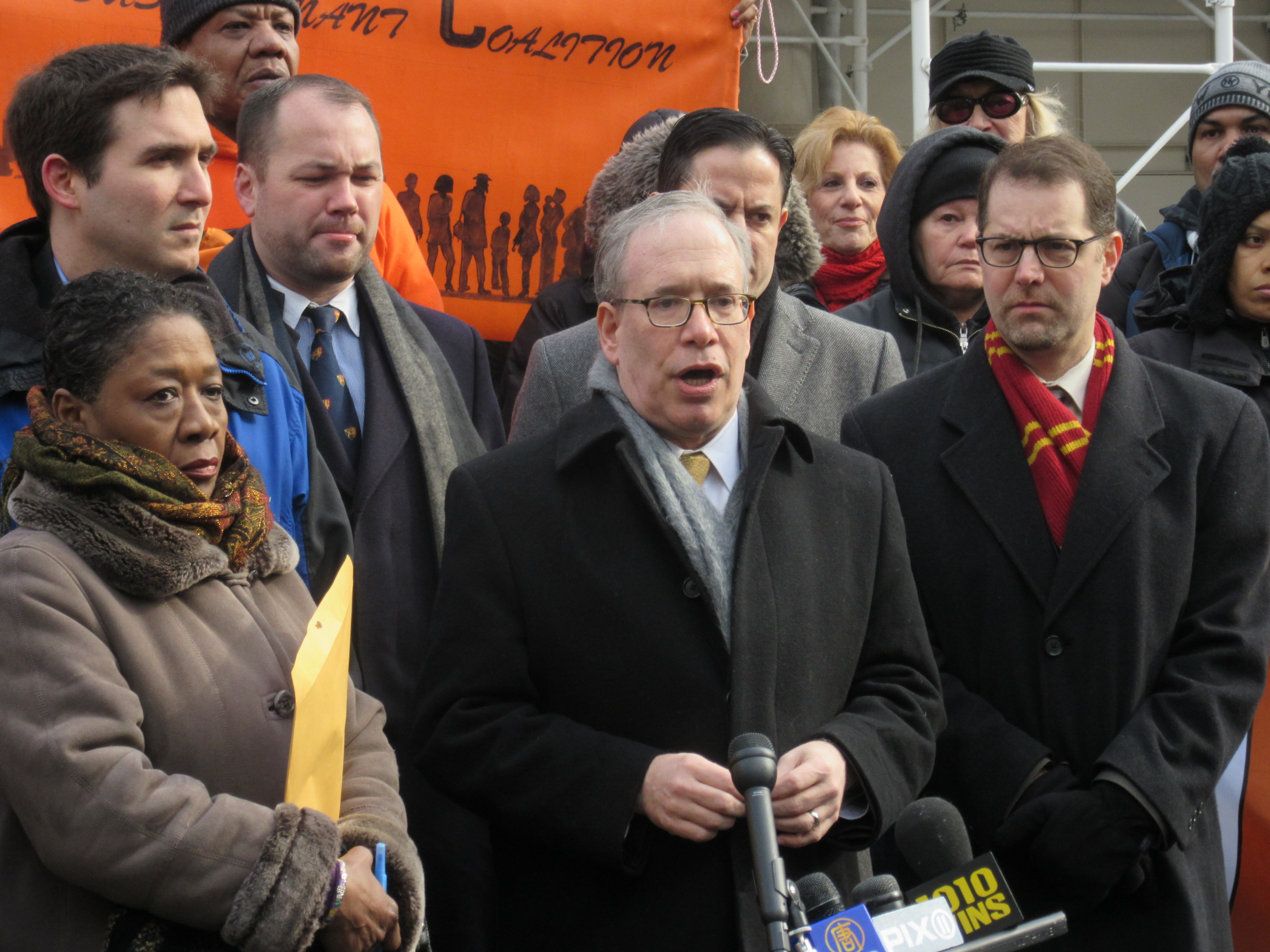 A bevy of New York City elected leaders joined tenant groups outside City Hall to demand the state government bolster protections for tenants of more than one million apartments across the city.
Rallying ahead of the upcoming struggle over state laws governing rent increases and other limitations on landlords, the politicians called for the elimination of "loopholes" that they argued encourage property owners to push out residents paying below market rates for their homes and hike up monthly payments. Among those alleged "loopholes" are vacancy decontrol—which lets landlords to remove a unit from the rent stabilization program if the tenant dies or relocates—major capital improvement rules, which allows for permanent rent increases to pay for renovations and the preferential rent system, which permits landlords to charge a tenant less than the legally regulated rate for an apartment.
Public Advocate Letitia James framed the fight as an ultimatum to Gov. Andrew Cuomo.
"Governor Cuomo needs to know that we need action and we need it now," said Ms. James, vowing to continue to rally in Albany tomorrow. "Governor Cuomo, it's time for you to respond to the needs of New Yorkers."
New York's controversial Urstadt Law puts the power over rent regulations in the hands of Albany rather than City Hall, and the laws sunset every two years unless the governor, State Senate and Assembly agree to renegotiate them.
Comptroller Scott Stringer suggested that even Mayor Bill de Blasio's plan to create and preserve 200,000 units of affordable housing will fail to stop cascading tenant displacement and homelessness without greater state-level intervention.
"We can talk about building hundreds of thousands of new affordable housing units, but if we're losing the same housing units on the other side, then we have a zero-sum game," said Mr. Stringer, recalling a report by his office that discovered the loss of 400,000 units renting for $1,000 or less over the past 12 years.
Councilman Jumaane Williams, chairman of the Committee on Housing, similarly argued that merely renewing the present laws will prove insufficient to contain housing costs and prevent more rolling waves of evictions.
"I want to make this clear to all: strengthening the rent laws is the only thing we consider a win," said Mr. Williams, a former tenant organizer. "If we only extend what currently exists, that is a loss."
The Council will vote today on several popular resolutions requesting Albany strengthen tenant protections.
But for all the cries of "fight, fight, fight, housing is a right," it remains to be seen how effective today's demonstration will be in Albany. The real estate industry invested heavily last year in the campaigns of the Long Island and upstate Republicans who control the State Senate, and Gov. Andrew Cuomo is generally friendly toward private interests.
The Assembly, dominated by New York City Democrats, has traditionally been an advocate for tenants in Albany. But the body has a largely untested Speaker in Carl Heastie of the Bronx, who last month replaced longtime leader Sheldon Silver following the latter's arrest on corruption charges.