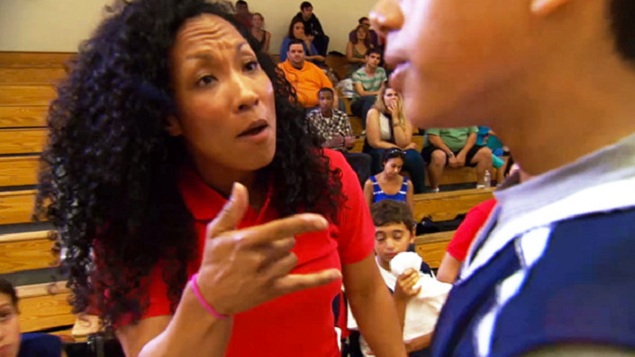 Earlier this year, Vanderbilt University basketball coach Kevin Stallings, incensed with a player who seemed to be ignoring him, fired off several verbal jabs at the player and was caught on camera saying, "I'll (expletive) kill you!"
Morehead State's Sean Woods, also a basketball coach, was suspended for shoving and then repeatedly shouting in the face of one of his players, forcing the young man to leave the game in tears.
Amid what seems to be a growing epidemic of coaches with uncontrollable anger issues spreading across today's sports landscape, comes a television reality show actively addressing this topic.
Enter Spike TV's Coaching Bad, a series that puts nine coaches through an intense program to change their combative ways.
Reality show producer and President of Irwin Entertainment, John Irwin, created the series to focus on the growing problem of coaches, both male and female, crossing the line of acceptable behavior when dealing with athletes.
The series pairs former NFL player Ray Lewis with Anger Management Specialist Dr. Christian Conte working with the participants to learn new coaching methods. During the course of the program, various sports figures will lend their perspective on the negative effects of caustic coaching. The list of guest speakers includes Chuck Pagano (Head Coach of the Indianapolis Colts), Bill Romanowski (4-time Super Bowl Champion Linebacker), and Glen "Big Baby" Davis (Forward for the Los Angeles Clippers).
Speaking about his team, Irwin says, "Ray is the perfect candidate for this show on the basis that he himself has had his share of really bad coaches and the interesting part is that he was able to overcome all of the negative stuff and toward the end of his professional career he was actively applying the positive things he'd learned and he was sort of coaching the team in a very constructive manner. When we asked him to join the show, he gravitated toward this project because for him it's such a hot button thing. For his part, Dr. Conte is well-known and well-respected for his counseling and therapy techniques with regard to anger management.  With these two in place we really feel that we have the right team to make this program successful."
From the very first episode it's clear that all of the coaches have serious problems controlling their tempers and putting several fundamental angry people together in a room seems like a recipe for disaster, but Irwin was confident that his staff could handle anything that came their way. "Having done Celebrity Rehab, where we brought eight full blown drug addicts into a house together, we learned how to set these things up with the proper personnel in place, both in front of the camera and behind-the-scenes, so that we're ready for anything that might happen."
Like other reality shows, viewers may think that when the participants are on camera their true colors might not come out. Irwin assures that this is not the case here. "What I really think ends up happening is that within a couple of hours they forget the cameras are there. They step into their normal character and they don't end up censoring themselves. It's very interesting and yet what I will say is that we've discovered having the cameras there actually helps the treatment process. The process is more effective because they know there is a sense of accountability. They can't squirm out of something that they've said or done because they know we have it on tape."
Irwin admits that while there are elements of the show that might be a bit uncomfortable to watch, there is knowledge to be gained immediately. "First of all, I think it's an eye-opening experience to see what could be happening out there if you have a child who's involved in sports. It gives you a sense that if your kid tells you something's going on you have an idea of what it could be and parents will know what to watch out for overall as well. And, I also think that there will be a percentage of people who will watch this and think, 'oh my god, I do these things. I have a problem and I need to change my behavior.'"
Through working on the show, Irwin has learned some interesting things himself. "Having gotten deeper into this show, I'm starting to understand the science of it all and the way the brain works and one of the more interesting facts that Dr. Conti has brought to my attention is that when you are standing over someone and screaming in their face — and that can be an adult or a kid – the part of their brain that actually understands and learns just shuts off in that moment. That's why we have to teach techniques that work because this shouting method clearly doesn't and it also causes so much harm to the recipient of these tirades."
Irwin also points out that the term 'anger management' is relatively new within the public consciousness and more about the condition is being discovered every day. "It's important to know that this is a disease like alcohol or gambling and you can get help. I think there are a lot of people out there that have these issues and don't realize it. In the same way that 20 years ago we didn't realize drinking was a disease, that's what's happening here. For alcoholism a checklist has been developed – we don't have that for anger management yet, but we know the signs now. It's something that's not really on people's radar even though it's so pervasive in our culture and we need to change that."
Within the show itself, Irwin says that from the onset he was aware that each of the participants had done something really bad, but he was surprised by the level of loss each person suffered due to their rage. "As we started to dig into their situations we realized that their behavior hasn't just affected their coaching career, it's affected their entire lives. We knew that a lot of them had lost their jobs because of what they'd done but what we didn't know was that for almost all of them their personal lives had been destroyed by their actions as well. Their relationships with their friends, their spouses, their kids all have been affected."
While recovery might seem impossible, Irwin believes that viewers will be drawn in and will want to see how the participants progress. "It's really moving to see each one of these coaches go through a cathartic experience and find out how sick their behavior has been. Then once they accept that they have to change, they really commit to doing it. At the end of the day, it's watching these people transcend and learn that there is a different way to do things; a different way to live their lives.
But what about those volatile coaches like the late basketball coach Bobby Knight, whom many consider a legend? Despite his on-court tirades he was well respected because he got results.   Does Irwin think that Coaching Bad is going to change the perception that hot-headed coaches are still effective leaders? "I'm not going to say that our show will change everyone's opinion about what's acceptable and what's not, but I do think that that perception has already started to change and I think what we're doing is creating a stepping stone to alter certain ideas about the how to lead and nurture athletes in a healthy way. And, at the end of the day, we can all name tons of really great coaches who've won big events and they didn't yell at or physically threaten or harm their athletes. That's the real goal here – to show coaches, and everyone really, whether you're a coach or not, the best way to encourage healthy relationships without anger or aggression."
Coaching Bad airs Sundays on Spike TV at 10/9c.
Full episodes are also available on Spike's website at www.spike.com