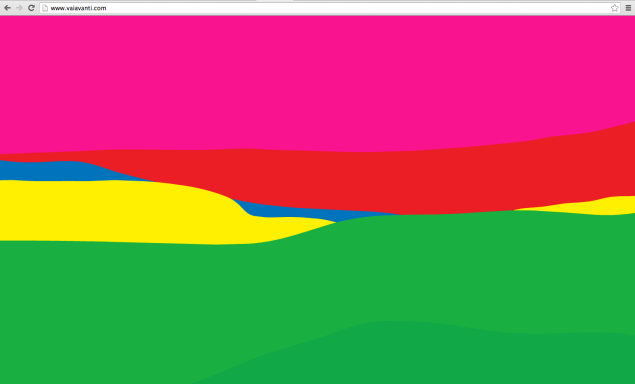 What if buying an artwork also meant buying a domain name? In the case of Brazilian-Dutch artist Rafaël Rozendaal, who has a solo booth with Amsterdam's Upstream Gallery at the Armory Show, that's what collectors will be getting for their money. For collectors who wish to buy one of Mr. Rozendaal's web-based pieces, they'll be buying an artwork that's already accessible to the public and required by contract to maintain continued public access online once they've purchased. For any web-based artist, this is having your cake and eating it too.
Two of Mr. Rozendaal's web-based works are on view at Pier 94's Booth 851. Displayed side-by-side on vertically oriented LG digital monitors, they are priced at $7,500 each. Soft Slow (softslow.com) is a color gradient that fades from purple to red to blue and then to complete darkness. Vai Avanti (vaiavanti.com) is an animated sequence of colorful rolling hills that cascade down the screen. Mr. Rozendaal keeps an active page of links to all of his "Website" works (produced from 2001 through 2014) on NewRafael.com.
Once a piece has been collected, the website's tab indicates the collection it belongs to. In the case of Silent Silence (silentsilence.com), it belongs to the Collection of Museum of the Image in Breda. And Remotely Disant (remotelydistant.com) belongs to the Borusan Collection in Istanbul. The intention is too simultaneously ensure the artwork is viewed on the medium it was intended for, in this case the Internet, while crediting the collection. Think of it as a collector lending the work to the World Wide Web instead of a museum—though Mr. Rozendaal's work has been shown at venues like the Centre Pompidou, the Venice Biennale, and the Stedelijk. But while museum's can brag about attendance rates all they want, his web-based works get over 32 million unique visitors each year online.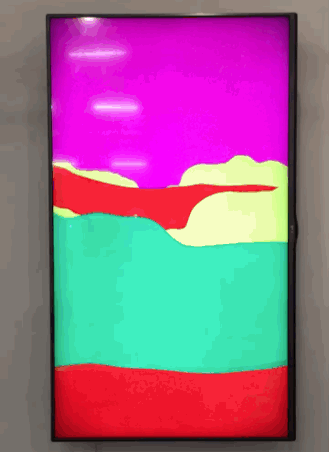 Also on view at Upstream's booth are several of the artist's lenticular paintings. The pieces are sliced composites of several images that when viewed from different angles produce variations of color gradients. Upstream's Martijn Dijkstra told the Observer that the pieces are an analog version of the works Mr. Rozendaal makes for the web.There are near infinite possibilities for the outcome of the imagery depending on the angle its viewed, just as the algorithm that produces Soft Slow creates endless shades of color.
In February, Mr. Rozendaal's much Much Better Than This (betterthanthis.com), which showed two faces that changed color each time they kissed, was displayed in Times Square from 11:57 p.m. through Midnight, every night, for the duration of the month. The piece was part of the ongoing arts series "Midnight Moment," an initiative of the Times Square Advertising Coalition and Times Square Arts.
Upstream Gallery's solo presentation of Rafaël Rozendaal will be on view from March 5 through 8.