Moments after Mayor Bill de Blasio welcomed 144 new correction officers to the ranks of "New York's Boldest," the recruits were being shouted at by a superior officer, drill sergeant-style. After a lengthy call-and-response, the newest employees of the New York City Department of Correction were asked one final question:
"What will you always represent?"
The screamed answer came in crisp unison: "Damn strong! Damn proud! Damn smart! Second to none, sir!"
That is not the image most people have of the Department of Correction, which runs the jails on the notorious Rikers Island. It is not even the image the department's leader, Commissioner Joseph Ponte (pronounced "pont"), had of the department that day.
"We're not a perfect organization," he allowed during his graduation speech. "I don't think we ever will be."
But Mr. Ponte is the man Mayor Bill de Blasio charged with giving it a go. And if not perfect, Mr. Ponte promised to make the department better—great, even. "We're in a change environment," he told his new officers, "and everybody will get caught up in that change."
Mr. Ponte has an unenviable job—arguably the most difficult in city government. He must turn around a department so dogged by institutional dysfunction that it is being sued by the federal government. He must put a gentler, more progressive face on the city's dingy and dangerous jails and improve the treatment of mentally ill inmates, all while stemming a rising tide of violence that imperils inmates and officers alike. He must balance the influences of an administration suddenly interested in Rikers, a powerful union with a take-no-prisoners attitude when defending its members, and noisy criminal justice reformers who have already likened one of Mr. Ponte's initiatives to torture.
It is one thing to promise change, but how quickly can you reform a paramilitary bureaucracy with entrenched problems? And is Mr. Ponte, whose last job was in the comparably sleepy state of Maine, the man to do it?
*
"It's the challenge that brought me here," said Mr. Ponte, 68, a man of few words in his nearly empty office in a hulking building near Rikers Island. "I'm always finding new groups that have a different slant on how they'd like to see Corrections," he continued.
Just before Mr. Ponte started his job last April, the Associated Press reported that a mentally ill veteran named Jerome Murdough "baked to death" in an overheated cell at Rikers on February 15, 2014. Just a few months earlier, another mentally ill inmate, Bradley Ballard, died after being left alone in his cell for a week. A bombshell piece in The New York Times in July 2014 about brutality against the mentally ill again thrust the department into the spotlight, a harsh one.
Just weeks after the Times expose, U.S. Attorney Preet Bharara released a scathing report on the "culture of violence" against Rikers' youngest inmates. Then in December, Mr. Bharara formally joined a lawsuit, Nunez v. City of New York, brought by the Legal Aid Society to end "unnecessary and excessive force inflicted upon inmates." (The suit was brought on behalf of a slew of plaintiffs, including its namesake Ralph Nunez, who all alleged they'd been brutally beaten while incarcerated at Rikers Island.) The announcement of the suit came a day after Mr. de Blasio visited Rikers for the first time during his 13 years in city government, touting reform policies.
The Department of Justice had expressed an interest in joining the suit, Mr. Ponte said, and in some ways his job would be easier now that they had—he needs only to reach one agreement to satisfy both DOJ and the Legal Aid plaintiffs, he said.
---

In Maine, where Mr. Ponte served as Commissioner of the state's Department of Corrections, unions characterized his policies a 'hug-a-thug.'

---
This pragmatic response to a federal lawsuit that could endanger the city's control of its jails is typical of Mr. Ponte, who started his long career as a correction officer in Norfolk, Mass. The relentless bad press doesn't rattle him, though he knows it damages the morale of officers. "Your family reads the paper. 'Daddy is this what you do?' So it's tough on [officers]."
The bad headlines haven't abated. On February 28, a Rikers inmate dragged a CO into a bathroom and tried to rape her; other inmates intervened to rescue the officer. In a recent federal lawsuit, inmates allege they were fed meatloaf tainted with rat poison and officers tried to cover it up. The tabloid stories can read like an episode of HBO's Oz.
And yet Mr. Ponte remains hopeful, in the cautious way of a flinty New Englander.
"I know there's a lot of good people working here. We can pull together and make this organization great. I'm as enthusiastic as the day I came here," he said.
Mr. Ponte doesn't look enthusiastic. Businesslike and dour, he barely cracked a smile during a half hour with a reporter until a post-interview joke about the plethora of Boston accents in the de Blasio administration. Mr. Ponte and his higher-profile police counterpart, Bill Bratton, share the accent and the task of reforming law enforcement agencies punctuated with frequent tragedy. But Mr. Ponte lacks Mr. Bratton's charm and love of cameras. Mr. Ponte will never get the glory a police commissioner in a safe city does.
"No matter if you have good programming or it's safer, at the end of the day, it's still a jail. It's not going to ever turn into the greatest social service agency in New York," said Evan Elkin, an independent criminal justice consultant and the former head of innovation at the Vera Institute for Justice. "No matter how you look at it, it still sucks to run a jail."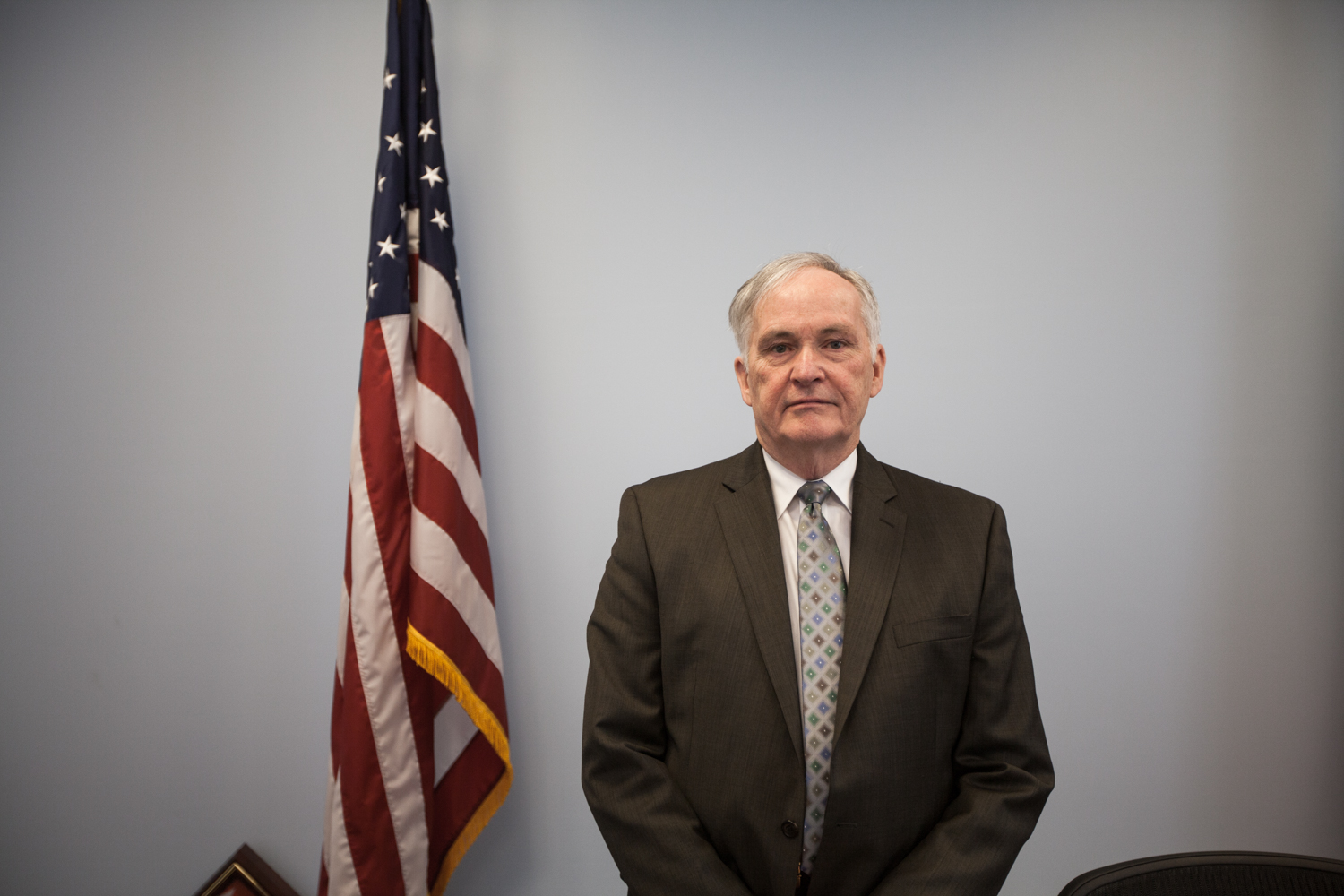 Even some of the loudest critics of Rikers Island are optimistic about Mr. Ponte.
"Commissioner Ponte has made more of an effort to change this dysfunctional agency than any of his predecessors," said John Boston, director of The Legal Aid Society's Prisoners' Rights Project. "We do not necessarily agree with everything he has done, but much of it is quite constructive."
Still, Mr. Boston pointed out that Mr. Ponte's efforts have been aimed at the behavior of inmates or visitors. "What I have not seen yet is anything designed to ensure greater accountability on the part of the staff," he said.
That may be, Mr. Boston surmised, because those efforts are happening behind the scenes—part of the intense negotiations to settle the Nunez suit, which seeks reform to the city's policies on excessive force by officers.
---

"We can pull together and make this organization great. I'm as enthusiastic as the day I came here."—Department of Correction Commissioner Joseph Ponte

---
But efforts to crack down on abuses by staff are also likely to cause a backlash from union leaders—who are often skeptical of reform efforts, and even basic assertions, like the Correction Department's estimate that 40 percent of the jail population suffer from some form of mental illness.
But Mr. Ponte believes he's getting his message through to the rank-and-file.
"Every officer I have talked to, to a person, agrees things have to get better. They may disagree as to the approach, but I have not talked to anybody that feels happy with the way things are," Mr. Ponte said. "There's enough interest to say, 'O.K., if we show them a better plan and get them to buy into that, then I think there will be good change.' But those kinds of changes, cultural changes, take a good deal of time."
City Hall is willing to give Mr. Ponte time (and money—boosting the department's budget more than any other city agency).
"I think they're all impatient, and we're impatient, and Joe's impatient," First Deputy Mayor Anthony Shorris said. "But having watched big organizations change, that level of comprehensive change takes time. We're seeing some progress already."
Mr. Ponte has already reformed the use of solitary confinement, referred to as "the bing" at Rikers. The city has ended its use for all inmates under 18, though that's a small percentage of the jail's population, and it has limited the punishment for other inmates. The maximum sentence has been dropped to 30 days, from 90 days, per infraction, and an inmate can spend no more than 60 days in punitive segregation within a six-month period. Next year, the department will exclude inmates under 21 from the bing—making the agency a national leader in reducing solitary confinement.
In February, Mr. Ponte said the department had seen good results with inmates under 18 so far—"typical fights and stuff, but no major issues. But … the staff have to develop skills on how to manage without punitive segregation."
Violence at Rikers Island, however, has not dropped on Mr. Ponte's watch. In fact, in some cases, it's on the rise. From January 1 through March 10, there were 21 slashings or stabbings—up from 10 that time last year. The number of assaults on staff has risen by 13 percent. Uses of force against inmates, meanwhile—the reduction of which is the crux of the Nunez suit—has remained statistically unchanged.
"You can be the best jailer, but they're still places where I like to say things go bump in the night," said Martin Horn, a former correction commissioner. "In the dark of night, strange things happen in these jails. Part of that is the result of jail itself. Part of it is the result of the architecture of Rikers Island. Part of it is you have a workforce that is of mixed integrity."
In recent months, the city's Department of Investigation discovered that more than a third of 150 recent hires had what it deems serious red flags—ranging from gang ties to prior arrests to family who were incarcerated at Rikers—but were hired anyway. In a separate investigation, a DOI investigator disguised as an officer tried six times to sneak in contraband like razors, booze and drugs—and got through security every single time.
The city has promised better vetting of candidates to weed out bad actors, with an additional $3.6 million in this year's city budget for that purpose. Mr. de Blasio recently announced plans to crack down on contraband flowing to the island, a major source of violence, but they focused largely on visitors, not officers. Still, he and Mr. Ponte said they will increase the screening of officers—including the random use of contraband-sniffing dogs and what Mr. de Blasio called "TSA-like" security. Hundreds more cameras are coming to the city's jails. But as Legal Aid's Mr. Boston noted, few other reforms have been aimed at officers.
Union leaders remain fiercely defensive—about corruption in their ranks, allegations of brutality against inmates and about the need for punitive segregation to keep staff safe.
"What's mind-boggling to me is that the public, the general public, when they have violent predators on the street they want them locked up and they want them secured in jail," said Sidney Schwartzbaum, president of the union representing assistant deputy wardens and deputy wardens. "But when they get to jail," he continued with sarcasm, "they're these … don't-ruin-their-psyche-by-putting-them-in-punitive-segregation, poor, misguided kids."
In Maine, where Mr. Ponte served as commissioner of the state's Department of Corrections, unions characterized his policies as "hug-a-thug." They have argued that in reducing the use of solitary confinement, he made Maine's prisons less safe.
"A guy's locked up and then 24 hours later he's out on the floor, thumbing his nose at you," Jim Mackie, the president of Maine's correction officer union, told The New York Times. Prisoner advocates in the state, meanwhile, lauded Mr. Ponte as a progressive who was always willing to meet with them.
In New York, Mr. Ponte has won some support from unions, who were wary at first but approved of his plans for an Enhanced Security Housing Unit to isolate the department's most violent inmates in a more restrictive setting.
But jail reform advocates objected and lobbied against the new unit. Ultimately, Mr. Ponte struck a deal with advocates and the Board of Correction, which oversees the department, coupling the vote on the new restrictive unit (which needed approval of the Board) with the end to punitive segregation for inmates aged 18 to 21.
Reformers still complained that the new unit amounted to torture while outraged union officials felt blindsided by the end of punitive segregation. Mr. Ponte didn't seem to mind the anger from both sides.
"He gives the impression that he doesn't really care if people are yelling at him, which is a good survival characteristic," Mr. Boston said.
Norman Seabrook, the bombastic president of the correction officers union, saved his yelling for the board members. But Mr. Ponte took responsibility for catching him off-guard.
Many have presented unions—particularly Mr. Seabrook—as a roadblock on Mr. Ponte's bumpy road to reform. And Mr. Seabrook's union has sometimes literally blocked the bridge to Rikers as part of job actions.
For any reform effort to work, there has to be a certain level of buy-in from the rank-and-file. Mr. Ponte said he understands why those officers are wary of change, particularly around punitive segregation, a tool they have used so long it is hard to imagine working without. He has tried to win their trust by showing, not telling—bringing staff on trips to jails and prisons in other states to talk to officers about what works.
---

"In the dark of the night, strange things happen in these jails."—Martin Horn, a former correction commissioner.

---
"Convince them that this is the way to do it, rather than me just telling them, 'this is a good idea,' " he said.
Mr. Horn said in his experience, trust and respect also comes from being present and unafraid.
"Ponte is doing that. The way to be the commissioner of this department is by walking around. You gotta see it. You gotta feel it. You gotta smell it. And the staff has got to see you and know what you stand for," Mr. Horn said.
Mr. Schwartzbaum, the union leader who has worked in the department for 30 years, said he believed Mr. Ponte had the staff's best interest at heart. "However, I have some trepidation in mental health—allowing the inmates to circumvent the system."
It is in changing the way officers think about—and treat—mentally ill inmates where Mr. Ponte might face his biggest challenge. Officers are not social workers or therapists, nor are they trained to be. But changes are already underway. Those deemed "seriously mentally ill" by the state are no longer placed in punitive segregation and sent instead to a new clinical unit with a "highly-structured environment," Board of Correction Chair Gordon J. Campbell said.
Still, many corrections officers simply do not believe 40 percent of inmates are mentally ill. Officers have a nickname for inmates they think are faking mental illnesses to get out of solitary: "Bing-beaters."
"A large majority of these inmates are professional inmates," Mr. Schwartzbaum said. "They know how to get out of the disciplinary process, and that's why violence has skyrocketed."
Mental health is made even more complicated by the fact that care is the responsibility of the Department of Health and Mental Hygiene. The two departments don't always see eye-to-eye, and the health department uses a perpetually under-fire, for-profit vendor, Corizon, to actually care for the inmates.
"It just makes communication and cooperation difficult—not impossible, but difficult," said Mr. Ponte.
The cautious-but-can-do appraisal is characteristic of Mr. Ponte. He said he believed change will come, despite the disparate interests, because, at the end of the day, all concerned parties—City Hall, the unions, the U.S. attorney's office, criminal justice advocates—essentially want the same thing.
"Who would argue against safe, humane jails?" he asked.
And as Mr. Ponte trudges toward that goal, many eyes will be trained on him.
"Before, it was the invisible island—once you crossed the bridge, anything could happen," Mr. Campbell, the chair of the correction board, said. "Now, that's not the case."
In full disclosure, Jillian Jorgensen's father is a retired deputy warden with the New York City Department of Correction, who served at Rikers Island. He is among department leadership named in the Nunez complaint.