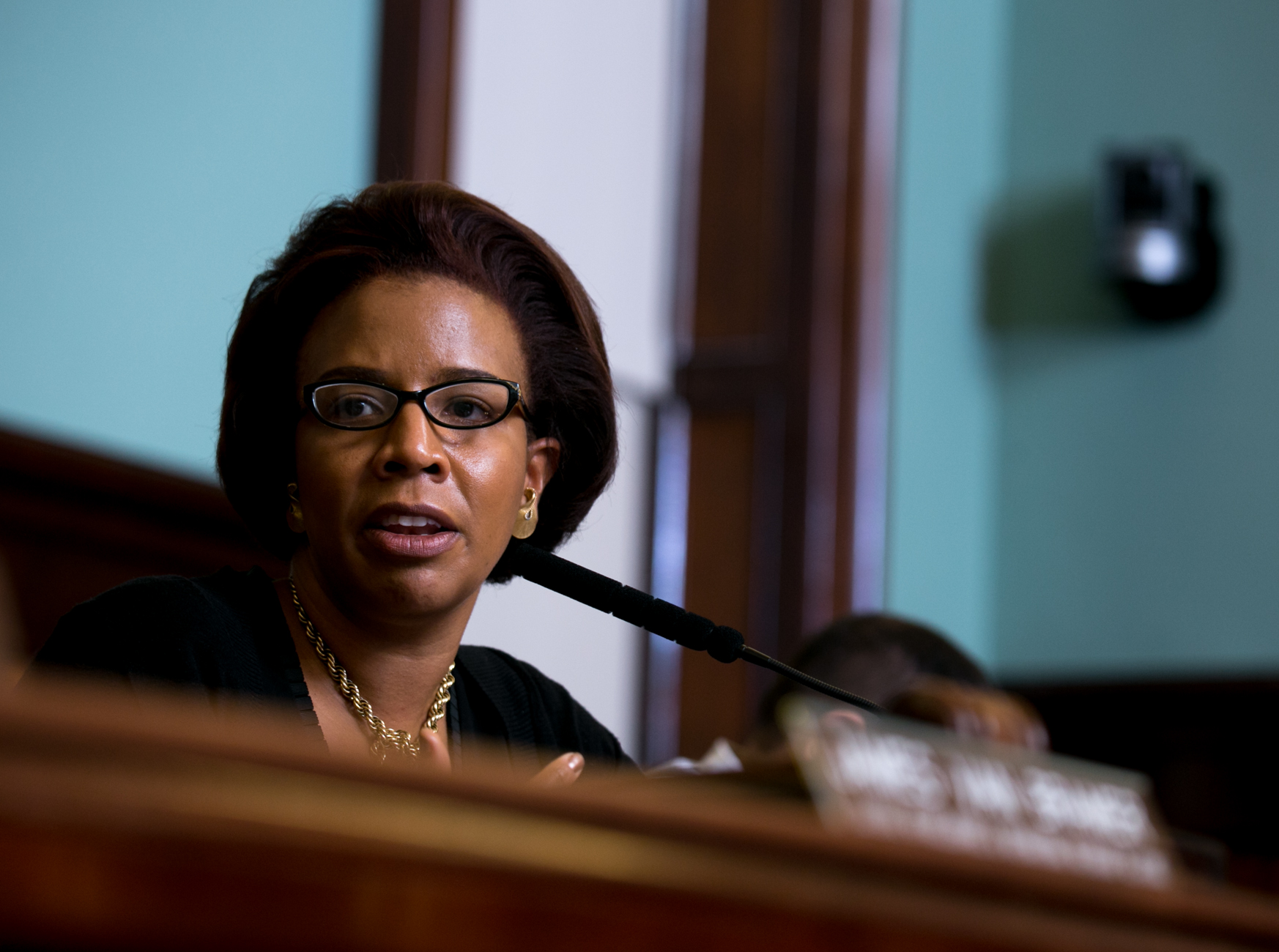 Brooklyn Councilwoman Laurie Cumbo today said that a number of her constituents "don't understand" the growing population of Asians moving into public housing units in her district.
Ms. Cumbo told Shola Olatoye, Chairwoman and Chief Executive Officer of the New York City Housing Authority, at a hearing of the council's public housing committee that residents in her district are perplexed that so many non-English speaking immigrants are moving into certain developments. The African-American Councilwoman stressed that she appreciates the rich cultural heritage Asians bring, but that many people wonder why the new arrivals are being allowed in to the apparent exclusion of others.
"We have a very large Asian population in our district, which we love, and they add something very valuable to our community and our district, and they are welcomed in our district," she said. "But we want to understand, what the tenants want to understand is how is it—because the way they're understanding it is that people from all ethnicities could be moving into the district, but that's not actually the case."
"They are having challenges in terms of understanding how one particular ethnic group, that speaks the same language across the board—I know that there are many different languages and many different dialects—but how is it that one specific ethnic group, has had the opportunity to move into a development in large numbers," she continued.
Ms. Cumbo said she and her constituents wanted to understand how NYCHA allows such large, sudden "blocs" of people in all at once.
"I don't know how to explain to the residents why their number hasn't been called but they'll see a large migration average of the same ethnic group," she said. "It's not as if it's one person from this country, another person from that country. How does the authority handle certain situations such as that?"
Track our LIVE coverage of the East Village Building Collapse here. 
---

"We are a changing society, so definitely that is the value and the reality of our city."

---
Ms. Olatoye, however, noted that NYCHA has a vacancy rate of less than one percent—which would seem to make what Ms. Cumbo was describing unlikely or even impossible.
"There's very few sort of waves of people coming in, as we are so tight, because, as there are a finite number of units," she said.
She continued by noting that federal fair housing guidelines require NYCHA to rent to people of all backgrounds, and pointed out that New York has always been a hub for newly arrived ethnic groups.
"We are a changing society, so definitely that is the value and the reality of our city," she said. "I would embrace these people."
Ms. Cumbo's district includes neighborhoods that were formerly African-American strongholds, but have undergone widespread gentrification. In the 1980s and 1990s, there was considerable tension between black residents and Asian-American store owners.
Additionally, as a Councilwoman-elect in 2013, Ms. Cumbo reacted to the "knockout game" phenomenon—in which groups of mostly black youth were accused of attacking Orthodox Jews and other whites—by noting on Facebook that many African-Americans "sense that Jewish success is not also their success."
The remark drew widespread condemnation, and Ms. Cumbo later apologized.
Hours after the hearing concluded, Ms. Cumbo's put out a statement to reporters to clarify her intentions. The statement claimed that she was simply trying to find out if the housing authority was using any kind of "cultural preference priority" in selecting new residents.
"The question I posed to Commissioner Olatoye was focused on bringing transparency and clarity to the randomization process outlined in the Tenant Selection and Assignment Plan Policy. It was not my intention to offend the Asian community or any other cultural group that calls NYCHA home," said Council Member Laurie A. Cumbo.
Updated to include press statement from Ms. Cumbo.