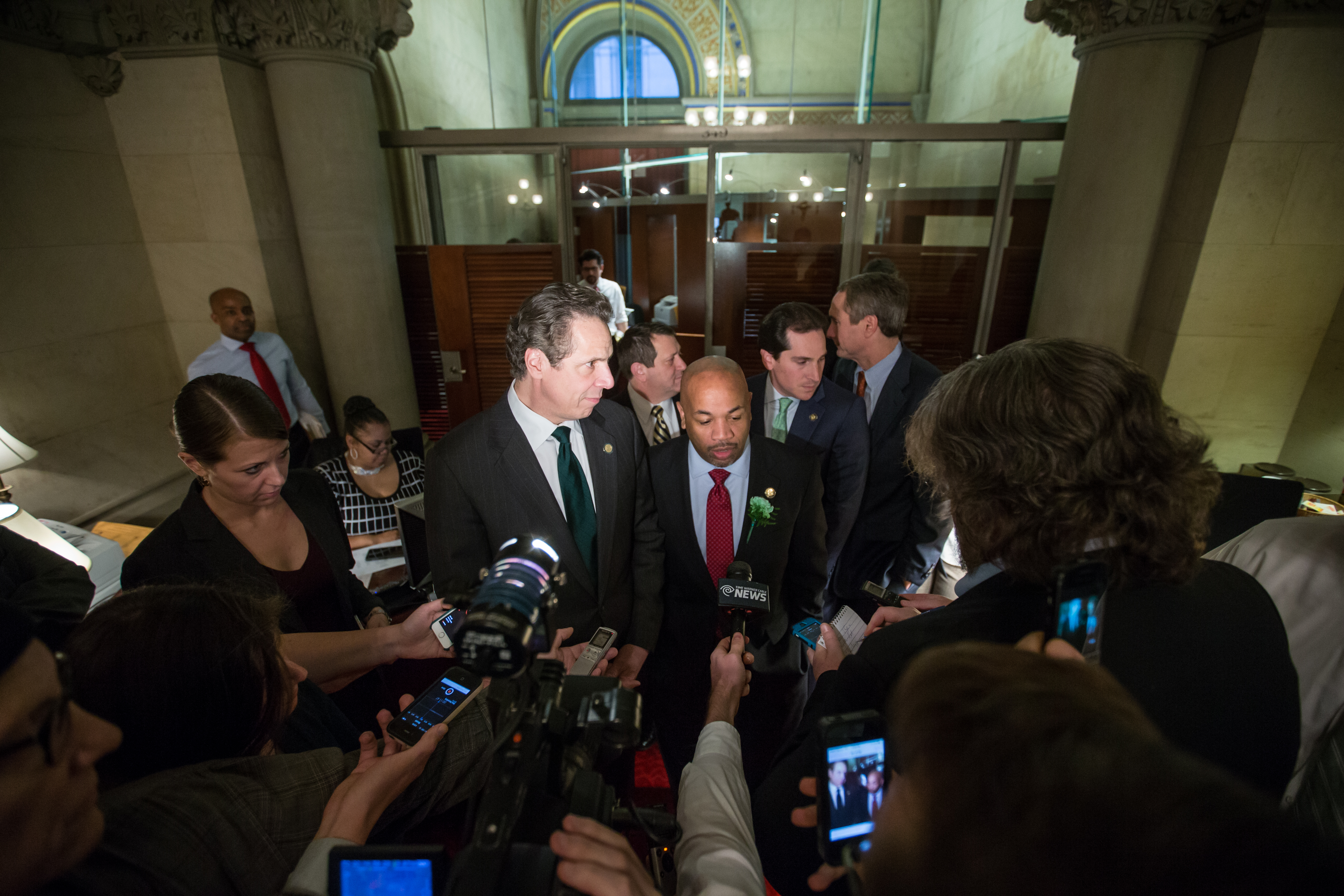 Gov. Andrew Cuomo and Assembly Speaker Carl Heastie announced today that they've reached an agreement on a package of ethics reforms that Mr. Cuomo touted as the "most stringent" in the country, but stops short of banning outside income.
"It's not to say there will never be bad people, and we can guarantee no one will do a bad act," Mr. Cuomo, a Democrat, said in Albany today. "But we do need to be able to say there is a system in place that is designed to prevent such actions, detect actions if they occur, and then punish" those who act badly, he continued.
The package announced today, which does not include an agreement with the Republican-controlled State Senate, is based largely on a five-point reform package Mr. Cuomo rolled out at a speech earlier this year "after a recent high-profile ethical case," as he put it today. That case, against former Assembly Speaker Sheldon Silver, led Mr. Silver to step down, paving the way for the ascension of the man sitting beside the governor today, Mr. Heastie.
"I re-organized the priorities and I said, the number one issue for the budget is ethics reform," Mr. Cuomo said.
Mr. Heastie, a Democrat like the governor, said the legislation would allow Albany to focus on other issues.
"It is because of this agreement that we can finally move out of the past into a future where all of our attention can finally be focused on where it belongs," Mr. Heastie said.
The charges against Mr. Silver are focused on his outside income—which U.S. Attorney Preet Bharara has argued amounted to "bribes and kickbacks" disguised as legitimate earnings—and today's agreement calls for new disclosure requirements for any income in excess of $1,000.
Public officials would be required to disclose all outside income, from where it came, the services they performed to earn it, and whether there is any connection to state business. Lawmakers, legislative employees and state officers would not be allowed to receive any compensation in connection with pending legislation.
If the income is above $5,000, the public official must disclose the name of the client or customer, the work they did, the amount they earned, and whether the work was related to government action. There are exemptions in for cases concerning child custody, divorce, and other sensitive issues, Mr. Cuomo said.
Mr. Cuomo said the disclosure requirements "go to an unprecedented level, especially in the area of legal representation."
The package also calls for reforms to the state's per diem system, which hands out payments to lawmakers for days they are in Albany but is loosely tracked and requires no receipts.
"There will be an electronic verification system that actually monitors and tracks the attendance for people who claim per diems," Mr. Cuomo said. "Reimbursements will be governed by the IRS regulations, and the legislature will be putting together a website that will allow you to see, will allow the public to see who is getting what per diems."
These reforms stop short of changes called for this week by Attorney General Eric Schneiderman, with whom the governor has a strained relationship. Mr. Schneiderman knocked previous attempts at reform as falling short, and called on Mr. Cuomo to press the legislature to ban outside income entirely and drastically overhaul the per diem system, among other proposals.
Mr. Cuomo and Mr. Heastie said today they will also seek to crack down on the use of campaign funds for personal expenses—with a law that would ban the use of campaign cash for things like residential home purchases mortgage or rent payments, clothing, tuition, and country club or health club memberships.
Lawmakers will still be able to use campaign cash to pay for lawyers, Mr. Cuomo said—arguing that being sued comes with the territory of an elected official.
"I believe it's a function of the office and I believe it's a legitimate fee," Mr. Cuomo said.
Officials won't be able to use campaign cash to pay fees or penalties if they are convicted of a crime.
The agreement also calls for lawmakers to disclose independent expenditures made within 60 days of a general or special election and 30 days of a primary election.
Mr. Heastie and Mr. Cuomo lauded their consensus on the issues, even as the agreement does not include GOP State Senate Leader Dean Skelos.
"Our agreement is a product of consensus that I said I would hold paramount as speaker," Mr. Heastie said.
Mr. Cuomo, meanwhile, said the issue was a tough one for Mr. Heastie to take on—because it hits officials in the pocketbook.
"This is an issue that is very personal, because it's about people's livelihood, and it was as hard an issue to grapple with as I have seen," Mr. Cuomo said.
On his way out of the press conference, Mr. Cuomo was pressed on why he was making the announcement before Mr. Skelos had signed on. "Variety," he offered.