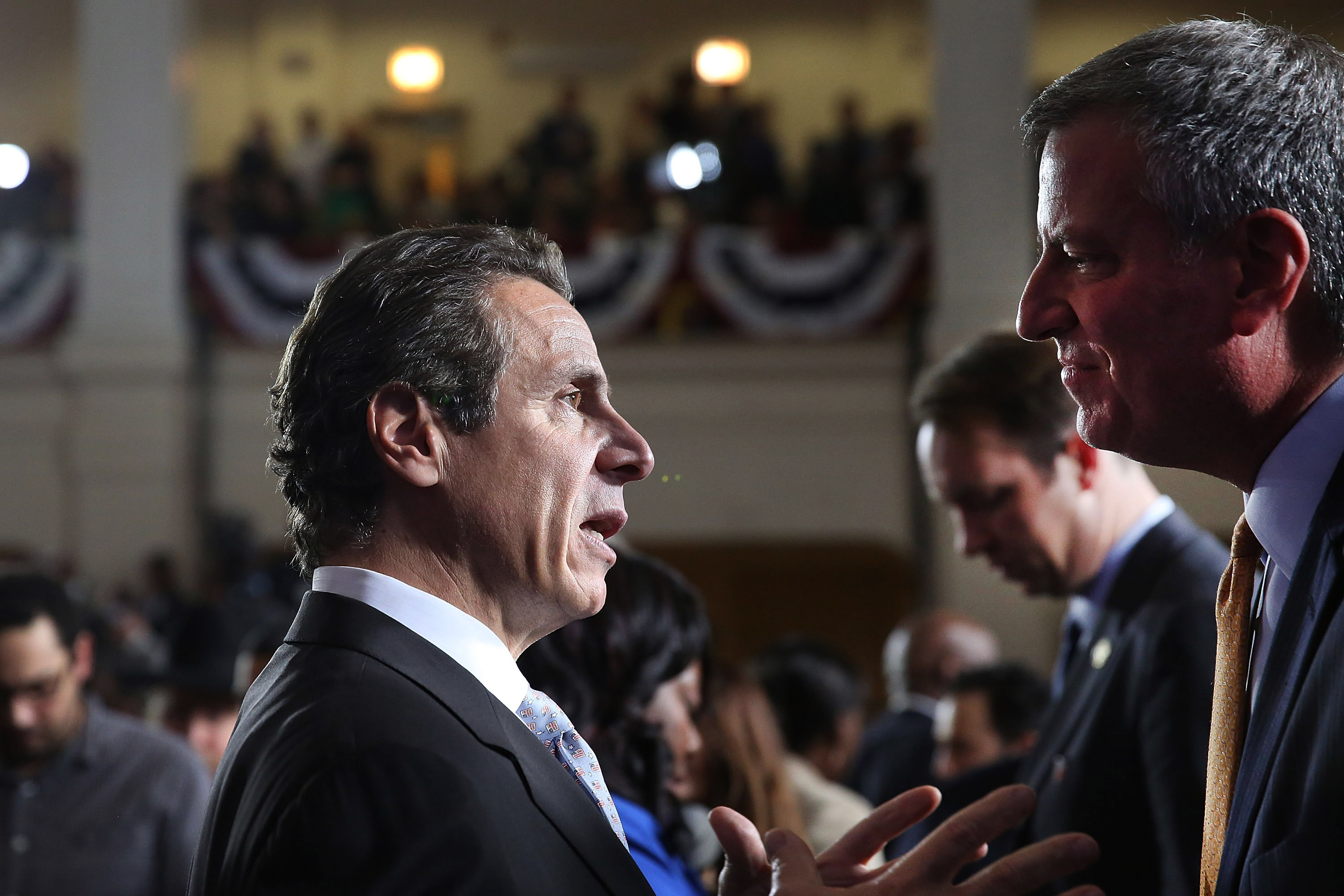 Gov. Andrew Cuomo signaled today that the contentious issue of mayoral control over New York City public schools—along with several other major policy debates—will "more likely" be decided during the regular legislative session, after the state budget deadline of April 1.
In an unprompted, atypical statement fired off to reporters this afternoon, Mr. Cuomo's office again emphasized that he would not sign off on a budget that does not include his ethics reform plan, and stressed that instating a teacher evaluation and elimination system based on standardized testing remained a "top priority." But he said that other parts of his agenda could wait until after the heated negotiations between himself, Assembly Speaker Carl Heastie, State Senate Majority Leader Dean Skelos and State Senate Independent Conference Leader Jeffrey Klein are over.
Among those matters, his office said, are extending mayoral control of schools and lifting the cap on the number of charter schools. Mayor Bill de Blasio—an opponent of charter expansion—has asked that Albany grant his office permanent power over the administration of the city's schools, while Mr. Cuomo has said he is only willing to agree to a three year continuation, after which the program would again come up for review and renewal.
"The charter cap and mayoral control for New York City are issues that can be addressed in the budget, or more likely in the remainder of the session," Cuomo spokeswoman Melissa DeRosa wrote, saying the issues must nonetheless get resolved this year. "Regardless, both should be addressed before the conclusion of the session."
The governor identified other issues as priorities for being included within the budget, including increasing the minimum wage to $10.50 statewide and to $11.50 in New York City, a series of tax cuts, and a set of economic and infrastructural revitalization proposals aimed at upstate New York.
When it comes to passing the DREAM Act to grant college tuition assistance to undocumented immigrant students, and the Education Investment Tax Credit to incentivize private donations to parochial and public schools, Mr. Cuomo's office said he would prefer to pass them in the budget, but if they are not included they could be passed later.
"The DREAM Act is supported by the Assembly and the Education Tax Credit is supported by the Senate. Last year, neither initiative was passed. The Governor believes at this point, that either both will pass or neither. The Governor supports passage of both and included them in his budget. If they don't pass in the budget, they could still pass in regular session," Ms. DeRosa said.
The statements come as several news outlets have reported jockeying between Mr. Cuomo and the State Senate and Assembly over just what will be in the budget—including reports that Mr. Cuomo had softened his stance on education reform and that the Dream Act was unlikely to be included.
"We call on Gov. Cuomo to restore the Dream Act to the budget—on its own—and to pass it as part of the budget. Our children deserve nothing less," United Federation of Teachers President Michael Mulgrew said today.
Mr. de Blasio, meanwhile, again reiterated today that extending mayoral control remains a top priority of his.
The legislature granted former Mayor Michael Bloomberg control of the public school system for seven years in 2002, and extended it for six more years in 2009. Mr. de Blasio today called the old community school board system—in which the mayor got his political start—"a proven disaster" after a press conference in Boston, and again called for its renewal. He even teamed up with frequent foe, former Mayor Rudolph Giuliani, in a letter to Albany urging the legislature to expand mayoral control.
"We have to take the politics out of the equation and really allow mayoral control to work," he said, even as he signaled he was amenable to extending the arrangement for just seven years. "Mayoral control is a fundamental reform. We cannot go back. It should be permanent. If for some reason the legislature does not want to make it permanent, of course they should make it for the longest possible timeframe so we can continue to do the work we need to do."
This story has been updated to correct that Mr. Cuomo cited minimum wage, tax cuts and upstate economy proposals as priorities for passed in the budget, not after it.