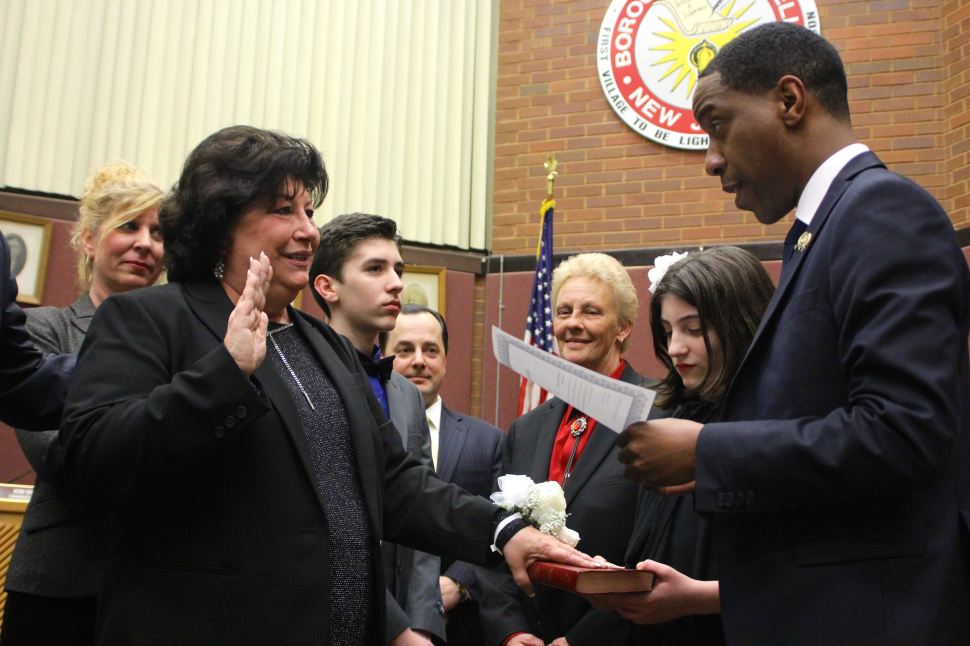 Christine Dansereau assumed the oath of office in Roselle on Wednesday night, becoming the first female mayor in the Borough's 132-year history.
A councilwoman for eleven years, Dansereau succeeds former Mayor Jamel C. Holley, who resigned his post on Feb. 23 to represent the 20th District in the Assembly.
"I am grateful to receive the endorsement of the Roselle community who elected me to this body and to my colleagues who backed me on this journey," Dansereau said. "To be the first woman to hold this office in Roselle is an enormous honor, eclipsed only by what I know to be a promising and historic juncture in our Borough's history."
Holley and Dansereau will appear together on the primary ballot.
"Christine has been a strong champion of the Borough's economic development initiatives and has played a critical role in putting the Borough on even stronger financial footing," Holley said, citing improvements along the Chestnut Street commercial corridor.
He credited her role as a key architect of the Borough's proposed Mind and Body Complex, a collaboration between the Borough and Roselle Public Schools that will include a new school, a digital library, a swimming pool, gymnasium, and other community spaces. Holley also praised Dansereau's efforts in environmental protection and her recent campaign opposing a proposed crude oil pipeline passing through the Borough.
"I have never known Christine to be anything less than a tireless advocate for Roselle residents, their safety and their economic well-being," Holley said. "As mayor, she will turn that commitment and her deep knowledge of this town into continued success. As Roselle is in my Assembly district, I very much look forward to continuing our partnership on critical matters facing the Borough."
Dansereau will complete the remainder of Holley's term, set to expire at the end of this year. She will seek the Democratic nomination in the June primary and will run for a full term in the November general election.

Dansereau moved to Roselle in 1985 with her two children. As a single mother, she raised her children, advanced her career in speech pathology, and dedicate herself to public service.