It's almost 2 a.m. You just heard the bartender shout "last call." You don't want to go home alone or without as much as a phone number, so you turn on the charm and flirt with the bar-goer next to you because, hey, the bar is closing and what do you have to lose?
Two a.m. on Tinder isn't so different. You swipe right again, again, and again because, hey, it's 2 a.m, this is Tinder and what do you have to lose?
There's something about these wee hours of the night. They bring out the desire for another person, the grueling reminder that there's no one by your side and a casual sense of desperation that has you putting yourself out there a little more. Because why not? This would've happened in a bar back in the day, but this is 2015—we date on apps, and therefore we desperately and drunkenly peruse for late night company on apps as well.
"My guess is that people who are logging on late at night either struck out at the bars or are lowering their standards," Cliff Lerner, CEO and founder of The Grade dating app, told the Observer.
---

Mixxxer, is an app specifically about nudes and hooking up that's touted as X-rated Tinder.

---
A recent analysis of their data found that the rate at which users "like" each other spikes between midnight and 4 a.m. They also discovered that users are much more likely to send sexually explicit messages during this time as well—specifically, the rate of sending sexual messages increases by 50 percent for men and 48 percent for women late at night.
"It's because we show you people who are nearby and have logged in recently," Mr. Lerner said. "It's almost the online equivalent of last call at a bar."
He knows that the app's consideration of users' locations contributes to its after hours transformation and assumes other location-based dating and hookup apps see the same trends. Tinder didn't respond to our request for data or comment, but after hearing countless stories of late night Tinder, we have no doubt that the app experiences the same phenomenon. Other location-based apps that are solely for hooking up (Tinder isn't the most hookup heavy, believe it or not) like Mixxxer, the nude-friendly, hookup-focused app touted as X-rated Tinder, are probably a late night go-to.
The Grade is a dating app that functions just like Tinder. The difference is the use of an algorithm that evaluates users on factors like the quality of their messages, their use of "inappropriate words" and how often other users respond to their messages. Users are assigned grades A+  through F which are posted on their profiles for others to see before they swipe right. It was developed as a response to women's number one complaint about Tinder—the constant bombardment of unwanted explicit messages.
After analyzing the data, The Grade team noticed how many late night messages contained words flagged "inappropriate" and went unreturned. They realized that late night usage was harming users' grades, so they launched a new feature on the app to help prevent this. Now, when users go to send messages after midnight, the app warns, "Late night messaging could be hazardous to your grade." Of course, late prowlers can still go through with sending their messages, but this warning is kind of like your friend discretely nudging your beer away saying, "Maybe we should just get out of here," as she sees you about to make a "last call" mistake.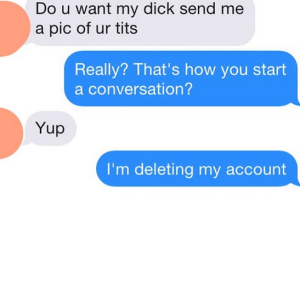 This virtual cockblock may be unique to The Grade, but the after midnight dating app scene mirrors the late night bar scene in a number of other ways, and alcohol is at the root of a number of them. Drunk Tindering is a thing. You've probably done it yourself, seen lame people do it at parties (or even bars) and heard your friend go off about the message she woke up to that was literally the weirdest thing ever. If not, there are multiple subreddits, Instagram accounts, and BuzzFeed listicles dedicated to screenshots and stories of drunken Tinder shenanigans.
There are creeps that come on too strong, messages you sent that you don't understand the next morning and messages you receive whose sender was a BFF to drunk you but is a stranger to sober you. There are also those plans drunk you makes that sober you has an obligation, but no desire, to carry out. These typical signs of a drunken night out are now just as indicative of a drunken night on a dating app.
Whether the bad pick-up line is spoken aloud or received immediately after you swipe right; Whether the drunk gibberish you see the next morning is a text from a number you don't recognize or a message from a match; It's all the same.
Maybe it's time to deem this the "last swipe."
See: Tinder Will Launch 'Tinder Plus,' But They're Leaving Out the Best Possible New Feature