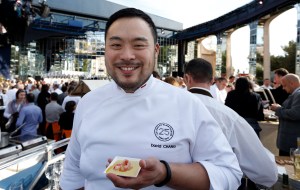 David Chang, the famed chef behind the Momofuku empire, announced as SXSW that he would be opening Fuku, a new fried chicken restaurant in Manhattan, this past Saturday. The restaurant will occupy Mr. Chang's previous Momofuku location on First Avenue, and serve as an homage to its previous occupant, East Village Barbecue.
While the "Chick-fil-A- and In-N-Out-" inspired restaurant is a new take on the food industry for Mr. Chang, it comes at little surprise—Mr. Chang dropped a few hints over recent months.
Mr. Chang is also cooking up a mobile app similar to Taco Bell's remote ordering system, set to launch alongside Fuku.
Despite the new jump, which Mr. Chang says is merely "beta testing" for something bigger in the suburbs; he has little worry about what is to come. "If the fried chicken sandwich is fantastic, and if the app is fantastic, great. But if it bombs completely, great," Mr. Chang told the crowd at SXSW. "Out of those ashes something amazing will happen."