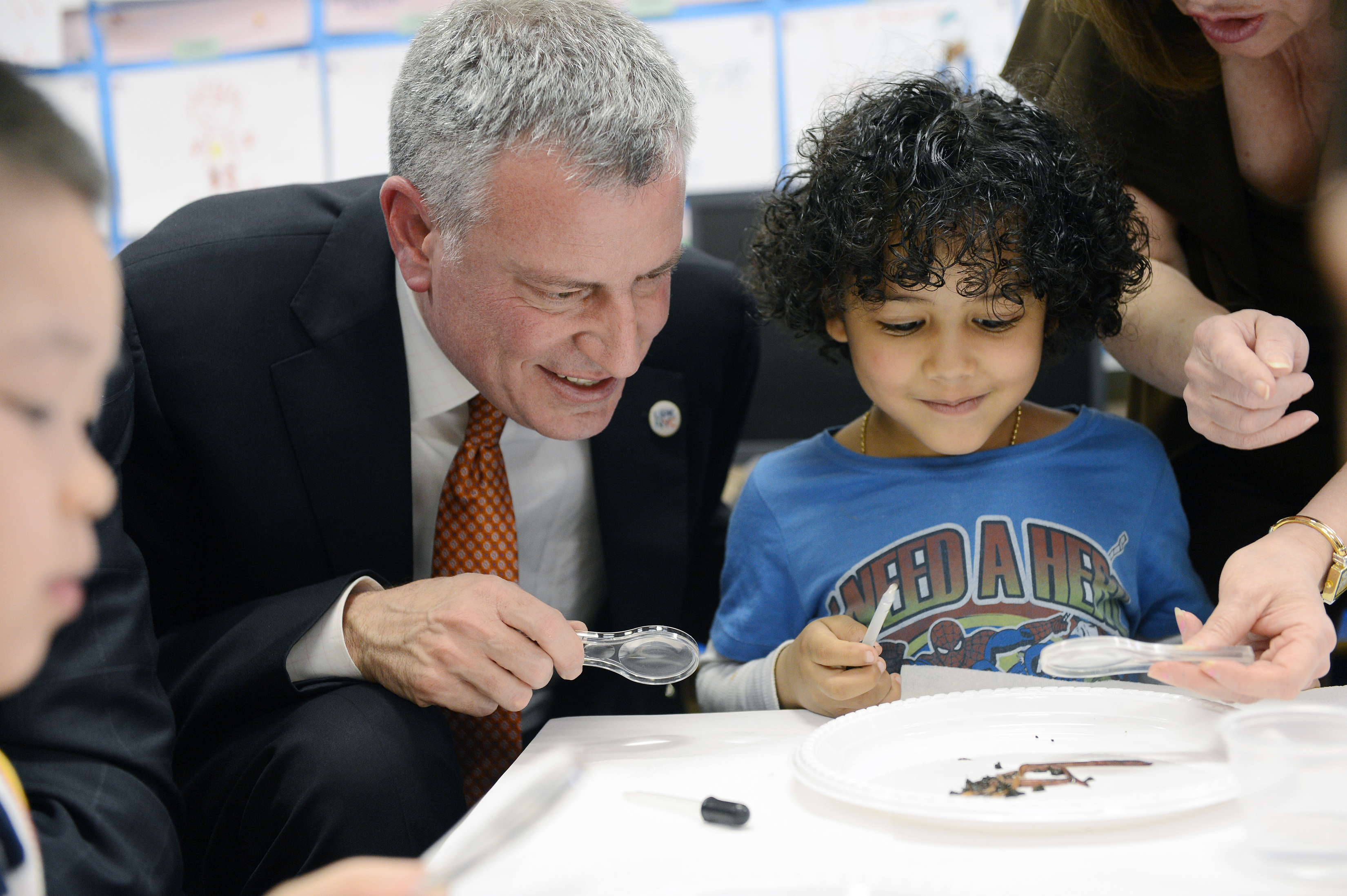 Mayor Bill de Blasio today released a joint statement with Syracuse Mayor Stephanie Miner charging that Albany has disobeyed the Court of Appeals verdict in the 2003 Campaign for Fiscal Equity v. State case by allowing public schools to go "chronically underfunded."
Hitting the same notes as teachers unions and Assembly Democrats, Mr. de Blasio and Ms. Miner maintained that the state owes their city schools $2.6 billion and $87.1 million—respectively—under the decision. The Court of Appeals found in the Campaign for Fiscal Equity suit that New York State underfunded public schools and did not live up to its constitutional guarantee of a good education.
Both mayors argued that they could not provide vital programs for children without the monies in question. The joint statements came after a meeting they had Friday at City Hall.
"For far too long, the state has failed to meet its court-mandated responsibility to provide enough resources to local school districts," said Mr. de Blasio. "One of the most important education acts the state can make to turn around struggling schools is to end the year-in, year-out cycle of shortchanging our principals, teachers and ultimately students."
"Having the dollars needed to implement the reforms that will fix a broken status quo is critical," he added, arguing that he needs the funding for his social services-oriented "community schools," for afterschool activities and for critical technology education.
Ms. Miner, a former chairwoman of the State Democratic Party and occasional Cuomo antagonist, asserted that the state's alleged delinquency had set back her city's adoption of the "Say Yes to Education" program, a nationwide initiative aimed at at-risk impoverished youth.
"Syracuse—the first city to implement Say Yes to Education district-wide in the United States—had to retrench and re-plan when NYS failed to meet its Constitutional responsibility," she argued. "It is time to give our students and families the support they deserve, so we can change outcomes, and, most importantly, the futures of our most important asset—our children."
The office of Gov. Andrew Cuomo—to whom the statement was addressed—did not immediately respond to requests for comment. Mr. de Blasio and the governor have clashed repeatedly education issues.
Mr. Cuomo intends to put just $377 million in the budget for education statewide this year, though he said he would agree to up the amount to $1 billion if the legislature agreed to his plan to link teacher evaluations to standardized tests and to allow the state to fire instructors deemed "ineffective" and to shut down failing schools.
Litigation regarding the state's outlays for education under the Court of Appeals decision is the subject of ongoing litigation.