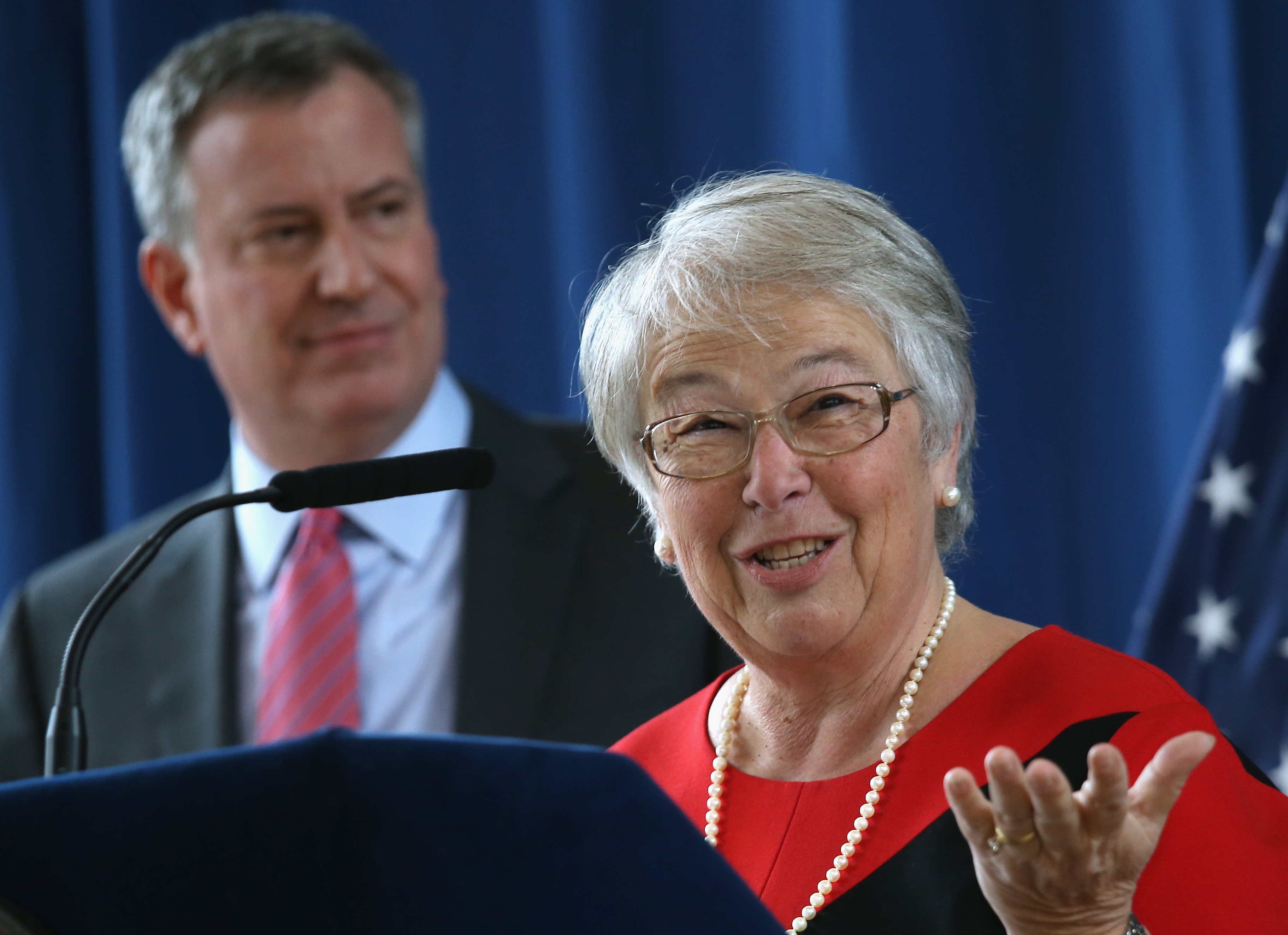 Mayor Bill de Blasio and Schools Chancellor Carmen Fariña today toured a long-troubled Brooklyn public high school to tout his new Compstat-style approach to tracking education gains and the alleged successes of his administration's investment in new programs.
Mr. de Blasio boasted that Boys Automotive High School, once labeled a "warehouse" for failing students, has already seen substantial improvements under his three-month old 'Renewal Schools' program. It's his third visit to a renewal school in recent weeks, after trips to Boys and Girls High School in Brooklyn and Richmond Hill High School in Queens.
The initiative, launched at 94 public institutions citywide, brought in a retired principal to serve as a "coach" for turning the Automotive around, increased available extracurricular activities, extended learning time, introduced tougher English and math materials and created new Career and Technical Education courses in fields such as law.
"We are working every single day to deepen the progress happening on the ground at schools like Automotive. We're ensuring they have the right leadership and the support they need to turn around and deliver the education these students deserve," Mr. de Blasio said in a press release.
The mayor highlighted that the number of students involved in afterschool programs has more than doubled, that attendance is at record levels, fights and suspensions are down and that more students on a path to graduation—all of which he said he could be tracked by his new Compstat-style "war room" approach to collecting and crunching education data in real time. He even made a push for a permanent renewal of mayoral control of schools, a Bloomberg-era program that Gov. Andrew Cuomo seeks to only extend for another three years—and recently declared would likely be left out of this year's state budget entirely.
"With just days left before the state budget is decided, we are calling on leaders in Albany to renew mayoral control so we can continue this work, and fully fund our schools so we can drive change even further," Mr. de Blasio said.
Mr. de Blasio has repeatedly argued his plan for failing schools is better than the one advanced by Mr. Cuomo, which includes state receivership of failing schools in New York City and elsewhere. "I think the notion of a group of bureaucrats 150 miles away trying to determine the fate of our children sounds like a formula for a disaster," Mr. de Blasio said at Richmond Hill earlier this month. "Let's take the tools we have and apply them."
"We are implementing real change at Automotive and every Renewal School across the City – and we're seeing real results. Leading indicators like a 100 percent increase in afterschool attendance and new CTE law-focused classes show that Automotive is heading in the right direction," she said in a release.
The pro-charter group Families for Excellent Schools—a longtime de Blasio and Fariña nemesis—however, chalked up the improvements at Automotive High School to a staffing overhaul that required the unionized faculty to completely re-apply for its jobs.
"These may be distinctions lost in the politics of the de Blasio administration, but they are not lost on the thousands of kids still trapped in New York City's failing schools," FES Chief Executive Officer Jeremiah Kittredge said in a statement fired off to reporters last night.