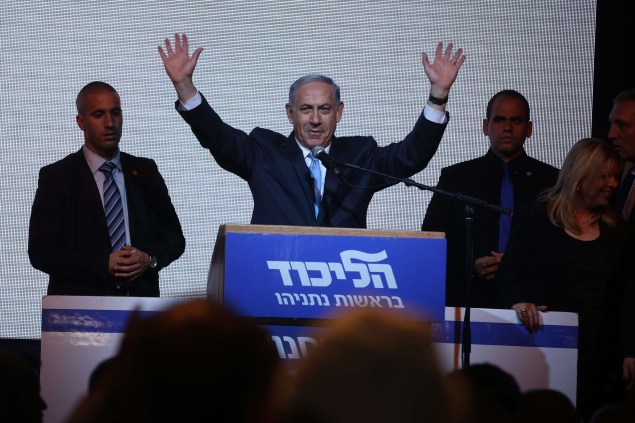 Mayor Bill de Blasio, an ardent supporter of Israel, said today he was "deeply disappointed" after the country's prime minister, Benjamin Netanyahu, said no Palestinian state would be established on his watch.
Mr. Netanyahu, in an effort to win re-election this week, angered the White House and many liberals when he said he no longer believed a solution to the Middle Eastern peace process should include the creation of a Palestinian sate. (After defeating his left-of-center rival, Isaac Herzog, Mr. Netanyahu appeared to soften his stance.)
"There's many of us who are deeply, deeply disappointed," Mr. de Blasio, a Democrat, told the Observer at an unrelated press conference in Queens. "For a Israeli prime minister to say literally overnight we're not going to pursue a two-state solution anymore is seismic and it's a huge step backwards for peace in the region."
Mr. de Blasio said it was "not good for the relationship between Israel and the United States," calling Mr. Netanyahu's remarks a "huge mistake and a very regrettable one."
"But, you know, I guess that's what we believes," the mayor added.
Mr. Netanyahu and his conservative Likud Party, up against the center-left Zionist Union Party, decisively won re-election but alienated many liberals in Israel and the United States with his aggressive campaign tactics. Mr. Netanyahu warned about Arabs coming to the polls "in droves" as a ploy to appeal to his base on the right, analysts said.
Though their politics are not aligned, Mr. de Blasio rarely criticizes Mr. Netanyahu. Before Mr. Netanyahu won re-election Tuesday, Mr. de Blasio said his rejection of a two-state solution was surprising, but declined to outright condemn the prime minister. When Mr. Netanyahu scheduled a speech in front of Congress without coordinating with the White House, Mr. de Blasio blamed the Republican majority and Mr. Netanyahu for the breach in protocol.
Mr. de Blasio's tone was markedly different today. Telling reporters he was "profoundly disappointed" in Mr. Netanyahu's remarks, he also repudiated Mr. Netanyahu's comment about Arab voters.
"Any Israeli citizen can and should vote. I don't why there would be a criticism of people exercising their right to vote in a democratic society," Mr. de Blasio said.
Jillian Jorgensen contributed reporting.