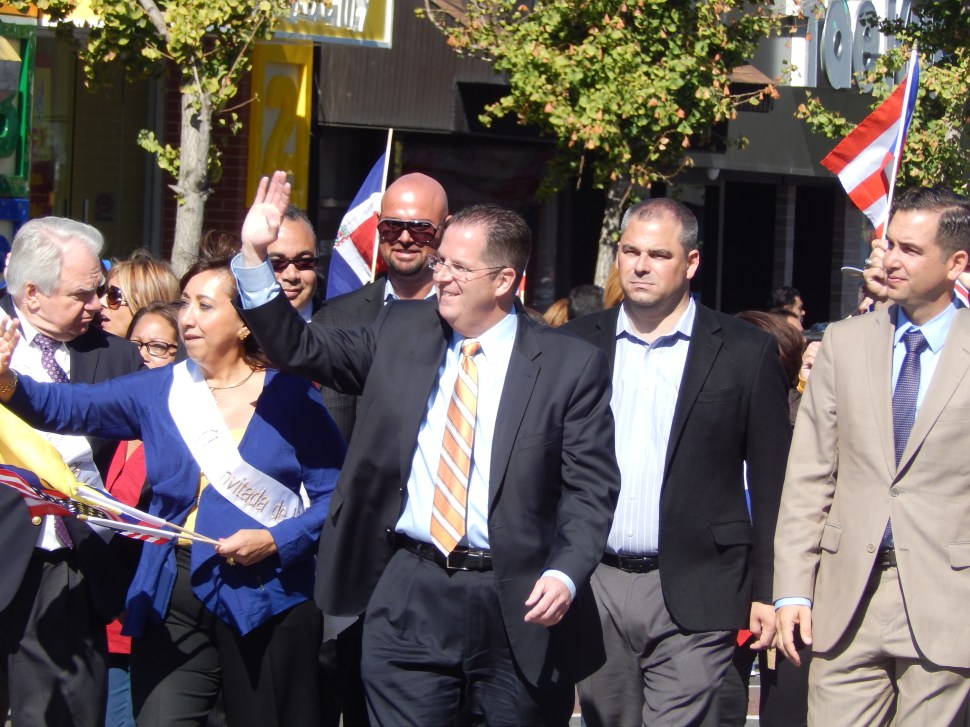 They say it's all but certain: Hoboken, the tony city of New Jersey's Gold Coast, will maintain its representation in Trenton this year.
Political observers asked themselves if it could have turned out otherwise after it was uncovered that Assemblyman Carmelo Garcia (D-33), the city's current legislative representation, was likely to get booted from the line in his home district. The news led to fierce speculation over who might be selected as his replacement, and some wondered whether LD33's overwhelmingly Democratic but sometimes politically-fractured landscape might prevent its two de facto power brokers — Union City Mayor and state Senator Brian Stack and Hoboken Mayor Dawn Zimmer — from finding common ground.
But in the last several weeks, those familiar with the backroom deliberations say Stack and Zimmer have reached an agreement. Annette Chaparro, a longtime Hoboken resident and employee of city hall, is in line as Zimmer's choice to fill Garcia's Assembly seat in the party's June Democratic primary.
"It's a done deal," said one Democratic source, requesting anonymity.
On a totally zoomed-out level, Chaparro's positioning as Garcia's replacement puts to bed the question of whether one of New Jersey's hippest cities would keep its seat in the legislature this year. Post-gentrified and eminently appealing both to young professionals and developers alike, Hoboken is the second largest city in LD33, and therefore occupies a specific place in Hudson County politics. Veteran Hudson County pols say as long as the 33rd legislative district — which also encompasses Union City, Weehawken and parts of Jersey City — has included Hoboken, at least one of its two assembly seats has been reserved for a candidate from its streets.
In addition, history in LD33 dictates that the city's mayor — in this case Zimmer — gets to choose that candidate.
But a number of factors, beginning with Garcia's ousting from the county's inner political circle after he was caught having secretly audio recorded a lunch meeting he had with the Zimmer's husband, as well as revered former state Senator Bernard Kenny, might have prevented that from happening. Stack and Zimmer — an old guard Irish American who, with unrivaled election day ground game and organizational power in his home city, largely controls the line in LD33, and an up-and-coming reformer of Hoboken's yuppie crowd, respectively — have had an at-times rocky relationship, insiders say, making any compromise on a candidate potentially difficult.
Much of it came down to demographics. The most densely populated and fourth most populated county in the state, Hudson County is 54 percent White and 42 percent Hispanic, with a sizable Indian population. Its three largest cities — Jersey City, Union City, and Hoboken — serve as LD33's political power centers, each contributing its own representative in Trenton. There's a strong incentive for those seats, naturally, to reflect the racial makeup of the population itself — and that's been maintained with the district's current legislators, Stack hailing from Union City, Assemblyman Raj Mukherji (D-33) from Jersey City, and Garcia from Hoboken.
What was uncertain was whether Zimmer — whose closest associates mostly hail from Hoboken's reformers party, a faction of up and coming pols who often find themselves operating at odd with the grizzled veterans of the county's Democratic establishment — would be able to find a replacement that was, like Garcia, Hispanic. With a shallow pool of allies fitting that background, Zimmer's likely first choice was thought to be Hoboken Councilman Ravi Bhalla, a Sikh who Zimmer supported in the district's 2011 primary despite Stack having backed Garcia.
In that sense, Hudson County pols say Chaparro is a win-win — both for Stack, who sought to fill Garcia's seat with a candidate of the same demographic, and for Zimmer, who gets to play a primary hand in Garcia's replacement and also maintain her city's representation in the legislature.
Chaparro also checks off another box, however: insiders say she obscures what has been historically a major division in Hoboken's politics.
On a more local level, Chaparro's positioning as Garcia's replacement puts to bed — or at least makes a strong case against — the idea that there is "some great divide" between Hoboken's dueling populations: its older, so-called born-and-raised crowd, and younger, so-called yuppie crowd. That divide has often served as a point of conflict during political battles in the city, exacerbating fights by setting candidates who claim vested interest in preserving Hoboken's past against those who promote advancing its future.
But Hudson County pols say Chaparro isn't easily type-cast either way. The 40-year-old Latina has both community roots and a white-collar appeal, making her a poster-child for a post-dichotomous Hoboken.
"With everyday that passes, that war, that schism, is sort of softening," one source said of the city's old conflict.
Bhalla, who in the absence of other considerations might very well be in line for Garcia's seat right now, echoed the sentiment that the rift is really just a "false dichotomy," and said he does't see Chaparro falling into either category.
"She's got a track record of public service at the local level, she's really connected to the community on the ground level, and I'm excited at the prospect of her serving in this district," he said.
Despite Chaparro's appeal cross-population and seeming solidarity among Stack and Zimmer as to Garcia's replacement, not all are convinced, however. One Democratic insider said he was skeptical of her relationship to Hoboken police chief Lt. Kenneth Ferrante, appointed to the post late last year by Zimmer. Chaparro is said to be Ferrante's partner, making her selection as the next LD33 rep a somewhat nepotistic choice, for some.
It's also unclear whether the transition from Garcia to Chaparro will be a smooth one. Garcia, who sources tell PolitickerNJ has recently begun working in Newark for the city's Community Economic Development Corporation, is said to be yet unwilling to give up his seat in LD33. That leaves open the possibility of an off-the-line challenge in June's primary, though observers note success would be unlikely.
"[Stack] owns that district. No one will beat him on or off the line. Jack Kennedy can come back from the dead and endorse you and it doesn't matter. He's that good," one source said.
"And frankly it would be foolish to burn that bridge," the source added.
Another source also told PolitickerNJ that the real battle this year will be over the Hoboken city council, and that Chaparro could be useful as a vehicle for fundraising in Zimmer's quest to maintain control of the board.
Reached for comment, Garcia respectfully declined to reveal anything about his future plans, saying only that "in the coming weeks and months, we will have much to discuss regarding the future of Hoboken."
Neither Zimmer nor Stack could be reached for comment on this story.