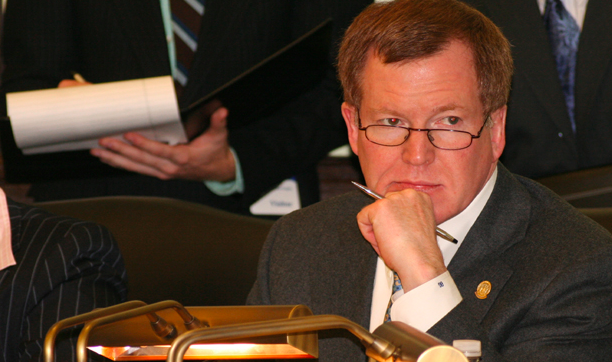 TRENTON — Democrats say they've dropped anchor on the debate over reforms at an embattled Port Authority, refusing to compromise with Republicans or let up on a veto override bill slated for March 16th.
In a statement on the issue today, Senate Democrats rejected a proposed bill by Senate Minority Leader Tom Kean (R-21) that he's argued would meets them them half way in their efforts to overhaul and bring greater transparency to the bi-state agency, saying that it doesn't go far enough.
"The Port Authority needs real, systemic reforms that will end the problems of the past," said Senate President Steve Sweeney (D-3). "The Republicans agreed with the strong reforms put forward by Senators Gordon and Weinberg when they voted for them to become law. How can Republicans explain not supporting these much-needed reforms?"
Kean introduced a modified version of the Democrats' own legislation (S-2181)  last week in hopes of making it more appealing to both parties — as well as Gov. Chris Christie, who vetoed the reform bill passed by the Senate late last year at the same time New York Gov. Andrew Cuomo vetoed reforms passed by his own legislature's — and had planned to introduce the bill today before the slated Senate session was cancelled due to inclement weather. But Democrats remain unmoved, vowing again to go forward with a scheduled override of Christie veto later this month.
"Our Republican colleagues endorsed reform when they joined us and legislators in New York in a unanimous vote on this legislation. Nothing has changed since that vote except for the governors' obvious attempt to maintain secrecy and universal control over the massive bistate agency," said state Senator Lorretta Weinberg (D-38). "We have already seen the damage that can come from a lack of transparency and accountability at the authority. It's well past time that we made these reforms law."
Both houses — in legislature's on both sides of the river — unanimously passed the Democrat-sponsored reform bills late last year without a much of a hitch. Republicans, though, have since wavered on their support, unwilling to go against a veto from the governor's office, which the legislature in New Jersey has failed to override dozens of times on different bills since Christie took office in 2011.
But with one Republican in the Senate already signed on — state Sen. Mike Doherty (R-23) — Democrats say their hopeful they'll be able to recruit the two additional votes needed to overturn Christie's veto.
The bill's primary sponsor, state Senator Bob Gordon (D-38), for example, told PolitickerNJ earlier this month that Gordon he's been encouraged by comments from Republicans he's spoken to behind close doors — a few of whom, he said, have offered some "pretty hostile language" about Christie as he continues to mull a 2016 presidential run.
"Our reform bill was supported by every member of the Legislature in two states. We will not compromise our reform effort," Gordon added. "The bill put forward by the Republican leader is a watered-down, substantively weaker bill that attempts to derail the very real, very meaningful reforms my colleagues and I have worked on bringing to the Port Authority."