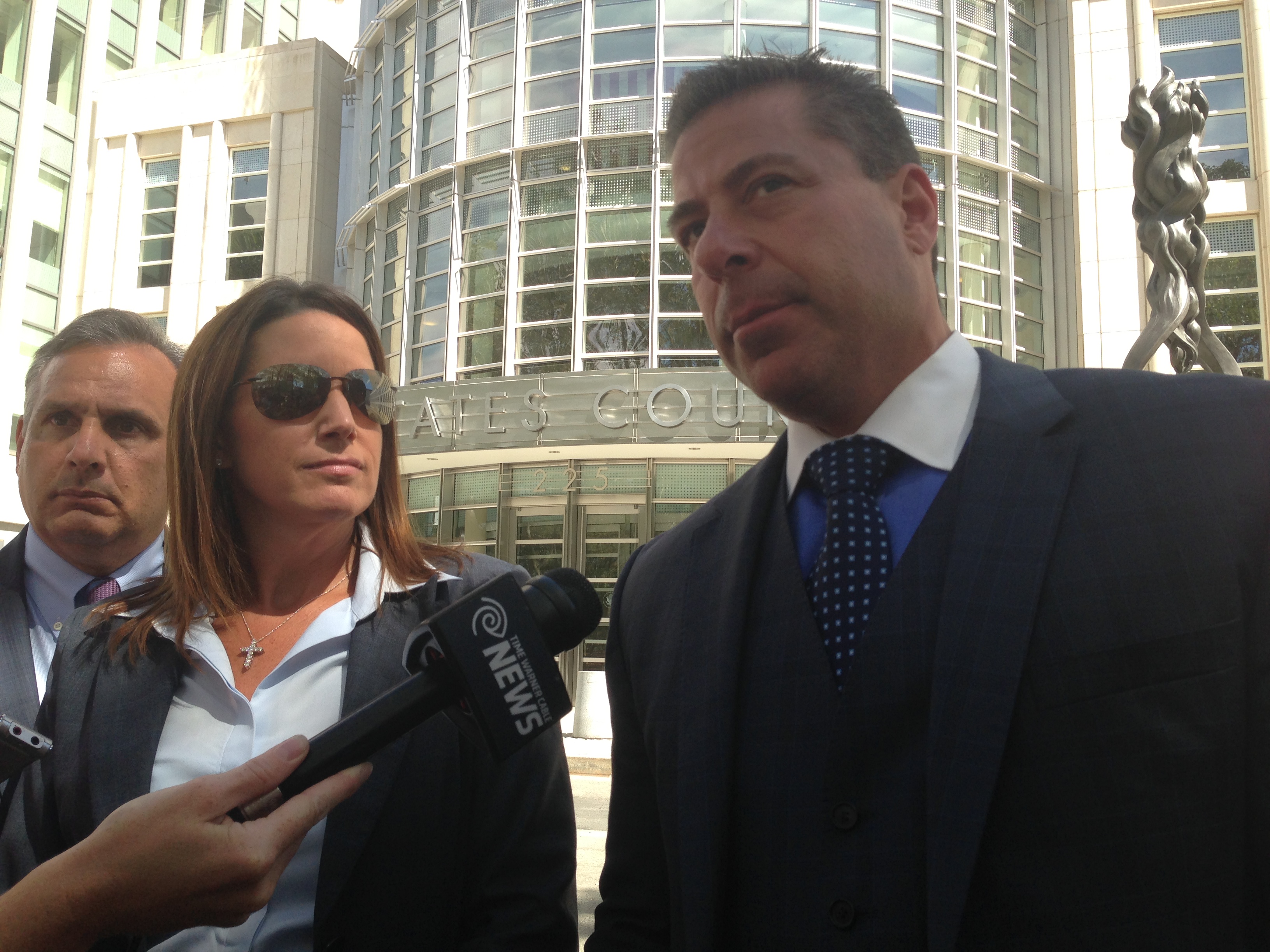 A woman who pleaded guilty to funneling illegal campaign contributions to former Congressman Michael Grimm was sentenced to three months in federal prison by a Brooklyn federal court judge today, according to office of U.S. Attorney Loretta Lynch.
Diana Durand, who was sometimes described in media reports as a one-time girlfriend of Mr. Grimm's, pleaded guilty to a single count of a three-count indictment that alleged she used so-called "straw donors" to get around limits on campaign donations—by asking people to donate and then reimbursing them by check.
Ms. Durand's attorneys had asked for probation—saying in a sentencing memorandum that she would appear before the judge "as a disgraced and humiliated woman who could never have envisioned the situation in which she now finds herself." The federal prosecutors from Ms. Lynch's office did not argue for prison time, but judges are ultimately tasked with issuing the sentence, even in a plea deal. Today, Judge Sterling Johnson imposed to the three-month prison term, followed by a year of supervised release, or probation.
Ms. Durand's attorneys, Joseph Sconzo and Stuart Kaplan, are also representing Mr. Grimm, who pleaded guilty in an unrelated case to a single felony count of tax evasion related to a restaurant he ran before entering Congress. The December guilty plea eventually lead him to resign from Congress, just months after winning re-election in a landslide even with the court case hanging over his head.
After the hearing today, attorney Mr. Kaplan called Ms. Durand's sentence a "miscarriage of justice," according to the Staten Island Advance.
"I think I would read between the lines here. It could send a very disturbing signal," Mr. Kaplan said, according to the Advance. "This was not the way we thought this outcome was going to be."
While the U.S. attorney's office was not seeking prison time for Ms. Durand, it is looking for a prison sentence for Mr. Grimm—prosecutors have asked Judge Pamela Chen to sentence him to between 24 and 30 months in prison. Mr. Grimm's attorneys have asked for probation.
Ms. Durand's sentence is just the latest harsher-than-expected punishment meted out to someone involved in political corruption or misconduct (though Mr. Grimm is not accused of any campaign finance or ethics violations). In the neighboring Southern District of New York, headed by U.S. Attorney Preet Bharara, former City Councilman Dan Halloran was sentenced to 10 years in prison for a scheme to rig the mayoral election. Assemblywoman Gabriela Rosa wept in the Manhattan federal courthouse as she was sentenced to a year in prison for using a sham marriage to become a United States citizen.
Mr. Grimm will be sentenced in June. In the meantime, his attorneys recently asked Judge Pamela Chen for permission to travel to Europe for a week this spring due to some "potential employment" for the future. Ms. Chen denied the request, noting he faces up to three years in prison.
"While Grimm is certainly entitled to seek future employment, his desire to obtain a particular job does not trump the need to ensure his appearance for sentencing," Judge Chen wrote.