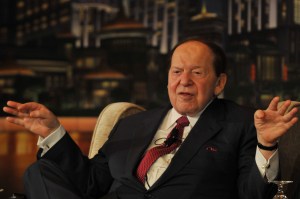 Late last month while testifying before Congress, James Clapper, director of national intelligence, described a harrowing computer hack perpetrated by Iran.
The hack took place late at night on February 10, 2014.  The computer screens flickered and then went blank at the Las Vegas Sands Corp, the company which trades on the stock exchange as LVS and grosses $14.5 billion per year.
The breach was at the Sands Bethlehem, PA location and the passwords of administrators, especially from the slots department, were stolen. An 11 minute video recorded the breach. From there the hackers were able to reach some of the internal drives of the Sands Corp.
One would think that people who hack one of the largest casino purveyors in the world, a company with casinos in Las Vegas, Macao and Singapore would be after the money. It would be a storyline straight out of Hollywood, another sequel to the Ocean's Eleven movies.
But this was different. It was quickly discovered that this hack came out of Iran. The hackers did not take a dime. They wanted access to information and personal data–not money. Their goal was to be disruptive—and for seven days they succeeded in reaching their goal.  But the casino was able to hide the hack and the games played on usual. Only the website was shut down for a week to purge and clean everything inserted and unwanted out.
Director Clapper said that this hack was on a par with the North Korean hack on Sony. Actually, it was more significant than the Sony hack. That took place in November, this computer piracy was perpetrated in February, a full nine months earlier.
The Sands Corp. kept the entire episode under wraps. Until December there was not a single murmur about it. And then last month Clapper needed to let loose the secret in order to explain to Congress that hacking of U.S. systems is more pervasive than believed. Iran and North Korea are both targeting U.S. companies.
This casino corporation was targeted by Iran for clear and distinctive reasons.
The majority share holder in LVS is the founder of the company—Sheldon Adelson, one of, if not the, largest single contributor to Israel in the world. Mr. Adelson does not hide his love for Israel nor his disdain for its enemies. He has clearly explained his point of view regarding Iran and whether or not he feels they can be trusted.  Without mincing words Mr. Adelson has, on numerous occasions, advocated nuking the Iranians. He is also a huge supporter of the Republican party and has pledged to support any candidate who can defeat Hillary in 2016.Iran thinks of Sheldon Adelson as a significant threat, a threat capable of mounting serious damage to Iran. Iran's hackers were sending a message, not stealing money. If it was only money, their message would be diluted. The message they sent is that Shelly Adelson's empire is vulnerable. Iran was sending a message: We can mess with anyone.
Of course, Iran does not understand Adelson. They never would have imagined that the man who is so often in the public spotlight—and so public a figure that even Thomas Friedman singles him out in a recent column—would keep the entire situation secret, denying them the pleasure of gloating. But Adelson shuns publicity. The fact that he is in the spotlight is not him seeking PR.
There are several essential takeaways from this revelation. The most critical is that Iran has become an extremely effective force in cyberterror and attacks. The Iranians will certainly attack U.S. interests again.  And then there is the knowledge that they are hitting civilian and business targets, not limiting themselves to government or military targets.
The Iranians want prestige and respect. They want to instill fear. Sheldon Adelson was wise not to draw attention to their prowess. But I will be very surprised if he does not, somehow, respond to this bold breach of his empire.