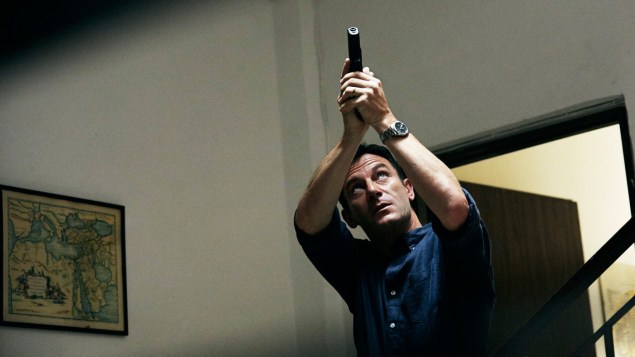 Thursday night the USA network launches the ambitious ten part series DIG, a Da Vinci Code-like thriller about a conspiracy 2,000 years in the making starring Jason Isaacs and Anne Heche.
DIG tells the story of an FBI agent (Isaacs) recently stationed in Jerusalem who starts investigating the murder of a young American. He soon discovers an ancient international conspiracy that could change the course of human history.
Creator and Executive Producer of DIG, Gideon Raff (Homeland, Tyrant), explained the genesis of the series, saying, "I was born and raised in Jerusalem and the idea of making a big American show in the bowels of the city I was raised in was very exciting to me. Also, it's a city that's portrayed in one very specific way in the news and I wanted to show the different faces of Jerusalem and what a wonderful place it is."
Collaborating with Raff on DIG was TV vet Tim Kring (Heroes, Touch). "We were both working on different projects at the time, but we loved this so much that every free moment that we had we got together to work on it," Raff said. "We wrote this on spec, meaning that no one was paying us to write it at the time, so it was just this side project of sorts, but pretty soon this part-time thing became something that we were focusing on full time."
Raff firmly believes that now is the right time for this series because the narrative reflects real world tendencies and their impact on society. "I think we're currently standing at the brink of something very serious," explains Raff. "Every day people are losing their lives due to religious fanaticism. Just the other day, 21 Christians were slaughtered in Libya, Shiites are killing the Sunnis and abortion clinics still need guards. Religious fanaticism is what really threatens our liberties. That's a big danger in the world today and it's no longer countries initiating this unrest, it's a bunch of fanatics and everyone needs to realize that these people can change the way we live. It's so dangerous that we really need to pay attention to it. So, that's what we're trying to do with this show; talk about these things that you read about in the paper every day."
The writing process presented challenges for Raff in that his writing staff had to work hard to find a balance between action and character. "We liked packing the episodes with a lot of plot, but I truly believe that the audience sticks with a show because of the characters, not because of plot. So, you have to find the right mixture that really shows each character's journey. To that end, we always kept in mind that this is truly about faith. We put an FBI agent who's lost his faith in the Holiest city in Jerusalem and we have to show how he deals with that no matter what happens to him. It's about how he reacts to things given where he is in his life at this moment."
The production team was tested as well when the real-life conflict in the Middle East swelled while the cast and crew were working there to the point that alternative locations had to be found to match what already had been shot. When much of the production had to be rescheduled, and then ultimately shifted to Croatia, the series lost some directors who could no longer participate in the project due to prior obligations. Raff ended up stepping in to fill the void. "I directed six out of the ten episodes and it was a bit tiring but ultimately worked out really well. I think at the end of the day it was good for the show because due to having to shift production we have scenes where characters are going into a cave to see something and we shot the first part of that cave in Croatia, then we shot the inside of the cave in Jerusalem and then when they come back out of the cave we shot that part eight months later in New Mexico. So it really helped make it more seamless by having one director to oversee all of that."
Not every aspect of production proved to be treacherous. There were some interesting surprises that delighted the cast and crew. "Well, I think when you shoot in authentic locations and not in strictly controlled environments you to embrace the things that you can't regulate," reasons Raff. "We had this one instance where we dug into a tunnel and suddenly we had something like 4000 bats flying out at us. It freaked us out when it happened but we grabbed it on camera and it was amazing. And that's something we couldn't have achieved on a soundstage."
Something that Raff could control and take a stand about is his commitment to decrease meat intake on set. "I'm a vegan and an animal rights activist and while I'm not about to force my views or feelings about this on anyone, I did feel that our team could make some changes for the better in this area. So we became the first production to do Meatless Mondays which is a global initiative to lower the consumption of meat. We did a total vegetation menu and, yeah, it was a little hard in the beginning because some of our staff just wasn't onboard at first, but I'm happy to say that just about everyone came around to the idea pretty quickly."
Because of his views about veganism and animal cruelty, Raff made another major production decision with regard to one of the major 'stars' of the series. "Throughout the show, a red heifer calf plays a very key role. We had about five calves fill that role and I just thought, 'we can't tell this story and make the whole world fall in love with this calf and then….. turn it into steak.' So I made sure that all of the calves would be ok. I bought most of them and put them in sanctuaries in Croatia, New Mexico and Israel and the ones I couldn't buy, for various reasons, I have letters promising that they will never be dairy or meat. So all of these calves will live a full life and die of old age."
While those calves may live for years and years unlike most TV series, DIG won't launch as a limitless commodity. It already has a pre-determined ten parts that will come to a closed ending.
"I think doing it this way is so liberating," admits Raff. "On some shows, especially the highly serialized ones, you think, 'ok I'm not sure the writers know where this is going,' so there has to be some trust in the people leading you through the story. Doing it this way allows a very novelistic approach to the writing and to the way it's consumed by the viewer. So, with this process we got to write in a very sophisticated way for what we consider a very intelligent audience."
While this particular storyline will conclude at the end of this set of episodes, there is a plan in place should the series prove popular enough to warrant a sophomore season. "If we're lucky enough to get a second season, it will feature different story, but just like this season, it will have a beginning, middle and an end," Raff assures viewers.
Adding to the onscreen element, DIG will also have a digital component to enhance the viewer experience. The inclusion of this immersive element allows fans unlock exclusive content, including videos, audio recordings, and puzzles to solve.
Raff excitedly explained it this way, "We have an app called DIG Decoded and there is some amazing stuff in that app. Like when you see any of our posters or ads you can use the app and the click on a poster or ad and suddenly the main character appears and talks about the show. There's a lot of added content and of the content included in the app is really exciting and cutting edge stuff."
Realizing that viewers have so many options within the television landscape these days, Raff offers a few reasons as to why DIG should be added to your must-watch list. "This series works on a few layers –one being that it's really a fun roller coaster with a huge mystery in it and then there's that part that raises questions about faith and fanaticism. My hope is that the audience sticks with the show to see that none of the characters are who they think they are and all of them are dealing with questions of faith that we all deal with on a daily basis. Yes, there is a lot of action and that's great and all, but there is a realism that I absolutely think will strike a chord with people and that's the bottom line here – this is a show that will resonant with you and that makes the whole experience of watching it and actively participating in the storytelling of it extremely worthwhile."
DIG premieres Thursday at 10/9c on USA.