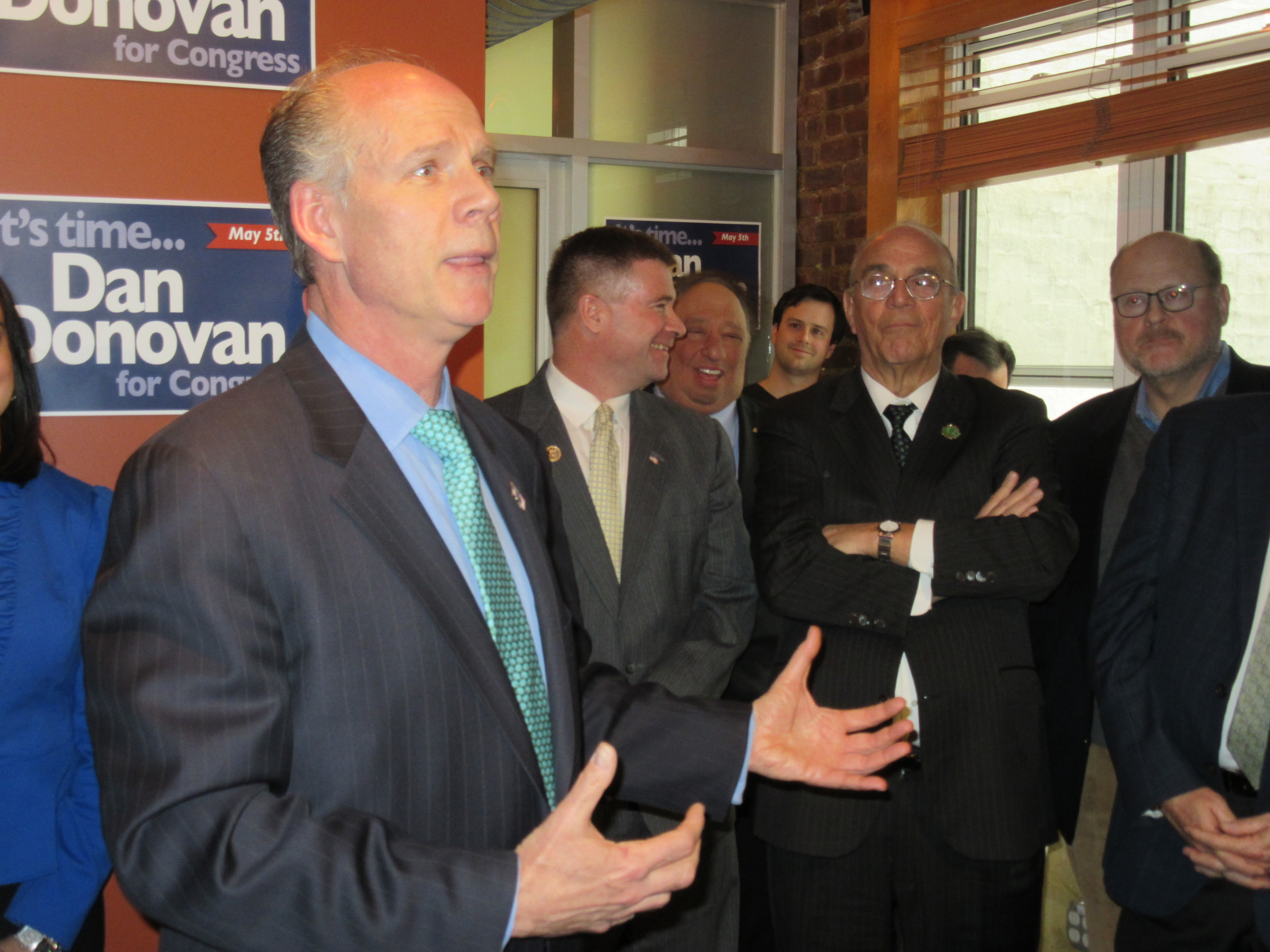 Staten Island District Attorney Daniel Donovan today denied that a fund-raising email for his Congressional campaign last week warning supporters that Rev. Al Sharpton was "coming after" amounted to race-baiting—contrary to the claims of his rival, Brooklyn Councilman Vincent Gentile.
Speaking to reporters at his Brooklyn campaign office opening, the Republican prosecutor disavowed making an appeal to ethnic sensibilities in the predominantly white, right-leaning Staten Island and Brooklyn-based Congressional district. Mr. Donovan rocketed to national prominence last year after  a grand jury he impaneled failed to indict an NYPD officer in the homicide of black Staten Islander Eric Garner.
"I don't think anyone should put race in the race, for lack of a better way of saying it. Race has nothing to do with this election," he said, adding that he believed it dishonorable to use Garner's death as an electoral game piece. "I would hope that people would respect that Eric Garner's mother lost a son, his wife lost a husband his children lost a dad. And I hope that no one would use his death and the tragedy and circumstances surrounding that in a political election."
The email, penned by Donovan campaign manager Ron Carara, seemed to allude to a Capital piece that quoted Sharpton lieutenant Kirsten John Foy saying the reverend's National Action Network had to "tread delicately" in its efforts to sway the race, in which Mr. Donovan is heavily favored.
"A recent news article revealed Al Sharpton's National Action Network is working under the radar and doing their best to hurt Dan's campaign," Mr. Carara wrote, also taking time to attack Mr. Gentile, Mayor Bill de Blasio, House Minority Leader Nancy Pelosi and the Occupy Wall Street movement. "Let's send these far-left ideologues a message that confirms how strong Dan's support is."
Mr. Gentile blasted his opponent for what he labeled "race-baiting at its worst" and a "cowardly tactic." Mr. Donovan shrugged off such criticism today.
"It's his opinion," he said. "It's not true."
Mr. Donovan defended the money-seeking missive.
"We read it, we read it so we just told our supporters that this is what people are saying. We didn't say it, we just told our supporters that's what people are saying," he said, adding that he was not worried about the polarizing Mr. Sharpton having an impact on his election odds. "I'm just telling our supporters, 'this is what people are saying about us.' We thought our supporters ought to know that."
The grand opening at the office—which sits inside Mr. Gentile's home neighborhood of Bay Ridge—drew a number of GOP power players. Besides Councilman Vincent Ignizio, Assemblyman Joseph Borelli and Nicole Malliotakis—all of Staten Island—Brooklyn State Senator Martin Golden, upstate New York Congressman Chris Gibson and 2013 mayoral rivals John Catsimatidis and Joseph Lhota were all on hand with lavish praise for their fellow Republican.
The special election will be held May 5.