"Oh, go ahead, yes, smoke," John Giorno said to me. He was walking in the guts of 222 Bowery, the sprawling edifice where he lives in three lofts. "I don't smoke, but you can smoke. I like the smell of it."
The poet and artist and legendary New York icon is hard-featured and quick with an ample toothy smile. His eyes are deep-lidded. He's lived in this building for fifty years, above the old loft of the late William S. Burroughs, which the writer called the Bunker. It was where Burroughs wrote, where Burroughs shot at a bullseye target, where Burroughs threw parties for John Cage and Mick Jagger and Allen Ginsberg. When the writer died, Mr. Giorno took over that loft, too.
"So," John Giorno said to me. He was offering a goblet of Champagne and standing in a living room splashed with tapestry and dotted with fancy sconces. "Do you live close to the fire?"
He was talking about the gas explosion on Second Avenue, which had happened that day. I told him I lived two blocks away from the fire, and that when you walk down the Bowery, the air is thick with smoke.
"My God, would you like some more Champagne?" said Mr. Giorno.
More went into my goblet. I drank it and had a cigarette. There was pâté and fresh bread, and the room seemed like it could still be haunted by Burroughs, who was spectral and ghost-looking even when he was alive.
The reason for the small dinner was Mr. Giorno's solo show at Elizabeth Dee, "John Giorno: Space Forgets You" which opens on Thursday. Go see it. It's all set to be a wonderful showcase of his rainbow works, some of which were on display in one of the rooms tucked into the labyrinthine Bunker. The messages are printed on the brightly colored canvases in giant type: "BIG EGO," "LIFE IS A KILLER," "I WANT TO CUM IN YOUR HEART," "DON'T WAIT FOR ANYTHING." The darkly funny bits have much to do with his poetry, his DIAL-A-POEM series, his pioneering (with Burroughs) of the cut-up technique so vital to the whiplash meter we follow today.
I've wanted to see inside 222 Bowery since long before I moved to New York. I worshipped Burroughs, and I knew that here was where he worked, a windowless abode inside the former YMCA that dates back to the 1880s. It was where Rothko made his Four Seasons paintings, where Warhol would come by for trysts, where the guys in the New York School of Poets—Koch, Ashbery, O'Hara—clashed head-on with the hothead painters—Rauschenberg, Johns, Twombly. I've walked by a million times and tried to look in, because I've tried to look into apartments all over the city I've heard have proximity to genius.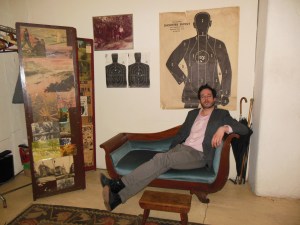 And I knew that John Giorno lived there now. He took over the Bunker from Burroughs after he died, and he hasn't touched it, so when you walk up from the once-demonic promenade of the Bowery now outfitted with clubby restaurants and juice bars, and then pass through the iron gates and two bulletproof doors and up a flight of stairs you can see come into his bedroom and see everything kept the same: the target poster riddled with BB gun shrapnel, the typewriter, the sunglasses on a bedside table, the NRA membership flyer hung proudly on the wall, the bed still made, the desk still set for someone to sit and write. I sat and had a cigarette feet-up on the chaise longue beneath the target bullseye.
Mr. Giorno cooked a roast, along with a delectable lobster salad, and as the guests sat at what once was Burroughs' old dinner table—the site of many dinners fairly more debauched than this, one can assume—Mr. Giorno darted about, with vim befitting not an 80-year-old but a youngster, making sure everyone got fed.
"I have to ask," said one fellow dinner guest, from across the table. "I was working with the Rauschenberg Foundation, and there were some rumors about his, um, endowment."
"Oh, of course Rauschenberg had a big dick," said Mr. Giorno. "Johns had a big dick—Johns has a big dick. And Andy, my gosh, him too. Andy was just beautiful. Well, he was beautiful from the neck down."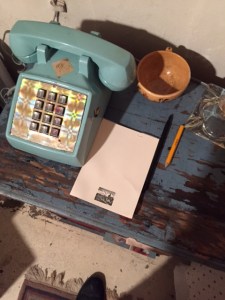 Mr. Giorno is no longer as swinging as he once was. He's been happily living with his partner Ugo Rondinone, who will curate a major retrospective of Mr. Giono's work this fall at the Palais de Tokyo in Paris. The show is called "I ♥ John Giorno."
Dinner happened, it was a wonderful veal roast, and then there was dessert, cake, and people started to leave. We went through a great number of bottles of wine. Mr. Giorno wanted to go again to the room that is his studio—a place reached by twists of halls and stairwells and elevators—to show me an unfinished work that proclaimed "PREFER CRYING IN A LIMO TO LAUGHING ON A BUS."
I asked Mr. Giorno when was the last time he cried.
"I cry all the time," he said, smiling like he knew the secret. "It was three weeks ago. Being a depressive is the true nature of this world."
Then I left to go home, walking east and up toward Second Avenue, toward the fire, the Bowery still smelling like a campfire at the end of the night. The three buildings had collapsed. As I walked up a rustling happened by my feet and made a noise like chirped whistling and I looked down to see a whoosh of rats, now left without a building to infest, running away from the damage.