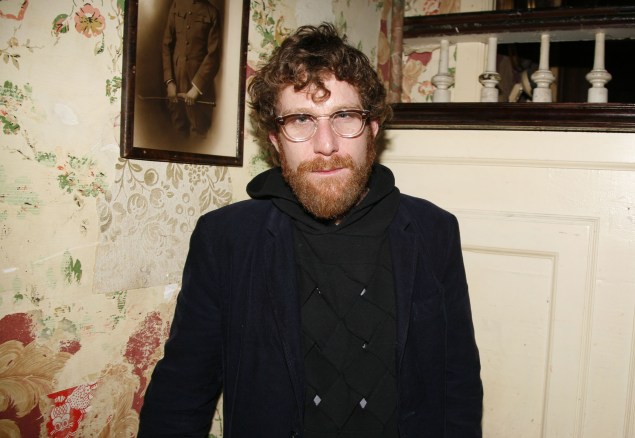 Artist and Pioneer Works founder Dustin Yellin has teamed with artist collective the Bazaar Teens to create what will probably be one of the most discussed-slash-controversial artworks of New York's huge Armory Arts Week. The group has taken an anonymous donor's $10,000 donation and shredded the money to create eight paintings that will be shown and sold at the Spring/Break Art Show opening March 4.
Wait, they shredded $10,000 cash? Yes, you read that correctly.
The piece, titled, The Riches of God's Love unto the Vessels of Mercy, is inspired by the fair's theme of "Transaction." For its creation, the cash—which was withdrawn from the bank in 20s, 50s, and 100s, according to Mr. Yellin—has been fed through a wood chipper, and applied to emulsion-covered canvasses with tweezers.
The group plans to up the ante by pricing each of the paintings for $10,000 each. The proceeds of any sales will go, he said, toward the creation of eight grants for high school seniors interested in pursuing art.
The piece raises a lot of questions. "What happens if these paintings are failures aesthetically? Are they beautiful because of their intention? Will they still get sold?" Mr. Yellin told the Observer by phone. "You can view it as a painting, or as potential for a graduating senior."
He acknowledged that the group heatedly debated the ethical quandaries posed by the project, and those discussions are still ongoing. Destroying currency is illegal, and can result in a fine or even six months in jail. However, shredded U.S. bills are available through the Federal Reserve Bank for artistic and commercial use. (Perhaps it's all just a masterful stunt, and Mr. Yellin ordered some shredded bills in bulk? Then again, there is that wood-chipper…)
But as the artists did the shredding themselves, Mr. Yellin explained that the donor was well aware of what was happening with the funds.
"We are interested in tracking how value is performative, and if the destruction of the money has been recouped if it becomes a physical artwork on the wall," he said. "The intention to be charitable; does it increase the value? Or will a collector see buying a piece of art as an act of charity?"
The installation will also require participation from fairgoers for the completion of the last two paintings. An additional element—that may be even more controversial than everything already mentioned—will be unveiled at the fair, he said.
Mr. Yellin is best known for his multi-layered glass paintings and sculptures. His largest work to date, titled The Triptych, was shown at Sotheby's S|2 Gallery in January, and in February he was commissioned by the New York City Ballet to create 15 sculptures (part of his ongoing Psychogeographies series) that were displayed at Lincoln Center. Spring/Break Art Show will take place March 4 through 8, at Skylight at Moynihan Station, with a VIP opening Tuesday March 3.