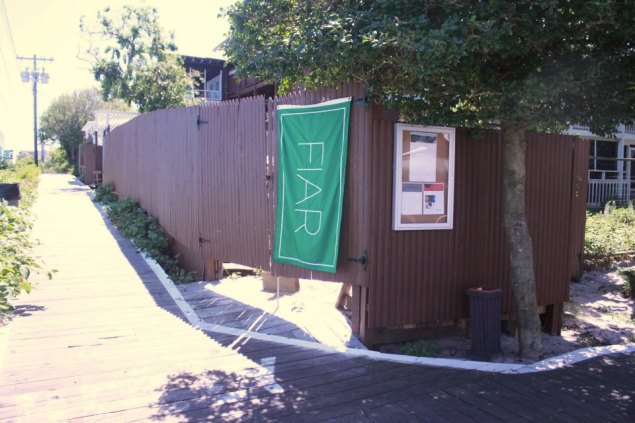 A fire that began at 1:30 a.m. this morning in the hamlet of Cherry Grove on Fire Island has damaged and destroyed several buildings including the Fire Island Artist Residency's Holly House. The program, founded in 2011 by Chris Bogia and Evan J. Garza, is the first of its kind in the U.S. exclusively for LGBTQ artists.
Cherry Grove's first assistant fire chief Craig Williams reported three residential homes damaged, and two completely destroyed, including FIAR's Holly House and the adjacent Grove Hotel, according to CBS New York. Two firefighters suffered minor injuries, and the Suffolk County arson squad is still investigating the cause of fire.
"I'm having quite the day," Mr. Bogia told the Observer by phone. "We're lucky because we don't own, we rent, but we store things there like art supplies, and archive stuff. All that is gone, but it can be replaced."
He confirmed that no art was lost in the fire. "Usually artists will leave things there and say 'we'll come get things next summer,' but thankfully that wasn't the case this year, so no art was destroyed."
Each year, the program provides free lodging, studio space, and an added stipend for five emerging artists for a four-week period. The program also includes a public lecture series and organizes studio visits with leading contemporary artists.
Mr. Bogia stressed that while Holly House—which has been home to the residency since 2012—may be gone, the program will go forward this summer and is still actively accepting applications.
"We have every intention of making it happen," he told us.
FIAR collaborates with many of the contemporary art world's most prominent LGBTQ artists on editions and prints to support the program each year. Most recently, Mickalene Thomas contributed her black and white photograph Afro Muse (2005), currently available on the residency's website.
Online auction house Paddle 8 is also hosting a benefit auction through April 3, featuring Ms. Thomas's print, as well as works by Ryan McGinley, Nayland Blake, Dania Phelps, Tony Feher, Ryan McNamara, Hannah Barrett, and more.