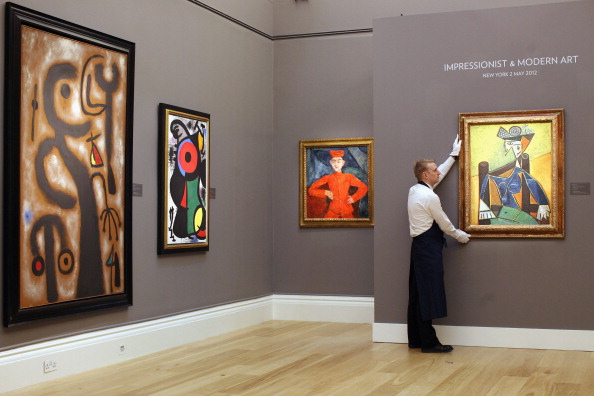 Today Sotheby's and eBay launch their new live online auction site, ebay.com/sothebys. The site, hosted by ebay (EBAY), will allow collectors to bid on auctions in New York from anywhere in the world as they happen, access live streaming audio and video of the sales, and view items for sale. Plans for the collaborative auction site were announced last July, and the first live auctions on eBay will be the New York sale and Photographs sale on April 1.
This is not the first time that Sotheby's and eBay have partnered on online ventures. In 2003, Sotheby's shut down sothebys.ebay.com, a site with separate online auctions, because it wasn't generating enough profit. This time around, the auction giant is hoping that technology has caught up with the market, and that might be the case—eBay boasts 155 million active buyers. How many of them will be interested in bigger ticket art items? That remains to be seen.
The 2015 TEFAF Art Market Report by Dr. Clare McAndrew, presented last week in Maastricht, stated that online sales are gaining steam, and accounted for €3.3 billion and 6 percent of total sales in 2014. In Sotheby's highly popular the Collection of Mrs. Paul Mellon: Interiors sale, 30 percent of buyers were online, according to the house. The sale of John James Audubon's The Birds of America elephant-folio for $3.5 million online set a new record high for online sales for Sotheby's.
"Granting this kind of unprecedented access to art and collectibles, using an innovative technology platform, has opened the door for more people to appreciate and participate in bidding on exceptional works of art, antiques and collectibles. These items were previously only available to auction room floor bidders," said Devin Wenig, president of eBay Marketplaces, in a statement.
In his own statement, Sotheby's COO Bruno Vinciguerra said, "The rich, smart new design and bidding technology, coupled with exclusive features like taste-maker curation, engaging video and articles, and the knowledge of Sotheby's experts on a tech-friendly and intuitive site will offer collectors a unique, welcoming experience."
The New York sale will include a wide variety of items such as prints, photographs, paintings, jewelry, and city-themed memorabilia. One highlight is the former Yankee Stadium sign from the collection of former Yankee player Reggie "Mr. October" Jackson. Works in the Photographs sale will range from 19th century Modernism to Post-War, with images by Paul Strand, Lee Friedlander, and Man Ray, among others.