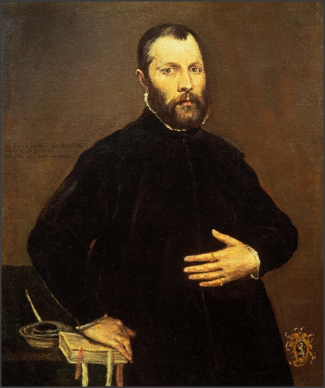 In the art world, the identification, claim and possible restitution of Holocaust-looted art can be a divisive and lengthy process.
Sometimes, though, restitution can be accomplished seamlessly if the dealers who purchased the stolen art agree to cooperate with the claimants, as recently occurred in the case of the stolen El Greco painting, Portrait of a Gentleman, owned by the late Viennese industrialist Julius Priester.
In a rare deal announced by the Commission for Looted Art in Europe, representing the original owners, and Art Recovery International, representing the art gallery which acquired the looted painting in 2010, Portrait of a Gentleman has been returned to the heirs of the collection of Julius Priester. This deal took several months to arrange after seven long decades searching for the masterpiece.
In 1920, Mr. Priester began amassing a notable art collection of Old Masters, including the El Greco, which he displayed in his Vienna home and office. By 1938, however, Mr. Priester was forced to flee with his wife to Paris to escape the Nazis. Before leaving, Mr. Priester entrusted his impressive collection to a friend, but the art was ultimately seized by the Gestapo after the Anschluss with Germany. At the end of the war in 1945, Mr. Priester, who had escaped to Mexico City, undertook an internationally publicized recovery effort with the help of the Austrian authorities, but his collection and the El Greco painting could not be located before his death.
Over the past several decades, the family and heirs of Mr. Priester continued investigations into the whereabouts of the stolen artwork. As early as 1951, an investigation located the El Greco painting in New York, but at the time, further efforts to contact the dealer and retrieve the painting proved unsuccessful. For the next 60 years, the painting would be sold several more times to dealers in New York and London, until reemerging again in Switzerland in 2003 in the possession of a private art collector. The owner's identity was masked by a trust, making recovery of the famous painting impossible. (Under provisions set by the Washington Conference Principles on Nazi-Confiscated Art, a resolution signed by 45 countries in 1998, dealers and private collectors are not bound to cooperate in returning looted art stolen by the Nazis.)
However, once the painting reemerged in New York City in June 2014, a deal was reached. The Commission for Looted Art in Europe—an international, non-profit representative body that locates, identifies and negotiates the return of looted art and cultural property to its rightful owners—represented Mr. Priesters' family and the heirs to his collection. CLAE assisted the family in claiming the artwork, and the dealer swiftly responded and agreed to give back the painting still in its original frame to the rightful heirs, now living in Britain.