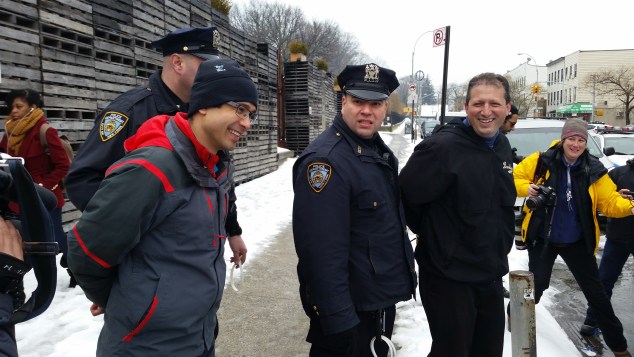 Two Brooklyn councilmen, Carlos Menchaca and Brad Lander, were arrested outside a Park Slope car wash today to show solidarity for striking workers there.
Mr. Lander, Mr. Menchaca and Stuart Appelbaum, the president of the Retail, Wholesale and Department Store Union, were arrested along with Marc Perrone, the president of the United Food and Commercial Workers International, for blocking traffic on 19th Street and 7th Avenue, near the Prospect Expressway. The premeditated act of civil disobedience was an attempt to draw new attention to the plight of so-called "carwasheros," predominately immigrant car wash workers who advocates say have been denied fair wages in an unregulated industry.
"Wages are being stolen. Tips are being stolen. Dignity is being denied. We will not accept it. It hurts every one of us," Mr. Appelbaum said outside of Vegas Auto Spa, before his arrest. "We are saying to the people of this city: enough is enough."
Mr. Lander and Mr. Menchaca happily submitted to plastic cuffs once cops asked them to clear the roadway. Mr. Lander chitchatted with one officer and both progressive pols appeared amused when police initially forgot a key to the police van. A cry of "We need a key" was eventually heeded.
"I have a few other civil disobedience arrests," Mr. Lander told the Observer when asked if this was his first arrest. "Not a lot. This is four." Police warned both men to watch their heads when ducking into the van.
Last November, workers slapped the owner of Vegas Auto Spa with a lawsuit, charging that he ripped them off for more than $600,000 in wages. Eight workers said they were paid less than minimum wage, as little as $4.50 an hour.
Workers there recently voted to form a union, joining car wash workers at seven car washes throughout the city. Mr. Lander and Mr. Menchaca, along with Council Speaker Melissa Mark-Viverito, are backing a bill that would require car washes to have licenses to operate in the city and also put up a surety bond to ensure cash is available to pay out substantiated wage theft claims.
Ms. Mark-Viverito joined the two Brooklyn Democrats and hundreds of marchers from RWDSU, New York Communities for Change and other progressive groups, but was not arrested for blocking traffic.
The march was a mostly jubilant affair, with protesters waving signs with slogans like "No Contract, No Peace" and chanting "si se puede." Before their arrest on 19th Street, the councilmen and several marchers unfurled a sprawling "Justice for Carwasheros" banner and knelt on the pavement.
But the owner of Vegas Auto Spa, Marat Leshehinsky, said he had recognized the workers' right to form a union and didn't understand why there was still a protest.
"We're negotiating a contract. What they're asking for and what I've offered them are very fair terms," Mr. Leshehinsky told the Observer after the rally. "They were always properly paid by law."
"It's all a politically-driven campaign. It's for public relations," he said of the labor-led protest. "RDWSU has a political agenda. They are destroying business and keeping these workers out on the street."