A revival of Wendy Wasserstein's 1989 feminist play The Heidi Chronicles would, on the surface, seem like a good idea—until you watch it unfold in the new Broadway production at the Music Box Theatre and realize how dated it is. Twenty-seven years ago, its piercing dissection of the women's movement by a probing feminist writer with questions to ask that didn't sit too well with Bella Abzug, Betty Friedan and other activists won it a Tony, a Pulitzer and made a star of Joan Allen. Elisabeth Moss is no Joan Allen, but the distaff force from TV's Mad Men acquits herself nicely in the lead. At a time when women have moved mountains and achieved monumental victories, it's the play that is going to be a hard sell.
The chronicle of Heidi Holland's rise to self-discovery is the story of all bright, resourceful women achievers struggling to find equal footing in a world dominated by men. Heidi is a successful art historian who begins and ends the play delivering a speech in a Columbia University lecture hall in 1989 while she looks back at the twists and turns her life has taken during the past two decades. Cut back to the 1960s and an awkward high school dance in Chicago where she's a wallflower reading Death Be Not Proud. Wary of the boys in Harris tweeds and jeans who look like Bobby Kennedy, she befriends a sensitive lad named Peter (an excellent Bryce Pinkham) who is destined to be a lifelong soul mate. Three years later, it's Manchester, N.H., where Heidi rings doorbells for Eugene McCarthy and meets arrogant, obnoxious journalist Scoop Rosenbaum (Jason Biggs), who becomes her on-again, off-again lover. By 1970, at a consciousness-raising meeting in Michigan, Heidi is a graduate student at Yale ready to tackle the big causes but still resistant to the dominant, aggressive, chain-smoking lesbians who epitomize the Equal Rights Amendment.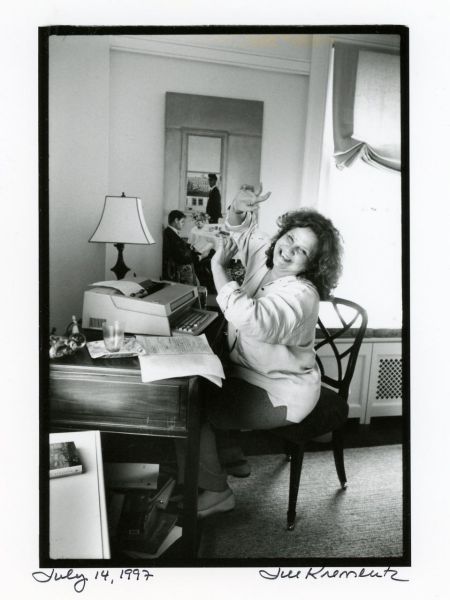 In and out of her life cycles, the constants are her old college friends: Peter, who becomes a liberal homosexual pediatrician while discovering his own militant gay politics in an AIDS crisis for which Heidi is too self-absorbed to lend sympathy and support; Scoop, who clerks for the Supreme Court in D.C. and becomes a stuffy, materialistic lawyer; and Susan (feisty Ali Ahn), the energetic but shallow gal pal who moves with the flow and changes with the times. In 1977, they all meet in New York at Scoop's wedding to a material girl who illustrates children's books. Nobody has turned out the way Heidi hoped, but she still holds onto her goal to embrace neglected female artists through art history while her dedication to the feminist cause ebbs and flows.
Act Two picks up in 1980, when Heidi's old anti-war demonstrators are pregnant and exhausted. By the time they all end up on a TV show called Hello, New York discussing Reaganomics, Scoop has become a magazine editor and a paunchy, unhappily married father of two; Peter's lover is dying of AIDS; and Heidi becomes a distinguished professor at Columbia. Instead of rekindling a faded passion for women's rights, her once-reliable best friend Susan is too busy producing brainless, schlocky TV sitcoms and making money to remember the good old days of piss and vinegar.
The best scene: Heidi addresses an alumni group on the topic "Women—Where Are We Going?" and realizes she is so disillusioned about where women are really going that she shows up at the grand ballroom of the Plaza Hotel without a speech. It's a powerful monologue, heartbreaking in the way it shows how too much achievement without anyone to share it equals ultimate loneliness. Ultimately, The Heidi Chronicles is about what happens to people with ideals when life gets in the way.
The play cleverly reflects the events of each period enacted onstage in the editorials and pop tunes of the day—Nixon's resignation, the war in Vietnam, John Lennon's assassination—while Heidi journeys through the corridors of culture, finding them empty of everything but an echo. Disillusioned by her friends' compromises as well as her own fading priorities, Heidi ends up successful in her career but unhappy in life. It is Peter who points out the realities of what happened to the '60s, his own life plagued by a lover dying of AIDS. Heidi's emancipation comes when she finally adopts a child in whom she hopes to find the inner balance between life, love and work she failed to achieve herself.
Strongly directed by Pam MacKinnon, who knows how to move a stage full of people around without gridlock, and well acted by the entire cast, The Heidi Chronicles strikes a lot of well-timed chords about disaffected baby boomers and trendy political subtexts in the women's movement. But in retrospect, the women's issues don't seem so urgent. Ms. Wasserstein, who died prematurely in 2006 at 55, was an important voice in articulating the triumphs and failures of women like herself, who were achieving things so fast they didn't have time to ask if the things they were achieving were worth the emotional price they paid to achieve them. In light of the progress women have made, I have a feeling Ms. Wasserstein might send this play home for a rewrite. But I doubt she would find much fault with Elisabeth Moss. She has an understated acting style that communicates volumes about the betrayal of idealism in a mediocre world.