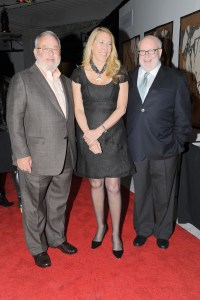 Well, it took a minute. Last summer, when the Real Deal compiled a rundown of the longest-listed New York City properties at $20 million or more, the penthouse at 60 Warren Street belonging to Edward Bazinet topped the heap, having been on the market at the time of the relevant arithmetic for 1,449 days, about 100 days longer than its closest competitor, a townhouse on East 96th Street. (To be fair, said townhouse was demanding $6.5 million more than the ask for Mr. Bazinet's condo.) But it's all over, folks! The place has sold at long last, according to city records, fetching the full asking price of $24.5 million.
By Streeteasy's count, the 10,911 square-foot condo ultimately languished for 1,600 days, dropping its price $4 million over the course of that time, as the owner lamented construction noise and the imminence of blocked views from a building rising next door, and came to feel that perhaps the place was a touch too big, after all. "It's not comfortable," he once said. "Sometimes you don't know until you're living in a space. But this feels too big for two people. It's great when you have people for a party. But upstairs it feels like a big fishbowl with just a few people. There are no cozy areas." A five-story loft with countless windows, double-height ceilings and 19 rooms? Not cozy? You don't say…
Still, a certain kind of homeowner will doubtless find much to love: three big terraces and a rooftop garden, a "sculptural" steel-and-glass staircase, wood burning fireplaces and at 1,000-bottle wine storage facility, among numerous other fancy extras, according to the listing held by Stephen McRae, of Sotheby's International Realty. 
Mr. Bazinet made his fortune founding and selling a company that manufactured ceramic miniatures, but it's not entirely clear what line the buyers are in–or even who the buyers are, really. They go in city records only by Mavis Skarloey LLC, which the Internet suggests is probably a reference to The Railway Series, by the Rev. Wilbert and Christopher Awdry, the basis for the much beloved children's television show, Thomas and Friends. Thomas the Tank Engine's legacy has been profitable indeed; could Christopher Awdry himself be the buyer? (The elder Mr. Awdry passed away in 1997.) The world may never know. But we cannot help but feel that another children's locomotive-centric classic might have made a more apt source of inspiration for Mr. Bazinet's broker during the apartment's long tenure on the market: I think I can, I think I can.