WEST ORANGE – Raspy voiced and congenial, an ex football jock turned insurance agency kingpin, John F.X. Graham takes the concept of family and extends it to incorporate party, in his case the Democratic Party, which he joined when he first saw John F. Kennedy in his home town of Philadelphia.
At the podium tonight in Mayfair Farms with Essex County Democratic Chairman Leroy Jones, Graham's sons Ryan and Michael daughter Lindsay and wife Janet and the personages of Essex politics looking on as he entered the party's Hall of Fame, Graham recalled his commitment to Democratic politics extending past Kennedy's death, to an abrupt end in 1968 with the killings of Martin Luther King, Jr. and Robert Kennedy.
"I didn't want anything to do with politics after that," Graham said, recalling the heartbreak of those assassinations.
But politics pulled him in again, nine years later, when he successfully backed the late Thomas F.X. Smith for mayor of Jersey City and felt unable to resist the raw invitation back to a world that would consume him again in the coming years, most intensely in 1992, when he met Arkansas Governor Bill Clinton.
"Bill Clinton was very aware of North Jersey politics," he said, remembering the presidential candidate, who won New Jersey in 1992 in a battleground election after the Garden State went Republican in the 1980, 1984 and 1988 presidential general elections.
A big Clinton backer in the 1990s, Graham – founder of the Fairview Insurance Agency – was later a big fundraiser backer of John Kerry in 2004 and Hillary Clinton in 2008.
"I think you picked the right candidate this time," cracked old friend U.S. Rep. Bill Pascrell (D-9), who couldn't introduce Graham without mentioning some of their mutual losing choices in presidential contests, including Kerry, Mark Warner, and the '08 version of Clinton.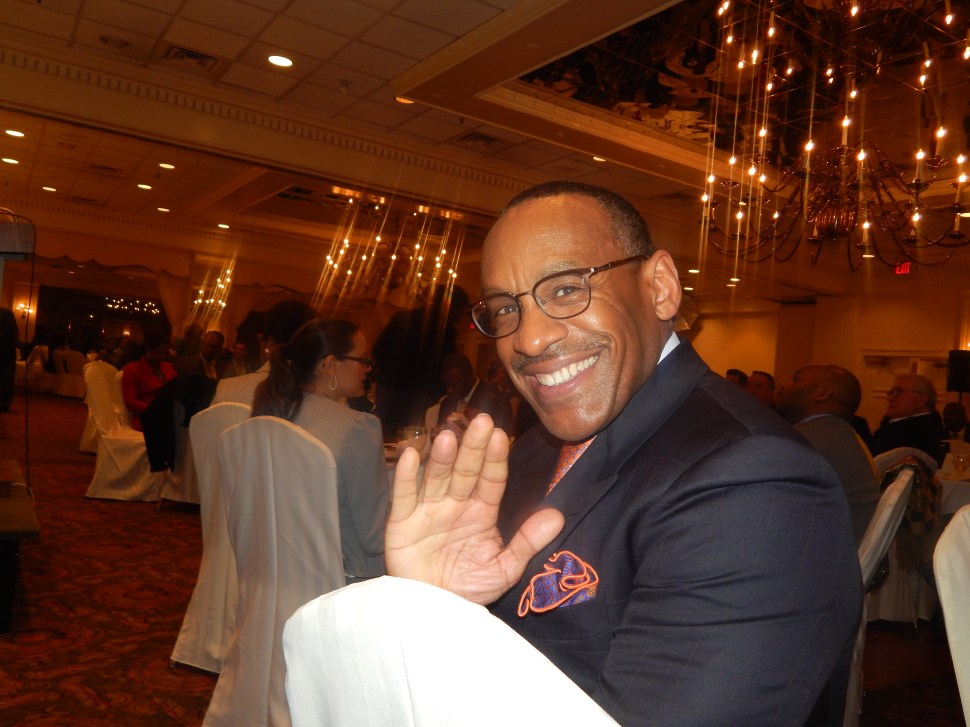 Jones was gracefully low-key in the big room, which drew the allies of Jersey City Mayor Steven Fulop and former U.S. Ambassador to Germany Phil Murphy to round out the presence of familiar countywide faces. His party inducted four into the Essex County Hall of Fame:
Graham, brought to the podium by Pascrell;
Dr. Joyce WIlson Harley, Essex County administrator and former South Orange Mayor, inducted on the introduction of Newark Mayor Ras Baraka;
Marcia Marley, President of BlueWave, introduced by Freeholder President Britnee Timberlake;
and Jesus Padilla, Essex County Undersheriff, introduced by Sheriff Armando Fontoura.
When he stood at the microphone, Pascrell found state Senator M. Teresa Ruiz (D-29) in the crowd and paid tribute, noting that the senator has done more in her own quiet way than many of the higher profile types who crave the spotlight.
The crowd included Democratic State Party Chairman John Currie, powerful Essex County Executive Joe DiVincenzo, Essex County Clerk Chris Durkin, Assemblyman Ralph Caputo (D-28), Assemblywoman Eliana Pintor Marin (D-29), Assemblyman John Wisniewski (D-19), Freeholder Rufus Johnson, Freeholder Brendan Gill, Freeholder Rolando Bobadilla, Freeholder Leonard Luciano, East Orange Mayor Lester Taylor, Irvington Mayor Tony Vauss, CWA Local 1039 President Lionel Leach, Newark East Ward leader Joe Parlavecchio, DiVincenzo Chief of Staff Phil Alagia, Democratic Party operative Tom Barrett, Somerset County Democratic Chair Peg Schaffer, Fulop operatives Tommy Bertolli, Jason Solowsky and Shawn Sully-Thomas, Fulop Chief of Staff Mark Albiez, and Baraka Director of Policy Tai Cooper.
The reported imminent indictment of U.S. Senator Bob Menendez (D-N.J.) hung over the otherwise animated event. A committee member, jaw set in stony decrepitude, sat with his head in his hands. "What will a damaged Menendez mean to Fulop?"
"I don't know," came the voice, muffled, from behind clasped fingers.
"Will Menendez hurt Fulop?" PolitickerNJ asked.
"I don't know," the voice repeated, small and in apparent agony behind the hands. The bass line was throbbing as the crowd made for the exits and for the moment, with the party hovering amid uncertainty in the hours before Menendez's supposed indictment, Graham absorbed goodwill and Essex thumped out an unerring and repetitive chord of power.
"He's the most beloved guy with the most sincere intentions," said Somerset County Democratic Vice Chair Zenon Christodoulou, a longtime friend and political ally who routinely refers to Graham as the mayor of New Jersey.