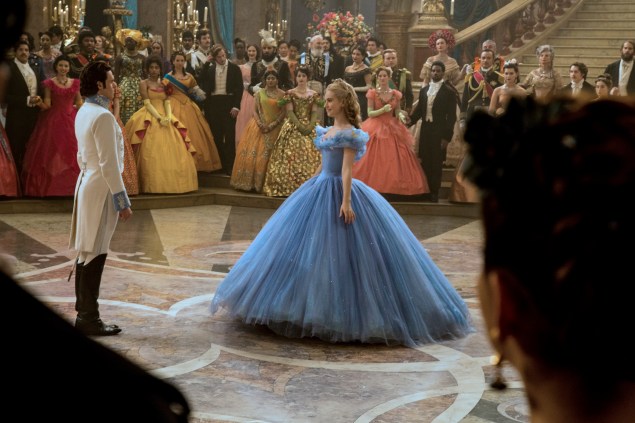 Just when I thought I'd had enough of glass slippers, wicked stepsisters and carriages that turn into pumpkins at midnight, here comes another Cinderella with enough gold-leaf paint to refurbish Buckingham Palace. Every generation gets a new one, and this time, replete with computer graphics and singing mice, Kenneth Branagh has created a live-action fairy tale that pulls out every stop and spares no expense in its efforts to pump more revenue from the pockets of kids from 5 to 50 who are still suckers for this Disney franchise. Any older than that and you get cynics like me, who are too young for caskets and too old for cartoons. I can't believe I have lived this long and I'm still reviewing Cinderella.
---

CINDERELLA ★★★
(3/4 stars)

Written by: Chris Weitz
Directed by: Kenneth Branagh
Starring: Cate Blanchett, Lily James and Richard Madden
Running time: 112 min.

---
Once upon a time, there was this girl named Ella, whose happy home and perfect life were rudely fractured when her mother died and her father married a vain, evil stepmother with two jealous, repulsive daughters, then died while away on a business trip. She was left lonely, unloved and abused, with only two virtues—kindness and courage. She would need them both to survive. Relegated to rags, reduced to slavery and covered with ashes from the fireplace she tended as a servant in her own home, poor wretched Ella was banished to the cold and drafty attic.
Well, you know the rest—the fairy godmother who rescued her, the mice and bluebirds who helped her, the prince at the lavish ball who fell for her charms, the glass shoe that fit no other girl in the kingdom. It's all here, in a family flick enhanced by fabulous sets, elaborate costumes and boundless optimism. I could choke on it all, like a 24-hour binge of buttercream cake frosting. But let's be honest. There is no denying the fact that this is the best Cinderella of them all.
Thanks to the CGI magic and Panavision lenses, Chris Weitz's re-worked screenplay is aimed at the romanticized girlie market. The 1697 fairytale by Charles Perrault has been tinkered with. The footmen are now garden lizards; the coach driver is now a goose. Ella and the prince meet long before the ball, on horseback during a stag hunt. It's not a musical, although the famous Disney songs "Bibbidi Bobbidi Boo" and "A Dream Is a Wish Your Heart Makes" do turn up.
The big improvement is the story of Ella's family history, which was only hinted at in the famed 1950 Disney animated version. Father is now a handsome traveling salesman (Ben Chaplin) dashing enough to earn his daughter's hero worship without question. Mother (Hayley Atwell) is a golden-hearted role model too good to be true. Derek Jacobi is a wise old king who wants to see his son marry his true love before he dies. Lily James from Downton Abbey is a plastic Cinderella too sugary for my taste, and Richard Madden from Game of Thrones is a Prince Charming carved out of foam rubber. Dotty Helena Bonham Carter is an addled, over-the-top fairy godmother. Sophie McShera and Holliday Grainger are freakishly gruesome as Ella's evil stepsisters, although they are not as memorable as Kaye Ballard and Alice Ghostley, who played the roles in Rodgers and Hammerstein's historic TV Cinderella.
That leaves the cherry on top of the cake—a sinister and captivating Cate Blanchett as the first malevolent stepmother in history (thanks to the Chris Weitz script) who is also totally three-dimensional. She actually seems to hate her idiot daughters. In addition, she's a witch with a name, a motivation and a personality of her own. Scheming, sultry and seductive, her Lady Tremaine shows why she's disillusioned—widowed by two husbands while still young and left to raise a pair of dumb daughters she doesn't even like, her resentment of Ella's beauty and sweetness is only natural.
And in the end, there's a refreshing surprise. Cinderella suspends kindness and courage, the two talismen she lives by, for a resolution that may shock you. Everyone in a fairy tale no longer lives happily ever after.