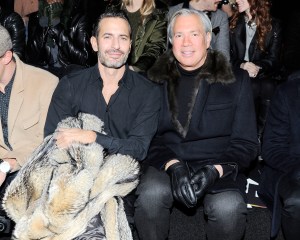 At least one real estate blogger cried foul last January when Marc Jacobs co-founder and president Robert Duffy listed his townhouse at 35 West 12th Street for $8 million. Said writer wasn't complaining about the price hike–Mr. Duffy had acquired the home three years earlier for $5.2 million and subjected it to a winning renovation–but about the fact that not long after moving in, in connection with a glossy spread on the cozy, 2,700 square-foot house, the fashion exec had told Architectural Digest that he could "see spending the rest of [his] life here."
But perhaps Mr. Duffy meant for "here" to be understood flexibly. By "here" he might have meant the West Village; he had, after all, moved to West 12th from a place on Bank Street, which he sold for $7.05 million. Or he might have meant West 12th Street itself. In December 2012, he bought yet another townhouse, a larger one, at number 62 just down the street, for $10.25 million. He haggled that place down a bit, from its $10.5 million asking price, but he didn't fare nearly so well as the buyers of his first West 12th Street home, which was listed with Frank Arends, of Douglas Elliman, and which just sold for $5.5 million, according to city records.
Given Mr. Duffy's evidently ample resources, we can understand why he might have wanted to move into a bigger place–though he did tell AD that he got "freaked out by a lot of space." But we can't imagine that the buyers, who go, as far as public records are concerned, by the name 35 West 12th Street Partners LLC, will be anything but happy there. And we don't mean to suggest that the home is in any way small–there are four bedrooms and 11-foot ceilings, four stories in all. Decidedly interesting–but not obnoxiously so–chandeliers hang in common rooms, while decorative marble-mantled fireplaces occupy wall space to attractive effect.
All of the above, the listing gives us to understand, is a function of Mr. Duffy's "discerning eye," which–when it comes to housing–also seems to be a wandering one.