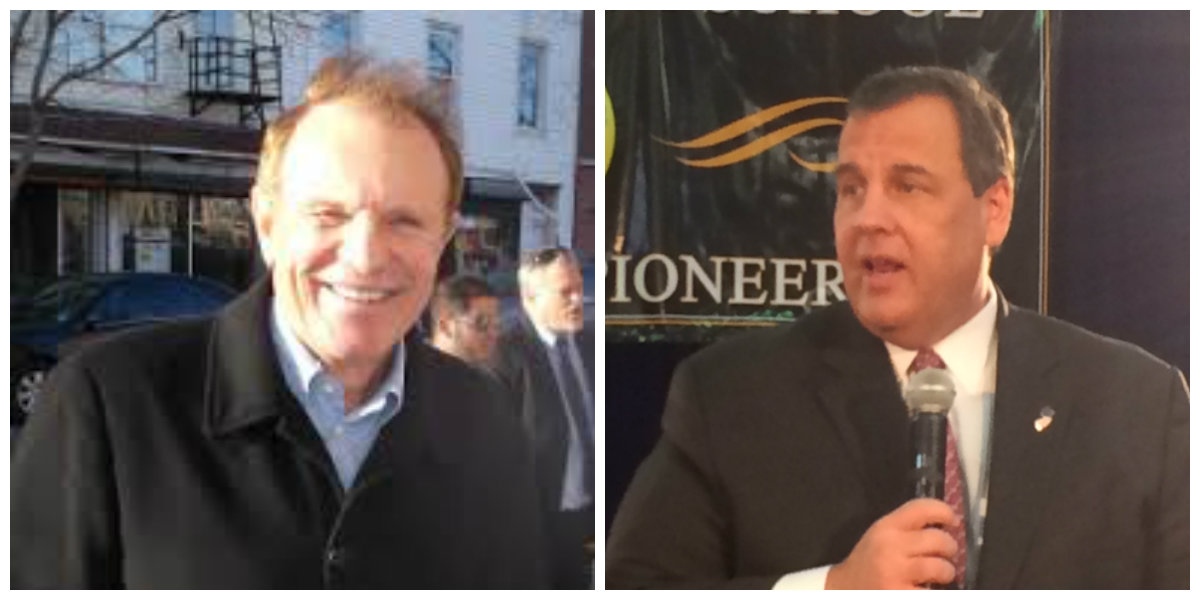 The state's proposed $225 million settlement with Exxon Mobil regarding pollution at several New Jersey sites has created conditions for two of the Garden State's most vaunted politicos to square off: state Senator Ray Lesniak (D-20) and Governor Chris Christie.
The klieg lights on this political boxing match shine a bit brighter: a sitting Garden State governor versus a gubernatorial hopeful.
In Each Man's Eyes, The Numbers Don't Lie
The proposed $225 million settlement pertains to lawsuits first brought by the state against Exxon in 2004 for natural resource damages at Linden, Bayonne and other New Jersey oil refineries and sites.
The settlement number is far short of the original target goal of $8.9 billion in environmental damages. Lesniak co-sponsored a bill on Monday that strongly urges rejection of the settlement, calling the proposed final settlement figure "grossly inadequate" in contrast with the original goal.
Yet acting Attorney General John J. Hoffman and Department of Environmental Protection Commissioner Bob Martin touted the proposed settlement when it was announced on March 5 as the single largest environmental settlement with a corporate defendant in New Jersey history.
Jeff Tittel, head of the New Jersey Sierra Club environmental advocacy group, called the settlement "a bigger scandal than Bridgegate." Lesniak, who grew up close to the Bayway contamination site, echoed Tittel's ire, calling the settlement "grossly inadequate" and calling for Hoffman's resignation if a New York Times op-ed piece by former DEP Commissioner Bradley Campbell asserting that Christie's chief counsel was the driving force behind the settlement proved to be true.
Christie Fights Back
Governor Christie, already suffering from sinking polls both locally and nationally, did what he does best: hit back.
At his latest town hall meeting on Tuesday, Christie called the proposed Exxon deal "a good settlement" when questioned by a community college professor from Somerville about the agreement.
"You would think that the $225 million is all we got. Wrong," said Christie when he defended the settlement. "Up to state standards, there is no cap on what they have to pay. How much this is going to cost them, I don't know. But neither do they. They're going to have to clean everything up, no matter what it costs."
But Lesniak wasn't buying it.
"Deceptive and deceiving. The damage claim has nothing to do with Exxon's responsibility under the law to clean up contamination it caused," said Lesniak in a written statement issued on Tuesday. "The damages are for restoration of what was damaged – $2.8 billion – and for reparations for the value of loss of the ecosystem and natural resources destroyed by Exxon."
The Verdict: Lesniak by TKO
Christie scored a solid counter-punch by pointing out that the proposed $225 million is the largest national resource damages payment by a single corporate defendant in New Jersey history, in addition to the lack of a cap on the clean up payment amount.
But, as they say in politics, if you're explaining, you're losing. Christie, who is already having tough times on issues such as the evaporating Transportation Trust and budget questions about pension reforms and benefit costs, doesn't need to deal with anymore brush fires while still trying to stoke the flames of a putative 2016 Republican presidential nomination bid.
According to multiple reports, Exxon contributed $500,000 last May to the Republican Governors Association (RGA) that Christie chaired last year, a job which helped the governor build a national network.
As for Lesniak, a potential 2017 Democratic gubernatorial candidate, he has found an issue that hurls him into the policy scrum against Christie with many of the other possible Democratic candidates.
Jersey City Mayor Steve Fulop has the Port Authority. State Assemblyman John Wisniewski (D-19) has Bridgegate. State Senate President Steve Sweeney (D-3) has the proposed pension system overhaul plan.
Now Lesniak, recently mocked for banging a cowbell on YouTube, has friends starting a PAC on his behalf and a policy gong that he can sound about something that happened literally in his own backyard. This combination flurry of blows picks Lesniak up off the canvas and back in the middle of the gubernatorial race ring.