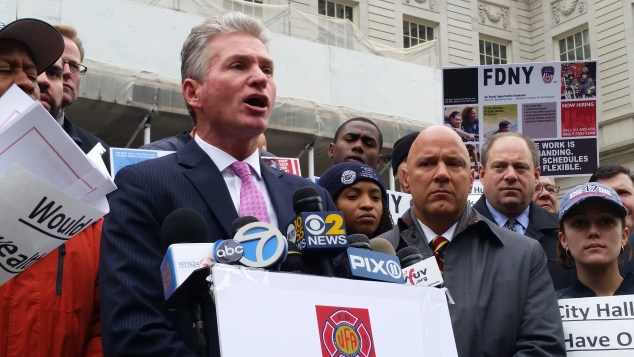 Several hundred firefighters and elected officials massed on the steps of City Hall this morning to blast Mayor Bill de Blasio for opposing their call to increase disability benefits for new recruits.
Stephen Cassidy, the president of the Uniformed Firefighters Association, aimed his fire squarely at Mr. de Blasio—even though changes to the pension benefits system will ultimately need to occur in Albany.
"Listen, the mayor of the City of New York can walk arm-in-arm with me up to Albany and fix this in a heartbeat," Mr. Cassidy told the Observer. "So that's why we're talking about the mayor and the speaker. The reality is, that's the power. They know it, everybody knows it."
Mr. Cassidy said that new firefighters, many of whom are nonwhite after a federal judge forced the FDNY to diversify their ranks, were "sold a bill of goods."
"It's a bait and switch and needs to get fixed. Not because they were lied to—it needs to get fixed because it's the right thing to do," he added, ripping Mr. de Blasio for backing a $13 minimum wage while allegedly turning his back on cops and firefighters.
In 2009, David Paterson, the governor at the time, vetoed a pension sweetener for city cops and firefighters that had been typically carved into the state budget. Mr. Paterson, a Democrat, was trying to control costs at the height of a national recession.
The result of the veto, which stands to this day, is that police officers and firefighters hired after July 2009 only receive 50 percent of their salaries as disability pension pay. Those hired earlier get 75 percent of their wages in disability pensions. Mr. Cassidy said a newly hired firefighter who is seriously injured in the line of duty would receive a paltry $27 a day.
Mr. de Blasio—typically a staunch supporter of unions who has in the past enjoyed a fairly chummy relationship with the UFA after he protested firehouse closures as a councilman—has opposed reversing Mr. Paterson's veto, citing the potentially high costs of a bill sponsored in the State Senate and Assembly that would restore parity to the pension system.
"The administration takes police officer and firefighter safety very seriously," de Blasio spokeswoman Amy Spitalnick said. "While there are issues with this specific legislation, Mayor de Blasio's door is always open, and he is committed to working together with police and firefighters to protect these brave public servants who protect us every day."
The City Council needs to pass a resolution to ask the state to boost disability and pension benefits—and though it has plenty of sponsors, Council Speaker Melissa Mark-Viverito has not been overly supportive. Her office said she'd continue to review the proposal.
"Whether it's funding for new bullet-resistant vests, fighting to keep firehouses open or providing resources for new advanced training facilities, the Council values and supports our cops and firefighters and we continue to review the disability proposals," a spokesman for the speaker, Eric Koch, said.
A handful of council members turned out to back Mr. Cassidy. They were joined by Brooklyn Borough President Eric Adams, a retired police captain and Public Advocate Letitia James. Missing was Patrolmen's Benevolent Association President Patrick Lynch, a notorious antagonist of the mayor.
"I want equality. I want parity," Ms. James, a Democrat and ally of the mayor, declared. "It is unconscionable. It is unacceptable that our government would not put on their desk immediately a pension bill that would give them parity now and forever."
"The difference between an elected official and a politician is when you have vision and when you can lead individuals forward," she continued. "This is the time for elected officials to show what they are made of—show your muster, provide some leadership."
A spokeswoman for Mr. Cuomo said he was "reviewing" the disability legislation, sponsored by Democratic Assemblyman Peter Abbate Jr. and Republican State Senator Martin Golden. Mr. Cuomo, a fiscal moderate, typically opposes pension sweeteners, but Mr. Cassidy was confident he would have more friends in Albany than City Hall.
"Listen, the governor and those in Albany already know, and I believe are already in our corner, to fix this. I think some of the people behind us in City Hall aren't so sure," he said.