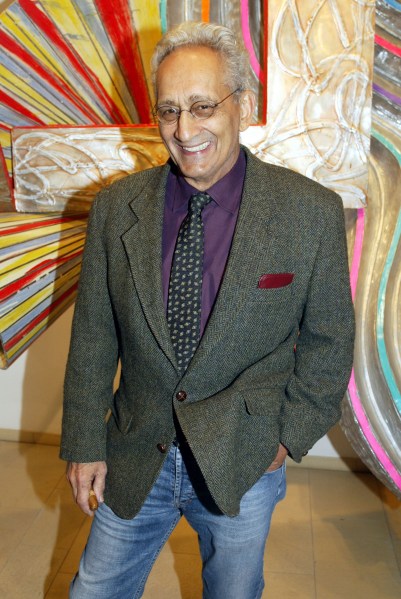 It's cool that pioneer minimalist painter Frank Stella has lived long enough to be considered the Next Hot Thing. With paintings featured in the Robert Mnuchin booth at the Art Show fair this week, and at Paul Kasmin Galleries in Chelsea, and in retrospective at the new, moved and improved Whitney Museum of American Art slated for this fall, Mr. Stella is about to have a huge moment.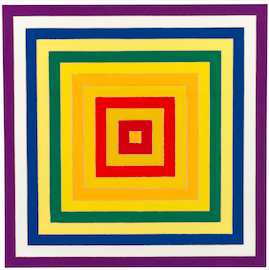 Born in 1936, Mr. Stella is considered one of the most important living American painters, credited with influencing Minimalism and Color Field painting. By the late 1950s and early 60s, his career had launched with Black Paintings—a series of paintings featuring stark black stripes on a raw, untainted canvas. Soon after, he created Aluminum Paintings and Copper Paintings. Known for his innovative and constantly evolving style, Mr. Stella has continued to push the boundaries of what is considered art.
He first came onto the scene when he was 23 and now, as he's nearing 79, his career is revitalizing.
In the upcoming 27th annual ADAA show from March 4 to March 8 (with a VIP opening on Tuesday, March 3), Mr. Stella's pair of Concentric Square paintings will be on display at the Robert Mnuchin Gallery.
The biggest honor, however, will be Mr. Stella's exhibition at the Whitney, as part of its inaugural year in its new building. The exhibit will be a comprehensive and retrospective look at Mr. Stella's career, starting with his early works in the 1950s and working up to his contemporary pieces. The approximately 120 works will feature his usual and well-known pieces alongside examples from rarely seen collections. The exhibition is being awarded the entire fifth floor of the museum, sprawling over an 18,000-square-foot gallery.
Savvy dealers, perhaps expecting the museum to remind people of Mr. Stella's talent and reinvigorate his market, are already stockpiling.