The following piece is dedicated in loving memory of Gita Bajaj, who died last week, age 56, after a long struggle with breast cancer. A former broadcast journalist who produced the celebrated 'Eye on Asia' program on WNYC-TV, Ms.Bajaj was a veteran Democratic Party operative who worked in the Assembly Majority Office, and most recently served in the employ of then-Assemblyman Upendra Chivukula (D-17) and Assemblyman John McKeon (D-27).
A tireless advocate for Asian Indian issues, Ms. Bajaj of West New York was one of New Jersey's most respected experts on South Asian affairs.
PolitickerNJ will miss her intellect, good humor, and tremendous passion for New Jersey politics.
Where the mind is without fear
Where the mind is without fear and the head is held high;
Where knowledge is free;
Where the world has not been broken up into fragments by narrow
domestic walls;
Where words come out from the depth of truth;
Where tireless striving stretches its arms towards perfection;
Where the clear stream of reason has not lost its way into the
dreary desert sand of dead habit;
Where the mind is led forward by thee into ever-widening thought
and action;
Into that heaven of freedom, my Father, let my country awake.
                                                          – by Rabindranath Tagore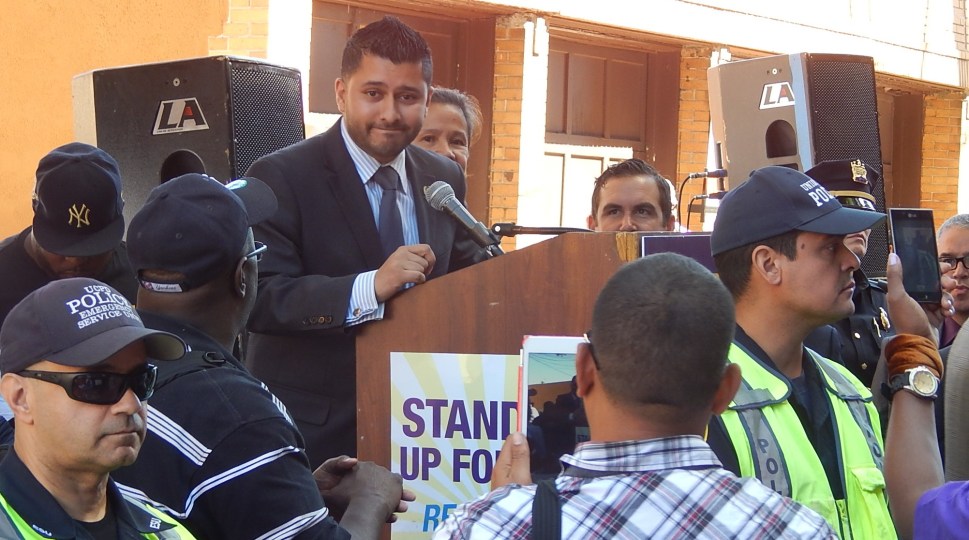 EDISON – Upendra Chivukula's historic 2001 victory catapulted him to the forefront of his community and into the conversation of Central Jersey politics, where for the next 13 years he would serve as New Jersey's only South Asian in the Statehouse before unsuccessfully attempting to become the state's first South Asian Congressperson.
Chivukula's last run revealed South Asian trend lines stretching into the next generation of New Jersey politicians, including fundraising ability (the $416,000 Chivukula raised for his last congressional campaign between 01/2013 and 11/2014 included over 80% itemized contributions from mostly South Asian donors); and the capacity of South Asians to reach across old country divisions, turn out in an off year and expand the electorate (in the Chivukula campaign's case among approximately 10,000 unlikely Indian and South Asian voters put him within striking distance of second place).
The Indian immigrant's loss also demonstrated the fundamental mechanical challenge he faced: namely the fact that he's a Democrat from Somerset County, historically a Republican County. That geographical reality prevented the former Franklin Township mayor from securing the line in Democratic Middlesex County with another contender from Middlesex in the race; and showed the potential of South Asian leadership to balkanize according to the demands of party and political influence.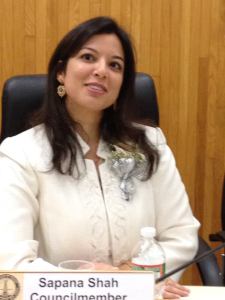 Now the next generation of South Asians – including Edison Councilwoman Sapana Shah, Monmouth County Democratic Chairman Vin Gopal, Hoboken Councilman Ravi Bhalla, Assemblyman Raj Mukherji, Paterson Councilman Mohammed Akhtaruzzaman and Assad Akhter, deputy chief of staff to U.S. Rep. Bill Pascrell (D-9) – looks to capitalize on the lessons of their most visible predecessor and confront those challenges specific to their region in state politics and within the broad complex of the South Asian political experience.
Claiming his place as the second South Asian in the legislature, and at present the sole member of the community currently holding a state legislative seat, Mukherji of Jersey City occupies an advantageous political position, but one that at least for the purposes of this year's election cycle hinges on his party, not the South Asian community. In a testament to the 30-year-old's political deftness, of four Hudson County legislators up for reelection in districts 31 and 33, only Mukherji will have the Democratic Party line in 2015 and the support of County Chairman Vincent Prieto – in a Latino dominating voting district no less.
As a resident of the city's Heights section, Mukherji now only serves part of Jersey City's South Asian community, but there he has a toehold toward political traction citywide. Chairman of the Jersey City Housing Authority and a former deputy mayor, the assemblyman routinely enters insider political discussions about who will next lead Jersey City, home to New Jersey's largest South Asian population (32.665, or an estimated 20,000 eligible voters), comprising the largest portion of the Asian-American community, which is nearly a quarter of the city's population; tied with Edison (around 30,860 and estimates of many more uncounted) in Middlesex County.
Census figures show the accelerated rise over the past decade of South Asians in New Jersey. According to the NJ Department of Labor and Workforce Development, as of February 17, 2012, with a 72.7 percent growth rate over the past decade, Indian had become New Jersey's most populous Asian group — surpassing Chinese and make New Jersey the state with the third largest South Asian population behind California and New York.
There are at least 380,000 South Asians in New Jersey, according to the 2010 census. Factoring in the estimated margin of error, the number might be closer to 418,000. At least 277,392 are U.S. citizens (before allowing for the margin of error), and thereby potentially eligible voters. According to the 2010 census, the county with the largest Asian Indian population was Middlesex (104,705), followed by Hudson (37,236), Bergen (24,973) and Somerset (21,625). Those populations in four counties form 64.5% of the state's Asian Indian population.
Despite the seeming stronger position now, however, the growth of the community creates more challenges, a condition exacerbated by the unwieldy nature of India itself, a country of 100 languages, a complex caste system and multiple religious traditions, in addition to the fact that India is but one of eight South Asian countries.
Yet, "Even if the only thing is brown skin, you feel a bonding," said Gopal. "It's deep."
In any municipality dominated by South Asians, the tension persists between old and new.
South Asians in old Jersey City lived through the community's darkest chapter – dubbed the "dot buster" era in the 1980s – when many feared stepping outside their business and homes amid numerous completely random targeted assaults. Those residents later watched the construction of high rises and rail yards turn into Wall Street West, and the formation of a younger South Asian downtown Newport population.
Still – to Gopal's point – a connection exists, a connection that goes beyond old country religious and ethnic boundaries and extends from India to the entire community of South Asians. "You see minorities, especially especially immigrants, have often overcome some element of economic disadvantage or difficulty in assimilating," said Mukherji. "A lot of times in an immigrant story, success wasn't handed to them, so there is a greater and deeper appreciation for sacrifice.
"As the son of immigrants, as someone who came from a family who has overcome some adversity, I have been able to connect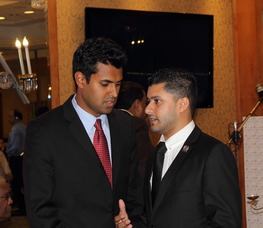 with the elderly South Asian immigrants and first generation folks because I see my parents in them," added the assemblyman, whose widowed mother moved in with him two years ago after his father's death. "So many of their stories are parallel to those of my parents and friends and when it comes to my generation we face the same things any other group faces: bridging these worlds, worlds that are natural, especially in Jersey City, the most diverse city in America, where various ethnicities, religions and cultures coexist in harmony."
The Origins of a Pivotal Decade
September 11th proved a pivotal moment for South Asian leaders in New Jersey politics, a time to go on offense and engage more fully in public life.
Having survived a hard Democratic Primary in his first run for a seat in the New Jersey State Legislature in 2001 and vying to be the first South Asian to serve on that governing body, Chivukula, an engineer by trade who came to the United states with $8 in his pocket, had six weeks to go before Election Day. A few people told him that September 11th had changed the game and he couldn't win.
It was a Democratic district, but the name "Upendra Chivukula" possibly dredged up too much painful association for the average general election voter, or so ran the argument offered in lament to the candidate, he recalls.
But Chivukula was on the ballot and committed to winning.
"I first got elected to the council ward seat in 1997 when Asians formed 2% of the population in Franklin, and when people thought I couldn't get elected because my name is not Johnson or something," recalled the South Asian leader, who told voters to "think of yourself drinking a cola – and then think of Chivukula."
He won 2-1.
9/11 proved a test too for Bhalla of Hoboken, a Sikh.
In the aftermath of the attacks, Bhalla's mother called him and told him to remove his turban, an ironic entreaty considering the fact that Sikhism rose out of a movement to protect Hinduism against radical Islam.
Bhalla (right) considered his mother's advice.
But the Sikh who was born and raised in the city of Passaic remembered a story about his father coming to the United States with $50 in his pocket in 1965. Enrolled in a PhD program in physics, his father got into a cab at JFK Airport and when they neared the Penn State campus the cabbie told the elder Bhalla he'd drive him by the barbershop on their way to the school so he could get a shave and ditch the turban.
The elder Bhalla's decision to uphold the public expression of his religion helped his son make his decision in 2001 to continue to dress as his faith dictates.
"My father viewed America as a place where his religion would be respected and appreciated and not a liability," Bhalla said. "Without his refusal to go that barbershop, had he not made that decision, I wouldn't be sitting here today as I am."
After the attacks, Shah in Edison watched her immigrant Indian father raise an American Flag in front of the family's home. He father wanted to make sure people knew that Americans lived there. When she saw that, she realized she wanted to be involved in public life. And in the days following the 911 attacks, Mukherji, born in Calcutta and raised in Union County, effectively an orphan at 15 when his parents returned to India to confront his late father's illness, walked into his local Marine Corps recruiter.
Two weeks later he enlisted and subsequently sold his company and reported to Parris Island for boot camp
He was 17.
A reservist who worked in intelligence and as a linguist, Mukherji mustered out as a sergeant.
A pride in firsts permeates those South Asians in touch with New Jersey politics.
While the country in 2008 embraced Louisiana Governor Bobby Jindal as the first ever governor of Indian descent elected in the United States, New Jersey had already technically made history with Kris Kolluri – secretary of transportation under Jon Corzine – fulfilling the role of first ever Indian to serve as chief executive of a state when he served as governor of New Jersey for one day in 2006.
But federal office proved elusive for South Asians here. In 2014, Chivukula resolved to make history again more than a decade after his 2001 legislative win as he attempted his second run for a congressional seat. He undertook his first attempt in 2012, in the 7th District, raising $1 million for what ultimately proved a losing cause in an effort that nonetheless won the admiration of Somerset County Democratic Chair Peg Schaffer. Even though it looked like an unwinnable race against an entrenched Republican incumbent, Schaffer had wanted to field a strong candidate to run against Lance to help her countywide slate and Chivukula went all in.
Two years later, when U.S. Rep. Rush Holt (D-12) announced his retirement, the veteran assemblyman from Franklin Twp. declared his candidacy, one of three long recognized Democratic state lawmakers. Chivukula subsequently fought publicly with Middlesex County Democratic Chairman Kevin McCabe when he pressed for and did not receive a screening before the Democratic Committee. As he headed into his campaign, most of the South Asian organizations he had long depended on for support stayed silent, and longtime allies in elected office placed loyalty to party above loyalty to South Asian relations. But while much of the mainstream media dismissed him as a no hoper, Chivukula on Election Day netted 22% of the vote to state Senator Linda Greenstein's 28%, despite Greenstein possessing the line in a county with 38% of the Democratic vote compared to Somerset's 12%.
Still, the former assemblyman, now a member of the powerful state Board of Public Utilities (BPU), appointed by Gov. Chris Christie, lingers on the lack of screening time afforded him by Middlesex Democrats.
"It happened to me, it can happen you," said Chivukula, when reflecting on his inability to secure that line and his advice to the next generation of South Asian politicians. "It's going to be a challenge for them. Things have changed a lot. They have to navigate through some of the challenges."
The Next Generation
Sons of immigrant parents who are Chivukula's age and raised in suburban enclaves where the majority of their friends were not South Asian, Gopal, Mukherji and Akhter have climbed more comfortably than most those traditional power structures run by a network of white males otherwise known as the Democratic Party: Gopal as a county chair and Mukherji navigating Hudson Democratic circles.
Of Pakistani descent, Akhter runs Pascrell's district office and over the past six years muscled his way into the top tier of
Democratic Party political operatives. A Paterson resident, he doesn't rule out running for elected office in the future. "There are only so many opportunities and to this point I've been extremely lucky," Akhter told PolitickerNJ. "A lot of it is just luck and timing."
Born and raised in Monmouth County where the presence of any Indian stranger prompted him invariably to try to start a conversation because seeing one was rare, Gopal admits it's tougher for him than Chivukula to connect with many immigrant South Asian voters in Middlesex. To begin with, he lacks the language. But that has not impeded the view his South Asian peers have of him as a legitimate rising star.
An ally of U.S. Rep. Frank Pallone (D-6), Gopal routinely accompanies Pallone to South Asian events, and the fundraising and organizing efforts of the young party leader have so impressed political observers that his name inevitably comes up in party circles when insiders consider Pallone's successor.
To many of his peers, the socially energized county party chairman with a knack for building relationships statewide has transcended some of the older obstacles and divisions arguably intrinsic to immigrant New Jersey politics. But as a Monmouth brand name conceivably playing for Middlesex County, he could likewise find himself up against those very political issues the Somerset County-based Chivukula found impenetrable.
Councilwoman Sapana Shah by contrast lives at the heart of South Asian politics in Central Jersey. Unlike Chivukula or Gopal, Shah holds public office in the Middlesex County town that has (tied with Jersey City) the largest Asian Indian population in New Jersey, the scene of the annual Indian Independence Day Parade.
That alone offers a unique set of challenges.
Elected in 2013, former School Board member Shah joined Tom Lankey's team with the muscle of local party chair Doc Paterneti and Anthony Russomanno behind her.
The Gujarti councilwoman and criminal lawyer by trade spent three years of her childhood in the Hilltop projects on Oak Tree Road, which gave her the firsthand experience to now represent in government those South Asian immigrants in her town who need a voice.
But Shah as an at-large representative, has a large and diverse constituency. She's also the governing body's only woman, which roused the 2013 ire of opponents in the business community, who unsuccessfully tried to block her with their own all-male slate.
Maintaining that they had an open process in CD12 and treated Chivukula fairly, sources close to Democratic Party leadership indicate that McCabe has made South Asian outreach a priority and anticipates a South Asian candidate occupying a freeholder seat over the course of the next few cycles. McCabe, the source said, intends to fight for it. Shah has an edge because of Edison but North Brunswick Councilwoman Shanti Narra has already been elected (2010) and reelected (last year).
In a local preface of the CD12 primary, his loyal ally, Councilman Doctor Sudhanshu Prasad ran for mayor in 2013, placing third in the general election behind incumbent Mayor Toni Ricigliano and winner Lankey, and beating Republican candidate Guy Gaspari.
For staying in that contest instead of backing Lankey, Prasad (left) faces what sources in Edison say is certain punishment. But the councilman said he intends to win the party's screening test on March 18th.
"I was not running against the party," Prasad told PolitickerNJ. "I was running against the incumbent. …I am absolutely hoping they see beyond that [his mayoral candidacy]. I am in my eighth year on the council and I am a diehard Democrat. I have supported the agenda of the current administration."
Prasad's power-rankling moves resonate in Paterson, where incumbent Ward 2 Councilman Mohammed Akhtaruzzaman made history in 2012 as the first Bengali councilman to win elected office in the Silk City. A concentrated, well-organized Muslim community, Bengalis got behind Akhtauruzzaman to take down veteran incumbent Aslon Goow.
Now as he heads toward his 2016 re-election bid for a second term, Akhtauruzzaman already faces certain challenges, as Goow seeks re-election and the community appears divided.
Potentially must worrisome for the incumbent is the fact that he backed the losing candidate for mayor last year, which could bring reprisals from those allies of Mayor Jose "Joey" Torres. A source told PolitickerNJ that relations between the councilman and his campaign strategist Henry Sosa have soured.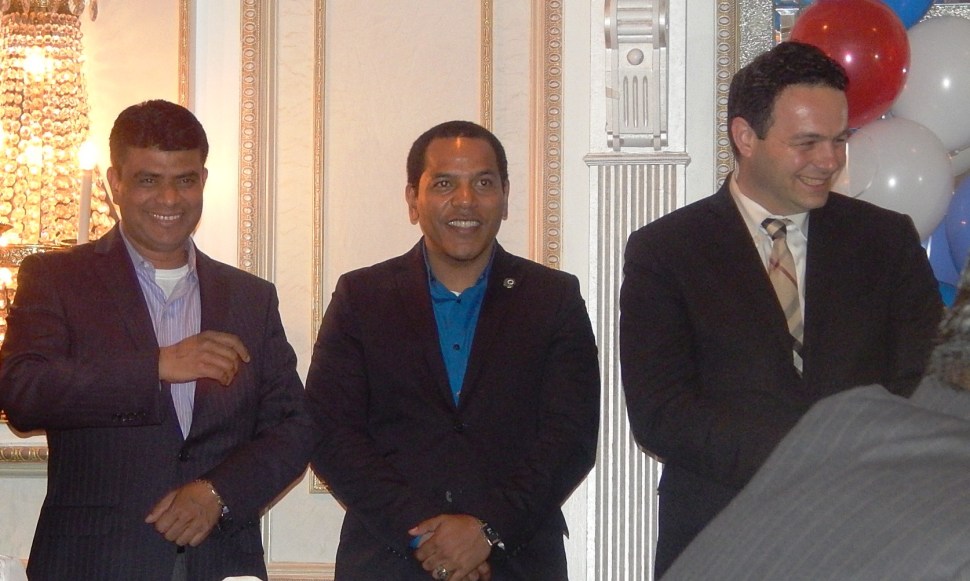 "With success comes people who want the credit," a source told PolitickerNJ.
But Akhtauruzzaman radiates confidence, and dismissed the back chatter as little more than political meddling and wishful thinking.
"At the end of the day, it's about the person," said the councilman. "It's about the man who holds the job. I was fresh off the boat back then – 1986, I came here to Paterson with my brother. And now, you see you cant solve everybody's problems. But I'm here to lower property taxes. It's tough because we don't have the funds we need. But that's the job. If I lose, it's on me. Not the community. Not someone else. Not Goow. It's on me.
"I don't let any man dictate my destiny," Akhtauruzzaman added."Nobody writes your destiny. If I let someone write my destiny, if I let Goow, for example, write my destiny, I would be in jail for 100 years. It's like this: people voted for me. I don't take anything for granted. I've been helped by so many people. I'm helping people. All Goow wants is ego. His ego took over. Sosa wants money. I don't begrudge him that. You have to be yourself. But I don't see any political fallout. I see the job."
If Chivukula had the handicap of making his home base as a Democrat in Somerset County, fellow Democrat Gopal similarly occupies GOP-dominant Monmouth, Shah has the ages-old complexities of Edison, and Akhtauruzzaman serves a ward more complex than most, Bhalla and Mukherji find themselves inevitably interwoven in the demands of Hudson County.
Insiders describe both of them as frontrunners to succeed the sitting mayors in their home towns, but they approach the game from different angles: Bhalla as one who twice could not get the attention of district overlord Stack as a candidate for the assembly and so ran off the line and received a beating; and Mukherji who finessed his way into the upper stratosphere of Hudson politics, happily straddling the worlds of Stack, Prieto and Jersey City Mayor Steven Fulop.
First elected to the Hoboken City Council in 2009 Bhalla ran on a reformer slate with Dawn Zimmer and came out the top vote getter in a brutal election cycle that ultimately sank Peter Cammarano on corruption charges.
"What's next is I'm fully committed to completing my term on the city council and I want to seek any possible opportunity to add value," he told PolitickerNJ.
An attorney with Florio, Perruci, Steinhardt and Fader, Bhalla threw a fundraiser earlier this month  where he raised $20K.
In the town that gave birth to baseball and where the born and raised factor carries weight in some anti-yuppie circles, Bhalla at the outset faced questions about the potential conflict between faith and the ability to be publicly successful. Ultimately he turned his faith into a weapon on a diverse ticket founded in opposition to the "born and raised" wing of Hoboken politics.
"My story to Sikh children is that there is no conflict between Sikhism and America," he said. "To be a Sikh is an asset. Hard work, faith, radical egalitarianism are all tenants of the religion and of America. The values on a religious level, I have on the secular level. The turban and uncut hair are almost a symbol for social justice and a reminder of who we are."
First elected as a Teaneck councilman in 2008, Mohammed Hameeduddin went on to serve as mayor for four years from 2010 to 2014. In an acknowledgement of New Jersey politics' capacity to transcend old world Hindu and Muslim divisions, Bhalla credits the influence of Hameeduddin on his own political career.
"He's one of the reasons I got involved," recalled Bhalla. "Basically he told me, 'if I can do it anyone can.'"
Twice denied in his runs for the assembly but consistently viable citywide, the first elected Asian in Hudson County politics had a fundraiser last month and raised a quick $20,000.
"I'm here to stay," Bhalla said.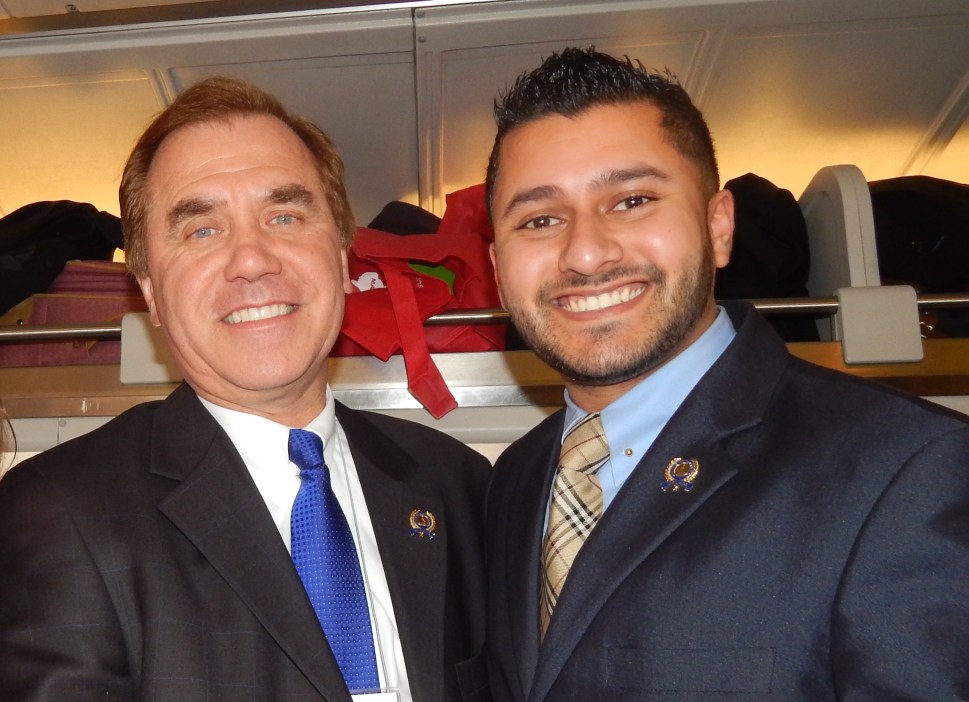 So apparently is Mukherji, the state's resident Irish Ballad-singing Bengali, who earned an Ivy League masters degree from the University of Pennsylvania and finished a Juris Doctor from Seton Hall Law School. The founder of his own computer consulting company at 11, enrolled in college by 15, and the managing partner of a successful lobbying firm at age 19, Mukherji became chair of the city's Housing Authority at 24, and filled the Deputy Mayor vacancy created by Leona Beldini's federal conviction at 27.
When Fulop defeated Mayor Jerry Healy in 2013, Mukherji survived the usual city hall purge and now stands poised to win a second term. Supportive of Healy, Mukherji never made an enemy of Fulop and vowed allegiance to the winner post Election Day.
In office he's proved useful. Both he and Fulop were in the Marine Corps, which was a connecting point early.
"Being in the legislature is an incredible privilege for me," Mukherji told PolitickerNJ. "I take the office very seriously, I take the work very seriously, and the constituents very seriously. But I try not to take myself too seriously, and I am deferential to the leader of my legislative district, to my hometown mayor and county chair.
"In Jersey City, Indians tend to vote together and are not that active," he added. He's looking to change that, and has undertaken aggressive organizing efforts throughout the city.
"I could recite for you a list of bills that I have prime sponsored in areas ranging from expanding access to healthcare, economic development, addiction, public safety, animal welfare, infrastructure or veterans that have passed that I am proud of, but rather, I believe that my most important accomplishment in my first year is that which can't be the subject of a press release: constituent services, being able constituents in connection with individual problems or cases in their interactions with local, state and federal government being able to deliver the good news that we were able to solve this problem for your family or cut through some red tape for you, There is no more satisfying feeling than that.
"And I learned from Brian Stack about the importance of constituent services," Mukherji added.
If Fulop runs for governor in 2017 and a Democratic Primary turns into a dogfight, Mukherji has potentially helpful ties to at least five county chairs. Individually they might not mean much in party primary politics, but together they could make an impact. (Liz Muoio is a Mercer Co. Executive Brian Hughes acolyte, who is the assemblyman's former partner's brother; and Schaffer, Gopal, Ocean County Democratic Chairman Wyatt Earp, and Hunterdon County Democratic Chair Arlene Quinones Perez are all longtime friends).
The Next Battlefront
At midnight on August 15, 1947 India became a free nation in what Prime Minister Pandit Jawaharlal Nehru described as "A Tryst with Destiny…" On a smaller scale in the annals of New Jersey statehouse politics, Chivukula will always represent the starting point for South Asians on the move.
"He has been a role model for everybody," Prasad said of Chivukula. "When he became mayor in his own township of Franklin, there was not a big Indian community. He was for everybody. His district did not have many Indians when he was first elected. But he reached out. I would go to events and he was everywhere. Now that he's gone there's a big vacuum in the Indian community. Raj Mukherji is coming up and he's a young and energetic person. The Middlesex County Democratic Party didn't support Chivukulu and that's okay, but when the right candidate comes, I hope they support that person."
Mukherji met Chivukula when he was a teenager. So did Gopal, who remembers listening to Chivukula speak when the latter was still serving in local elected office in Franklin.
"What I think his legacy means is what it means for every South Asian in our state and what it meant for me the day I met him: hope," said the assemblyman. "Hope that brown skin and a funny name won't stop you from 12 years in the state legislature, rising to head a critical committee and shaping policies to better the lives of millions of New Jerseyans; hope that you can come to this country with the shirt on your back and a few dollars in your pocket like Upendra, or on a freedom flight from Cuba like the speaker, and rise to leadership within the Democratic Party and in the legislature."
For his part, Chivukula remains skeptical about that Democratic Party right now and its path, which even as he personally made history and his community gains numbers in New Jersey, went backwards over the course of a decade, in his judgment.
"I think the elected leaders should show leadership," said the former assemblyman. "I think the non-elected leaders running the show is a situation that has gotten worse.
"This is where we are," he added. "I call on the elected leaders to be leaders."
It's not just a creaky party structure, however, that alone stands in the way of the next ascendent South Asian.
By definition, India resists oversimplification.
"It's a combination," Chivukula admitted. "The Indian population is balkanized. There are different regions, different languages. The Indian understanding of the politics is not there. Indians have to wise up."