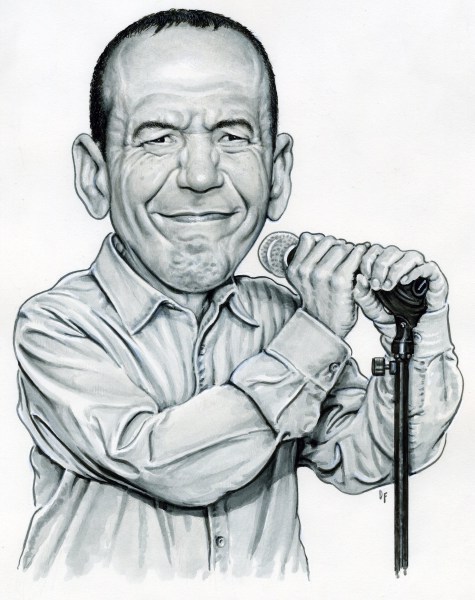 Gilbert Gottfried does not sound like Gilbert Gottfried.
His speech is slow, measured, and thoughtful. His voice is almost baritone compared to the loud, high-pitched shrieks he emits on the job as a stand-up comedian and voice actor. He sounds more like Shakespeare's Iago than Aladdin's.
But Mr. Gottfried's stage persona has earned him notoriety at roasts, in the aforementioned Arabian-themed Disney film, and recently, in a College Humor online video, where he recites the erotic prose of Fifty Shades of Grey in his trademark yell.
The lifelong New Yorker, who just celebrated his 60th birthday, also hosts Gilbert Gottfried's Amazing Colossal Podcast, which focuses more on old Hollywood than comedy.
You sound different on the phone.
I sound like Bing Crosby. I should be by the fireplace doing a Christmas special and smoking a pipe. People ask how I came up with my delivery and my whole style. To me, it's like walking up to someone on the street and saying, "How did you develop that walk?"
As a former SNL cast member, you recently attended the 40th anniversary of the show. Was there any comparing which season was best?
The season I was on was right after Lorne Michaels and the original crew left. So it was the worst time to have been on Saturday Night Live. It's like if in the middle of Beatlemania, John, Paul, George and Ringo left and they said, "Here are four other schmucks. You'd better like them just as much." Whenever I'll see a season or an episode I don't like, I always go, "Oh, I was there. And my season wasn't any good. So I'd better keep my mouth shut."
How did Gilbert Gottfried's Amazing Colossal Podcast come about?
It's very peculiar. I'm doing a podcast and I don't quite understand what podcasts are, fully. On the podcast, I'm particularly interested in older Hollywood. People who were around then, like Larry Storch, Dick Cavett, Henry Winkler.
Who is your dream podcast guest? The terrible thing is, with the age group, a lot of them are gone. I was originally gonna call the show, The Before It's Too Late Show, but then I thought it would be hard to get guests because you'd be basically saying to them, "Do you want to do my show? Because I think you'll be dead soon."
Have you ever wanted to make something else, like a documentary, about classic Hollywood?
The only reason I'd make a documentary is so I could wind up showing a clip on the Academy Awards and I'll look very, very intellectual. But what I love about documentaries is every single one of them has a scene in a car. A person is in a moving car, talking. I go, "Oh, there's the car scene. The person's not riding anywhere in particular but they're in the car and they're talking to a screen."
What did you think of the Oscars' In Memoriam montage omitting Joan Rivers and Elaine Stritch?
That's usually the part I look forward to—the only part I really like watching of the Academy Awards is the dead people segment, and they never quite get it right. This time, it looked like painted photos. It looked like something you'd get in a department store. Give us your photo and we'll paint it and frame it for you. It was kind of tacky-looking.
Do you think comedians get left out more often?
Actors are still taken more seriously than comic actors. My main concern is that I feel like show business is a party that I snuck into. And I'm scared that any day now, someone's gonna walk over to me with a clipboard and say, "Your name's not on the list."
Comedian Judy Gold Talks Judaism, East vs West, and Her Time on 'Celebrity Wife Swap'