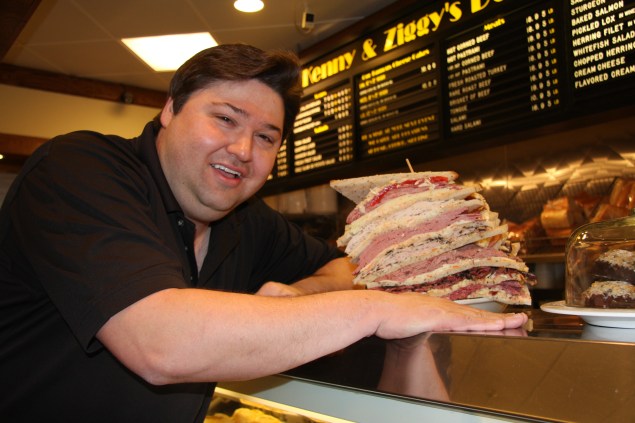 When you hang out with deli men, the jokes get morbid.
Which only seems natural. Delis—Jewish delis, that is—are not known as bastions of health. It's pastrami by the pound at these artery-clogging establishments, chunks of chopped liver and babka in bulk. This food, to paraphrase Abe Lebewohl, the late owner of the Second Avenue Deli, will kill you.
Speaking of death, the slow yet steady disappearance of the Jewish deli inspired Erik Anjou to direct his latest documentary, Deli Man. David "Ziggy" Gruber, who owns a deli in Houston, is the film's star, and on a recent afternoon at the Second Avenue Deli, which is now located on 33rd Street between Lexington and Third, Mr. Gruber, Mr. Anjou and Jack Lebewohl (Abe's brother) discussed the fate of the Jewish culinary tradition over pickles, barley soup and Dr. Brown's soda.
There are now about 150 delis across North America. In the 1930s, though, there were roughly 1,500 just in New York, "the de facto world capital of Jewish delicatessen," as David Sax puts it in his 2010 book Save the Deli.
"Forget about one on every block," Mr. Lebewohl recalled. "You could have had several on a block. My brother started the Second Avenue Deli when I was a kid, in 1954, and at that time there were three delis on Second Avenue alone."
---

'I think we're going to find out one day that all this vegetable stuff is what's killing us,' Mr. Gruber said.

---
Mr. Gruber's grandfather opened the Rialto, the first deli on Broadway, in 1927. "I learned everything from him," said Mr. Gruber, who was in town for a screening of Deli Man at the Friar's Club.
Well, maybe not everything. He still can't remember his grandfather's gravy recipe, which he's attempted to mimic for years. But even without an exact replica, the old-world food he grew up with is, he said, still quite popular in Houston. He opened his store, Kenny and Ziggy's, in 1999.
Most of his customers were Jewish then—Kinky Friedman is a regular—but that's changed through the years.
"They come in and they order all this stuff thinking it's this esoteric new kind of cuisine," Mr. Gruber said, "which is hilarious."
Mr. Lebewohl hasn't been so lucky. In New York, delis are a kind of novelty attraction. People come to eat pastrami sandwiches, and that's about it. "No one cares about the traditional Eastern European dishes," he said.
In the past couple of years, Mr. Lebewohl has had to remove a number of staple items from the menu that just weren't selling, including goulash, chicken fricassee and potted meatballs.
"In effect," he said, "basically what we sell is the sandwiches, soups, fries, kasha varnishkes and hamburgers."
Hamburgers? Did they sell hamburgers in traditional Jewish delis?
Mr. Gruber nodded. "A generation ago," he explained, "people viewed delicatessen stores like regular restaurants. You would have dinner here, you would have steaks, and you would have turkey and you would have roasted chicken and you have this and you would have a hamburger."
Back in the day, delis served not only as cafeterias for knishes and kugel but kibitzing and caviling, too. Gossip and gribenes were in high demand. Surly waitresses were surrogate mothers, Yiddish was the lingua franca and comedians, politicians and athletes would congregate to discuss daily goings-on.
That's no longer the case, though you can get a taste of it—no pun intended—at the two-dozen or so remaining delicatessens in the New York area, like Katz's on the Lower East Side, Artie's on the Upper West and the Carnegie Deli, where Woody Allen set the opening scene of Broadway Danny Rose.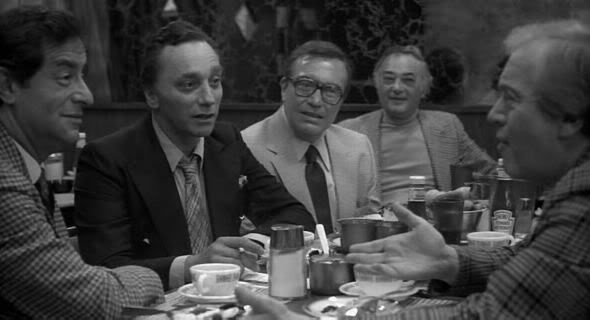 It's a matter of debate whether that scene, in which a crew of legendary comedians sits around a table reminiscing, is an accurate depiction of what really went on.
But there are a lot of debates in the Jewish food world. Montreal bagels vs. New York bagels, for instance, or corned beef vs. smoked meat vs. pastrami.
Cheese on pastrami.
"As far as I'm concerned, I couldn't even imagine it," Mr. Lebewohl said of that truly traif concoction. "I see people coming into this deli, and what they put on their plates, the combos they make—they don't know any better."
Mr. Gruber agreed. "I wouldn't want that," he said, "but you'd be surprised how many people do."
The conversation turned to pickles. Did they prefer half-sour or full-sour?
"Full-sour," Mr. Anjou chimed in—full stop.
Mr. Lebewohl was more diplomatic. "Depends," he said. "Depends what I'm in the mood for and what I'm eating."
"Right," Mr. Gruber said. "There's no bad pickle. If I'm eating a sandwich, I prefer a sour pickle. If I'm eating some smoked fish or something else, I probably would go with a half-sour."
"It's the equivalent," Mr. Lebewohl concluded, "of wanting white wine or red wine."
Mr. Gruber said he eats his own food three times a day. His wife, who is an acupuncturist, encouraged him to eat healthier, but he wasn't having it.
"She was making me this green drink," Mr. Gruber said. "She was putting all this chazerai in it, you know, like bok choy and carrots and parsley. Now, I did that for two months straight, but only for the morning time. But I can't do that for too long. When I go in to work I need an onion roll."
"I think we're going to find out one day," Mr. Gruber said, "that all this vegetable stuff is what's killing us."
He moved a bowl of gribenes—basically fried fat, or schmaltz—to the center of the table. "This is sponsored by Mount Sinai Hospital," he said, popping a piece into his mouth.