Gotham went down a dangerous road indeed this week, deciding to shy away from its Batman origin parade and focus more on the GCPD itself. Now, I'm not complaining, because for the past several weeks the premise of Gotham has entirely been a game of hey lookit that villain! But when it comes right down to it, as a straight cop procedural we've seen Gotham isn't so great, either. Luckily, "Everyone Has a Cobblepot" managed to stay a strong episode throughout by doing what Gotham does on its best days — it stayed really, really weird.
Honestly any episode of TV where a person over the age of 60 tries to kill someone is going to get a thumbs up from me. Gotham does it more than you'd think. This episode saw the shotgun toting Marge in one of the most hilariously uncoordinated firefights put to film, which concluded in the most ridiculous looking falls I've ever seen. God I loved it. Of course, Oswald just ends up blowing Marge away with her own shotgun in the end, in a scene that was so unnecessarily violent I again just had to laugh. Because at this point I've stopped grading Gotham on doing things that are "necessary" or things that "make logical sense" and started grading it on the amount of times Robin Lord Taylor get's splattered in blood.
The mystery driving this episode– finding Commissioner Loeb's "secret files" he keeps on every member of the GCPD — wasn't too complex, but nothing on Gotham ever is. But it was all really just an excuse to take a big step forward for both Jim Gordon and Harvey Bullock. For Jim, he continues to erase the notion that he has zero balls to go along with his perpetually set jaw, an idea he himself helped perpetrate though the first, say, ten episodes of this show. But now we have a character who doesn't just say he's going to do something about all this corruption, he's actually making moves. Major moves.
As for Bullock, well, I really just don't get the chance to sing the praises of Donal Logue around here enough, mostly because he is so often the subtle glue that holds this mess together. While I'm not the hugest fan of the show completely glossing over the fact he was totally going to murder Jim in the very first episode, Logue's Harvey Bullock has definitely become a consistent highlight.
But really, he was going to straight up kill him.
Oh, but Fish. Fish, Fish, Fish. What is even the point of all this? Yes, Colm Feore makes an interesting Dollmaker, and the classic-horror movie vibe of putting a man's head on a woman's body was cool, especially when it's happening to Re-Animator star Jeffrey Combs, but I wish this was all going toward a plot that made even a little bit of sense. First of all, there is absolutely no reason anyone in that jail to be that loyal to Fish, at all. Jada Pinkett-Smith keeps Ertha Kitt-ing things like "I've been here two days and I brought this place to a standstill," but just because you keep telling me it happened, Gotham, doesn't mean it should have happened. I'm instantly rooting against Dulmacher as a villain, because he's obviously too stupid to just kill the woman causing serious problems for his entire operation. Why'd he give her a new eye? She has done nothing to deserve that new eye! Fish's plot armor is so strong, you can almost see her wearing it underneath her fashionable hospital head wrap.
And the end, where it shockingly turns out she is on an island? I don't know why, but I thought we were all already sort of assuming this place was on an island? Was I wrong in this?
As always, let's run down every reference, fact, and nugget of Bat-history brought up in episode eighteen,"Everyone Has a Cobblepot."
….actually. there really wasn't much in ways of references this week, at least ones we haven't already discussed. Miracolo! 
Yes, I could talk about the slight possibility Dr. Dulmacher's prison is Peña Dura, the island jail where baby Bane played with his teddy bear Orsito before growing up and snapping Batman's spine. But there's really no evidence towards that besides that it's…an island. With that logic, it could also be Dinosaur Island.
Which for the record, would be sick. But this is a reference guide, not a guessing game. But really, good for Gotham for doing its own thing, at least for one week. Or, well, for this inexplicable month off the show is taking.
Oh, there is one "reference," I guess. It's a reference to the fact that Hannah Horvath from HBO's Girls is undoubtedly a maniacal super villain hell bent on world domination and mass murder. How do I know? Well, this is her mother:
And this is her father: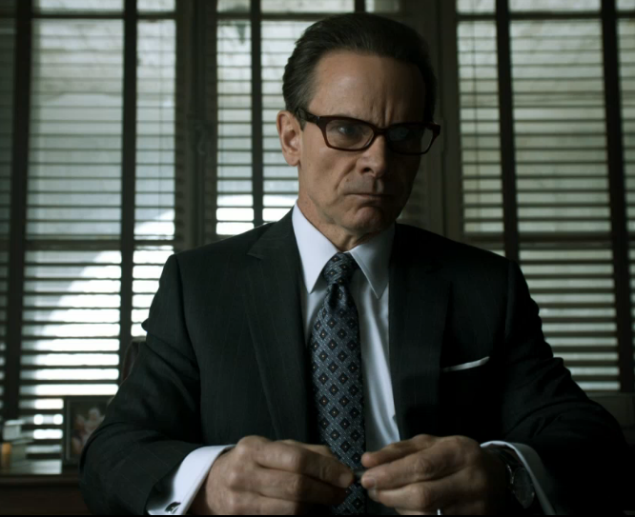 Now based on Gotham logic, in which every super villain EVER became a super villain because they had shitty parents, Hannah Horvath is the product of a corrupt, power-wielding man and an insane, shotgun-wielding woman. Which, if you have ever watched an episode of Girls, pretty much explains everything.
If only they had locked Hannah in the attic like poor Miriam Loeb, it would have saved us a lot of time and a lot of think pieces.